This recipe has been hanging fire since late last autumn, when I had actual green tomatoes which refused to ripen. That was my fault, since I'd acquired the plant well into summer and the tomatoes simply didn't have the time or receive the warmth to ripen and redden.

This year, though, hopefully I will be more on the ball when it comes to growing these love-apples… because honestly, they taste soooooooooo much better when eaten straight off a plant! (That is, you pick the tomato from the plant, wipe it just in case, check for holes which might indicate the presence of any prior eaters/occupants, and then pop it into your mouth. That's the usual procedure and the only possible explanation for "eaten straight off the plant"... unless you're a slug or a bug or a bird or any other tomato-predator.)

Organic, schmorganic… the best tomatoes are those that grow in your pot or veggie patch or garden, and that is the bottomline.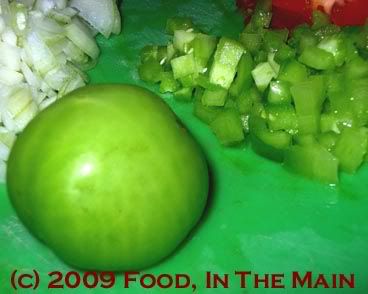 Since these tomatoes were green, I didn't try eating them raw. Since I wasn't in the mood for fried green tomatoes (yep, as per the Whistlestop Café) at that point either, they went into a tangy, spicy dal. I will be making it again this year… and perhaps include a trial of fried green tomatoes too.
Watch this space... but here's a friendly heads-up because I value my readers - watch it only sporadically, just so you don't get bored waiting! Cheers.

Recipe for:
Green tomato dal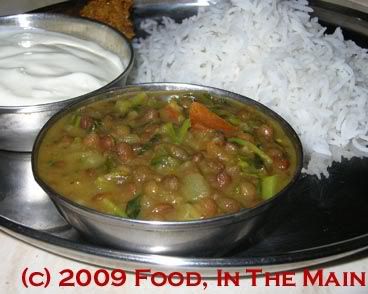 Ingredients:
1 cup whole masoor dal, soaked for 1 hour and cooked separately with 1/2 tsp turmeric
3 medium green tomatoes, chopped
1 medium ripe tomato, chopped
1 medium onion, chopped fine
1 cup shredded greens (spinach/fenugreek)
1 tsp ginger-garlic paste
3/4 tsp coriander powder
1 tsp cumin seeds
4 green chillies, minced (or to taste)
1/2 tsp tamarind paste (more or less, depending on how sour the green tomatoes are)
Salt to taste
2 tsp ghee - reserve 1/2 tsp for garnish
2 tbsp chopped coriander leaves for garnish
1/2 tsp garam masala for garnish

Method:

1. Heat 1-1/2 tsp ghee in a pan, then add the coriander powder, cumin seeds, minced green chillies and ginger-garlic paste. Stir fry for 30 seconds.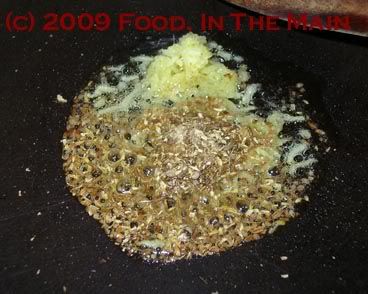 2. Add the chopped onions and fry over medium-high heat till they become soft and start turning brown.

3. Add the shredded greens now and mix well, frying till they start wilting.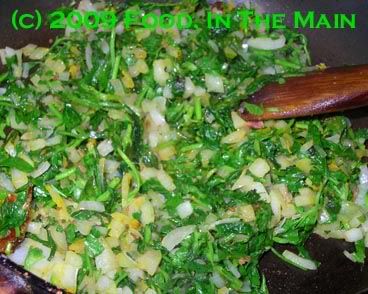 4. Throw in the chopped green tomatoes, mix well.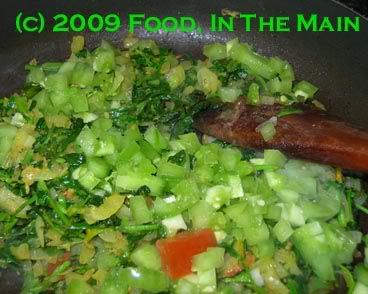 Fry for 3-4 minutes till the tomatoes begin to soften.

5. Add the red tomatoes now, mix well, and pour in 1/4 cup water.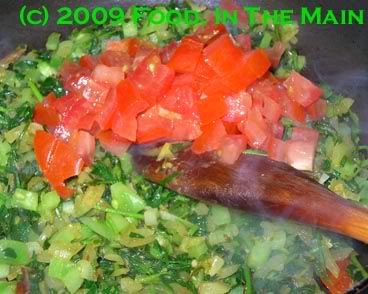 6. Cover the pan and let cook for 5 minutes on medium-high heat.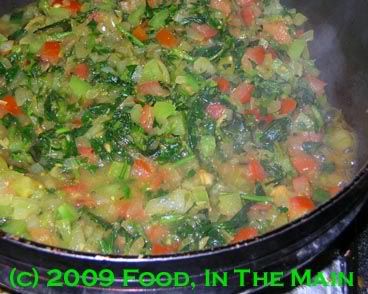 7. When the tomatoes have broken down and turned mushy, add the cooked whole masoor dal along with salt to taste.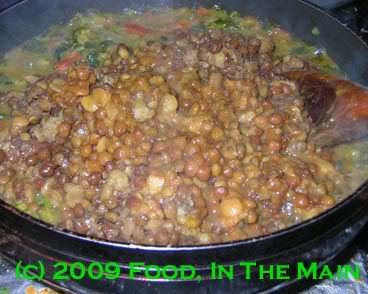 8. Stir the dal in gently, without mushing it up, then taste for sourness. If required, dissolve 1/2 tsp tamarind paste in 1/4 cup water and add it to the pan.

9. Let the dal simmer for 5-7 minutes till the ingredients come together.

10. Heat the remaining 1/2 tsp ghee in a small pan and add 1/4 tsp cumin seeds (optional) and the garam masala. Fry for 10 seconds, then pour over the top of the hot dal.

11. Sprinkle coriander leaves on the dal and serve hot with rice or rotis and onion raita.