I find I'm a bit worried about getting more and more radical with my bitter melon/bitter gourd/karela/pavakkai recipes, in that I'm using this vegetable in a less and less disguised fashion, as it were. I won't hide the fact that I'm feeling kind of -

wait for it

– meloncholy, the sort that leaves a.... yes, a somewhat bitter taste behind...

Time was when the only way I would even look at this knobbly-looking vegetable was if it was coated in seasoned gram flour and deep fried. And even then it wasn't exactly welcome on my plate (or on my palate, heh. Tell me you love these punny asides, because I won't accept a negative answer. What, did you think this was a democratic blog? Tut).

First I made my own
karela chips
. Then
this
. And
this
. And now, karela masala rice! Where oh where will it all end???

Be warned, readers, this recipe is only for those who love this vegetable. (Although, all evidence to the contrary, I still maintain that I'm not a member of the aforementioned karela-loving group. I mean yeah, I eat it. But would I reach for karela over, say, potatoes? Or green beans? Or plantains? No way, no how.) I used brown basmati instead of white rice, and cooked it with a bit of turmeric powder as per Suganya's advice on her blog, Tasty Palettes – note that the idea for this recipe, and part of the method, is derived from her own post. I added peanuts for crunch (and some relief from the bitterness) and had a cool cucumber raita on the side, which is also, I think, essential to balance the taste.

Remember that rhetorical question I asked earlier? The one I didn't answer, because it was rhetorical? (See paragraph 3.) Well, its status has just been downgraded from rhetorical to literal, because I'm answering it.

The karela radicality, my dear friends, does not end with this post. It cannot, because there is more to come, a recipe that is even more uncompromising when it comes to bringing the bitterness to the fore. And no clue, not one, about where that radicalisation will end, or when, or even how...

But for now, here's the recipe to go with this post.

Recipe for:
Bitter melon brown rice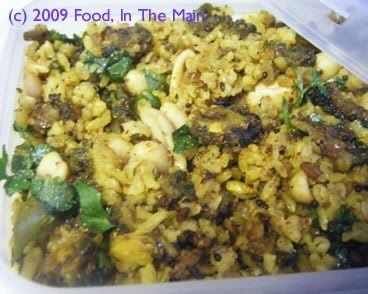 Ingredients

1-1/2 cups brown basmati rice, soaked in water for 10 minutes
3 cups bitter melon/karela, sliced
3/4 tsp tamarind paste
1/2 tsp turmeric powder
1 tsp urad dal
1 tsp brown mustard seeds
2 tsp oil
a few fresh curry leaves
3-4 tbsp
garlic masala powder
(or to taste)
Salt to taste
1/4 cup roasted salted peanuts
chopped coriander leaves for garnish

Method

1. Cook the soaked brown basmati rice in plenty of water to which 1 tsp turmeric powder has been added.




Drain rice and cool when cooked.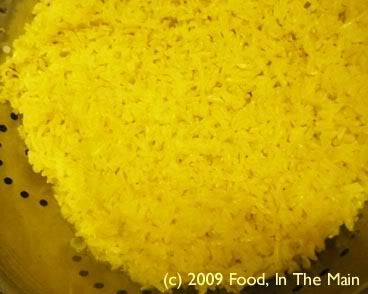 2. Dissolve the tamarind paste in 4 cups water and pour along with sliced karela in a saucepan.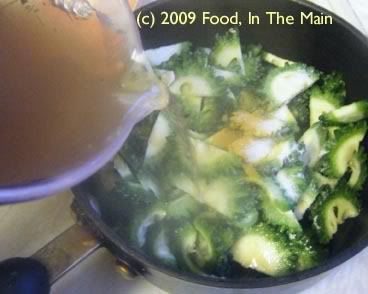 Cook the karela till done, but not mushy. Drain the cooked vegetable and reserve.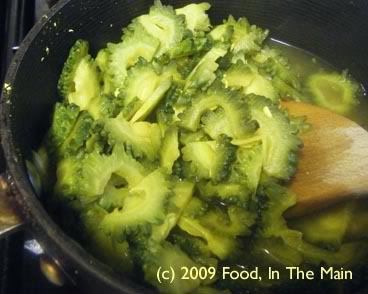 3. In a wide kadai or wok, heat the 2 tsp oil. Add the curry leaves, urad dal and mustard leaves. Cover till the mustard seeds pop, and the urad dal is golden brown.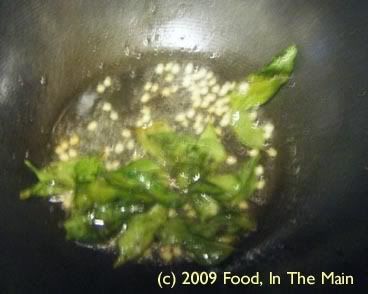 4. Add the cooked karela now and stir till the tempering is evenly distributed.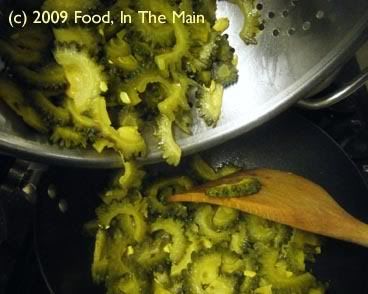 5. Sprinkle 2-3 tbsp of the garlic masala powder and stir it in.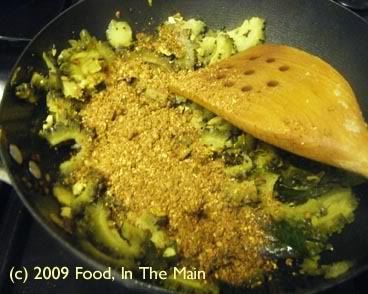 6. Roast the karela over medium heat in the pan, till it starts to crisp up. (You can add 2-3 tsp oil to speed up this process, if you like.)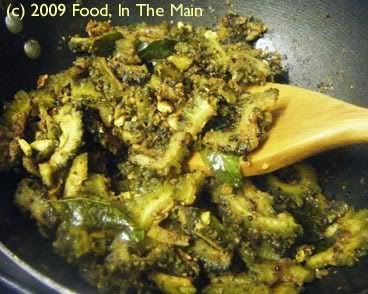 7. Add the cooked rice now, add salt to taste, and mix carefully till the vegetable is evenly distributed.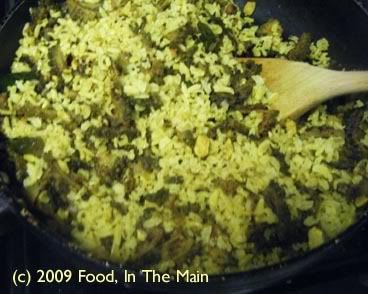 8. Stir-fry the rice till it's heated through, then add the peanuts and mix in.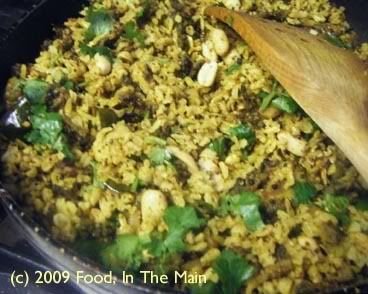 9. Sprinkle the chopped coriander over, and serve the rice hot with a cool cucumber raita and crisps or poppadums.