Maths doesn't play much of a role in my life, other than when absolutely, utterly unavoidable. I go to great lengths to avoid such occasions, so when one does occur, you can bet your booty that it's as rare as a 300 carat diamond. Only a lot less interesting, and involving much swearing and general blasphemy. That's the only way I can get through it – that, and help begged from anybody capable of looking a math problem in the eye without flinching and bursting into tears.

What does maths have to do with a cooking blog, or this recipe, one may wonder. Happily, not much with the recipe itself – just a mention on the blog for the sake of getting some content for the post leading to the recipe. And this is a recipe for a home-made ready-mix powder used to make spicy flavoured rice. Kind of like paruppu podi, but different in the ingredients used. Paruppu podi doesn't involve coriander seeds at all, and they play a big role in this powder. The shels life differs, too. This masala powder, containing raw garlic as it does, doesn't have the extended shelf life of paruppu podi.

So where does the maths bit come in?

Only in that this masala powder, redolent of garlic and coriander, adds up to much more than the sum of its component parts. My kind of mathematics, you see, because when I add up a column of figures, you can bet your bottom dollar or pound (or other currency of choice) that the sum will invariably exceed the total of the individual figures. Which is terrible for a maths problem, but very welcome in a recipe.
Recipe for:
Garlic masala powder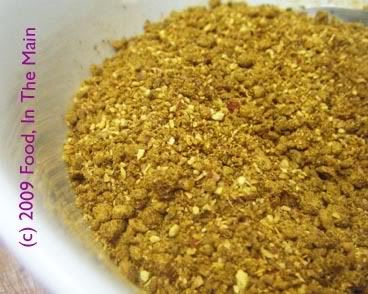 Ingredients:

2 tbsp urad dal
1/4 cup coriander seeds
2 tbsp cumin seeds
10-15 dried red chillies (depending on heat and to taste)
1 tbsp black sesame seeds
5 cloves garlic
Salt to taste

Method:

1. Dry roast the red chillies, urad dal, coriander seeds and sesame seeds over a medium fire, stirring frequently, till the dal is golden brown, the chillies turn a darker red and the coriander seeds are aromatic.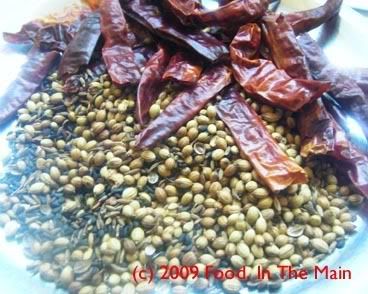 2. Let cool completely, then add the garlic cloves.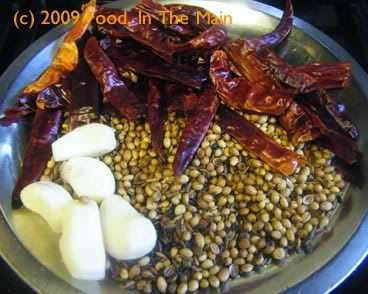 3. Pick out the red chillies and grind them to a fine powder separately, then grind the rest of the roasted ingredients to a fairly coarse powder. Add salt to taste and store in a tight-lidded container.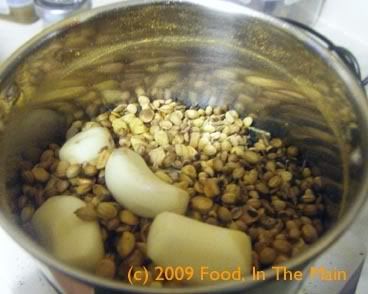 To eat, add the masala powder to taste to cooked cooled rice. Fry up a handful of peanuts and a few curry leaves in a tsp of ghee or gingelly oil, then mix with the masala rice. Serve hot with crisps or papads and a raita.