Chana dal is one of my favourite dals for making sundal. It's easy to cook in that it doesn't need soaking for hours, and even if you undercook it, all it takes is a few tbsp of water and a few minutes steam-cooking in a covered pan, and it obligingly softens to the texture you want. It makes great tasting savoury dishes and is just as good cooked into a payasam. In fact, chana dal payasam (milky sweet dish) is one of my favourites, as long as there's no coconut (whether as flesh or milk) added to it.
*sigh*

I rather wish I hadn't mentioned the payasam, now… I'm getting a craving for my mother's kadalai paruppu payasam. (Did you non-Tamils guess that kadalai paruppu is chana dal? How perspicacious of you!)
*There. Finally used that fabulous word in a sentence. At least one of my ambitions can now die happy*

All that talk of payasam apart, today's recipe is a sort of sundal, I guess, except that I like to think of it more as a dry dal fry. Less South Indian and more North Indian. It was really mouth-watering, considering that the ingredients are minimal (compared to some other recipes I can think of). I ate it topped with some cool Greek yogurt and enjoyed every bit of it. It even went to work with me the next day, and made a great snack. Really nice with curd rice, too.

Recipe for:
Simple chana dal fry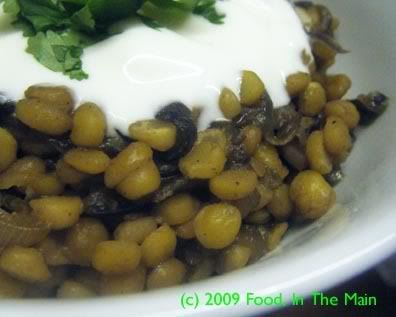 Ingredients

1 cup chana dal
2 medium red onions, sliced fine
1/2 tsp ghee
1/2 tsp oil
2 garlic cloves, sliced
1 tsp cumin seeds
1/2 tsp garam masala/Kitchen King masala
2-4 green chillies, sliced very thin (optional/to taste)
Salt to taste
Fresh coriander leaves, chopped, for garnish

Method:

1. Soak the chana dal in water for 30 minutes, then pressure cook with enough water to cover the dal in the vessel.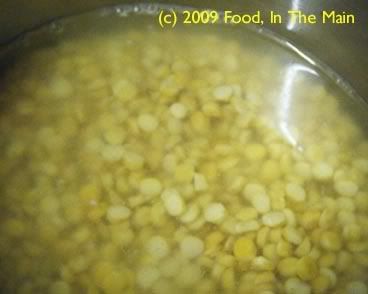 The dal should be cooked but still hold its shape (a little undercooked is ok - that can be remedied). Set aside to cool.

2. Heat the oil and ghee in a pan.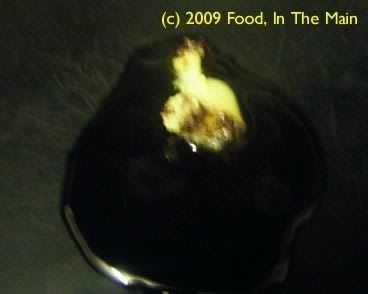 3. Add the green chillies and cumin seeds and let them fry for a minute or so.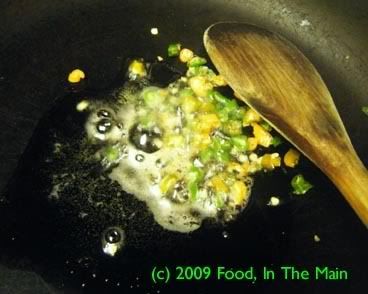 4. Now add the sliced onions and stir-fry for 2-3 minutes, till they start to become soft.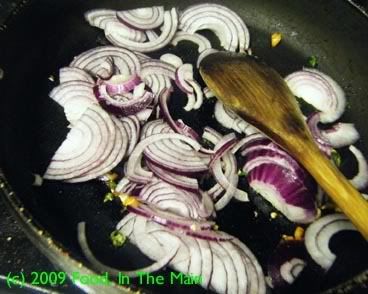 5. Throw in the sliced garlic and stir it in, cooking the mixture till the garlic begins to soften but not brown.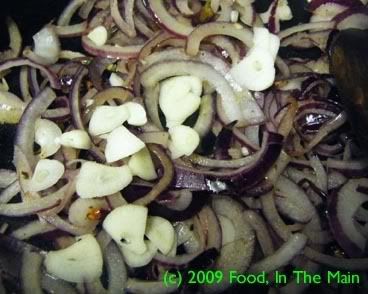 6. Add the garam masala or Kitchen King masala when the onions have softened and are cooked.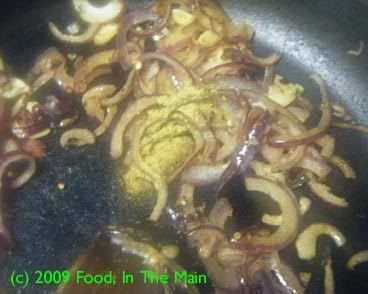 7. Now add the cooked dal to the pan.




Mix it in with the onions, without mushing up the dal. If it is undercooked, add 3-4 tablespoons of water now and cover the pan, steam-cooking the dal for 5 minutes or till done.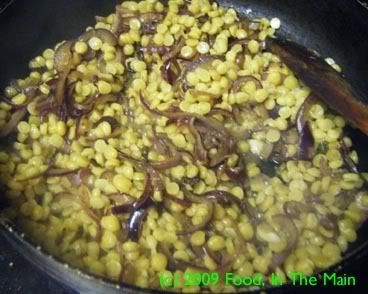 8. Garnish with coriander leaves, and eat as a snack with yogurt, or as a side dish with rice and a vegetable curry.