This recipe is totally inspired by – or rather, copied from - the lovely
Nupur's "samosas for breakfast"
post. The filling I made has a few differences, of course, but the basic idea is entirely hers.

These tava samosas (as rechristened by me) are very, very acceptable stand-ins for the real thing, and they're ever so much healthier for not being deep fried. Of course the flakiness of real samosa pastry can't be achieved, because these are made with chapaties/tortilla wraps... but believe me, they taste wonderful all the same. I didn't have the usual feeling of "damn, I wish I could get real samosas" after chomping down on one of these impromptu samosas – and that's a rare thing.

I used a readymade – and unfamiliar to me - brand of samosa/kachori masala which I got free with some shopping expedition long back, and to my surprise, when the spices had had a chance to mellow in the filling, the aroma was pretty authentic.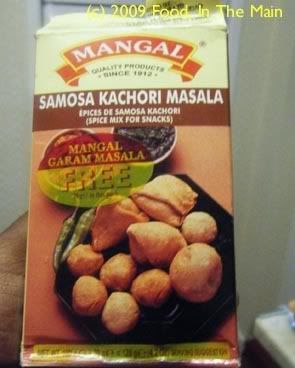 Anyway, the samosas were absolutely delightful hot off the tava, but they were just as good at lunch time the next day.

I don't think I'll bother with making "real" samosas at home ever again. This is much easier, much quicker and much healthier. Plus, you get to use up leftover stale chapaties or wraps. It's all good!

Recipe for:
Tava samosa




Ingredients:

2-3 chapaties, tortillas or wholewheat wraps (I used seeded wholewheat)
2 medium potatoes, boiled, peeled and mashed coarsely into small lumps
1 medium onion , sliced thin
3-4 green chillies, sliced thin (option or to taste)
1/4 cup red bell pepper, thinly sliced
1/2 cup frozen green peas
1/2 cup cooked chickpeas
1 tsp cumin seeds
1/4 tsp fennel seeds
1/s tsp red chilli powder
1 tsp samosa/kachori masala powder (or garam masala)
2 tsp oil
Salt to taste




Thick paste made with 2 tbsp gramflour (chickpea flour) and some water

Method:


1. Heat the oil and toss in the cumin and fennel seeds, let fry for 30 seconds or till they turn a darker shade.




2. Add the green chillies if using and fry them for 30 seconds on medium heat.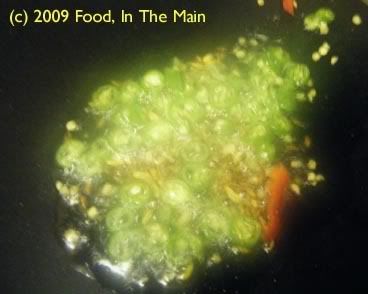 3. Now add the sliced onions and cook them till they begin to turn soft.




4. Next, add the cooked green peas,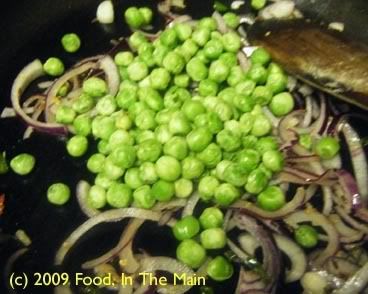 the sliced red bell pepper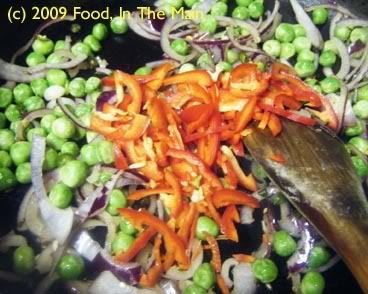 and the garam masala.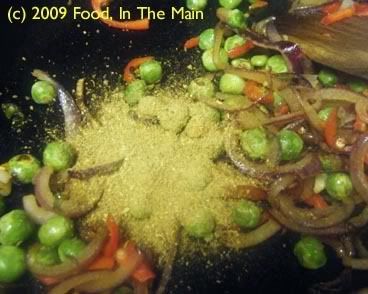 5. Stir the masala powder in, then add the chick peas, crushing some of them lightly.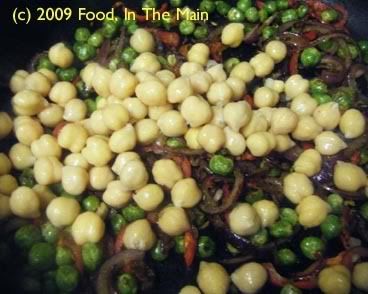 6. Add the boiled mashed potatoes now,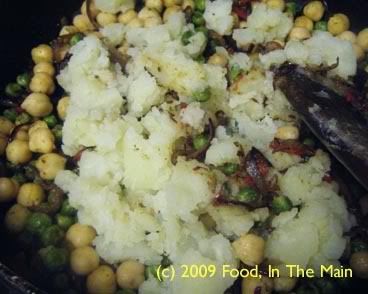 and the coriander leaves, along with salt and red chilli powder to taste.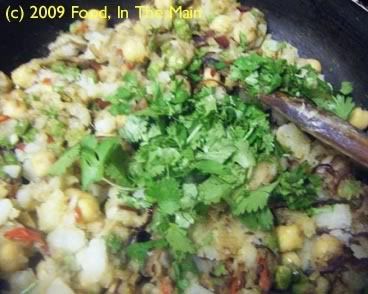 7. Stir everything till the ingredients are well incorporated. Fry this stuffing for 3-4 minutes on medium heat, stirring occasionally. Let cool.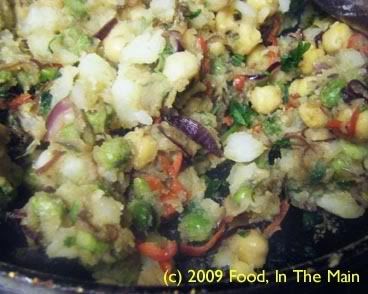 8. Cut the wrap/tortilla in half and put 2-3 tbsp of the stuffing in the centre.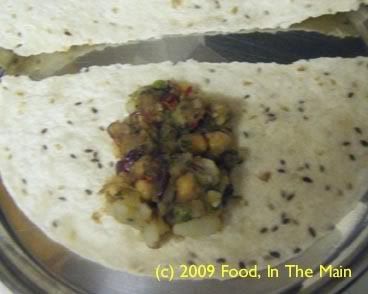 9. Fold one edge halfway across, spread some of the gramflour paste, then fold the other corner, pressing lightly so that the paste acts as a seal. Turn the samosa over so that the seam side is underneath.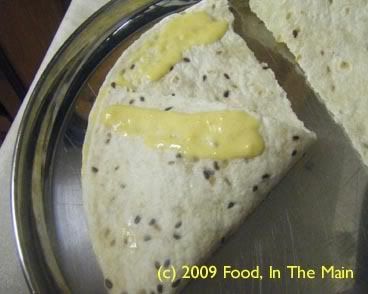 10. Drizzle 1 tsp oil on a non-stick frying pan and spread it over the surface. Place the samosas on it and fry for 2-3 minutes on each side on medium heat, pressing down gently with a spatula to help the tortilla/wrap brown nicely.







11. When the samosas are golden brown on both sides, remove them from the heat. Serve hot with tomato ketchup and/or green chutney.