If I were a house-proud, kitchen-efficient, recipe-perfect kitchen goddess who knows exactly what's in her larder/pantry down to the last half-teaspoon and thus plans or even creates new recipes to finish up comestibles according to their expiry date, I would probably be terminally ashamed to know me. Luckily I'm not a kitchen goddess, so I'm not really ashamed of me, and only mildly embarrassed to admit to having a kitchen that is cluttered with bits and pieces of various things that are nearly-but-not-quite at the end of their edible life.

Once in a while, though, I manage to finish off a couple or three items in one recipe – usually cakes, because they're fairly forgiving of odd additions so long as you get the flour-leavening-fat ratio reasonably right. This cake is one such. I call it an end-of-the-line cake because its ingredients are pretty much all end of the line - very overripe bananas, the last of a tin of cocoa powder, a couple of tablespoons or so of chocolate chips, some nuts, some buckwheat flour and some very lumpy dark brown sugar.

In hindsight, I should have used that dark brown sugar elsewhere (or maybe even just fed the dustbin with it - the effort I had to expend to break down the damn lumps... honestly!) because I was supposed to be making a marble cake.
As you would expect, marble cakes look their best when they have a light-coloured and a dark coloured portion. Using dark brown sugar for the batter made it quite dark… and then adding the cocoa to part of it made it darker still, so that the marbling was not exactly what you'd call visible. Dark and darker isn't really a contrast.

*sigh*

Oh well, non-domestic non-kitchen non-goddess proposes, and God(dess) - possibly Domestic, possibly not - disposes...

Luckily the cake tasted good even if it didn't make the mark on the fair-and-pretty factor.

Recipe for:
Chocolate banana marble cake





(That shadowy effect on the wedge of cake isn't a shadow - it's the cocoa-dark portion! So much for marbling...)



Ingredients:

1-1/2 cups AP flour
1/4 cup buckwheat flour
2 tsp baking powder
1/4 tsp baking soda
1/4 tsp salt
3/4 cup oil
3/4 cup dark brown sugar
3 small overripe bananas, mashed
2 tsp vanilla extract
2 eggs
6 tbsp Greek yogurt
2 tbsp chopped toasted nuts
2 tbsp dark chocolate chips
1/2 cup cocoa powder

Method:

1. Heat oven to 180C/350F. Spray 7" square pan with nonstick cooking spray.

2. In a big bowl, whisk together the flours, baking powder, baking soda, and salt.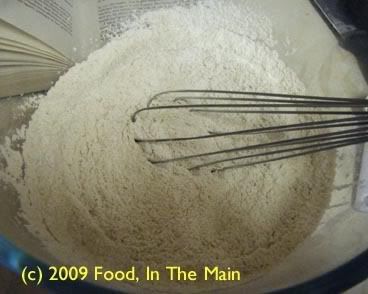 3. In another mixing bowl, combine the oil, sugar, and bananas.




Beat until combined.

4. Add the eggs and vanilla to the mix and beat.




5. Then mix in the yogurt.




6. Add the dry ingredients to the wet mixture and fold in.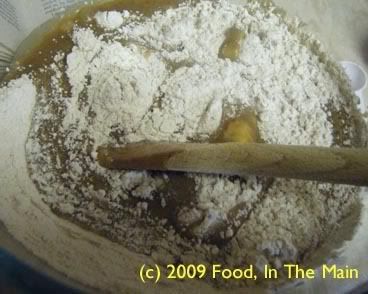 7. Spoon half the batter into the greased pan in dollops.

8. Add cocoa to the remaining batter in the mixing bowl and stir until just combined.




9. Spoon chocolate batter in clumps around the pan, leaving some lighter colored spaces.




Sprinkle the nuts and choc chips over the top of the batter. Use a knife to swirl the batters together, taking care not to mix them too much.

10. Bake for 35-40 minutes or until tester comes out with just a few crumbs attached.

Cool cake in pan on wire rack for 15 minutes before removing the cake. Cool completely before cutting.