I'm not a great fan of cheesy pasta recipes - there's really only so much cheese I can take before my taste buds put their hands up in the air and beg for mercy. Cheese is something I can take on board only in small amounts - VERY small amounts. This applies to any cheese that has a pronounced flavour - cheddar, parmesan, feta, halloumi, whatever. Paneer doesnt figure on this list because it doesn't have a definite taste. And blue cheeses don't count as food, as far as I'm concerned... unless they're classified as "food that was once alive but is now putrefied".
So, as far as pasta goes, my preference is for tomato-based sauces. I don't mind cream cheese, as long as it's mixed with herbs... and a recipe for a pasta sauce that combined tomatoes and cream cheese seemed doable. I would have added chillies, or possibly chilli sauce to the recipe, but since this was to be a quick-fix dinner for me and Pete, I had to keep the hot stuff at bay.
The sauce was, as I'd suspected it would be, very nice with the flavour of tomatoes melding nicely with the cream cheese. I added lots of fresh basil (two types, both home grown, yay!), and a topping of crisp crumbled bacon for Pete and sort of crisp, crumbled facon (= fake bacon, or bacon-style strips) for me; and with a bottle of wine on the side, the pasta made a very pleasant meal.
Recipe for:
Tomato cream cheese pasta




Ingredients:

Wide egg noodles for two (approx 75 gm uncooked per person)
2-3 medium tomatoes
3-4 cloves garlic, chopped
1 small red pepper, deseeded and sliced
2 cups fresh spinach leaves
4 tbsp non-fat garlic-and-herb flavour cream cheese (or plain will do as well)
1/4 cup basil leaves, shredded
Salt and pepper to taste
2 tsp olive oil
2-3 strips bacon (or facon), cooked crisp and crumbled, for garnish

Method:

1. Put the pasta/noodles on to boil as per directions on the pack.

Quarter the tomatoes, then puree smooth.




2. Fry the garlic in the olive oil till just soft, but not brown.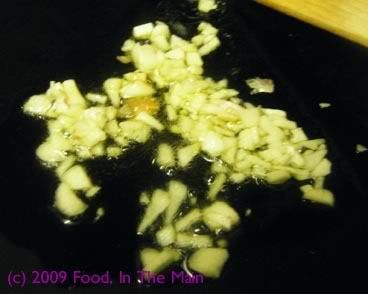 3. Add the sliced peppers.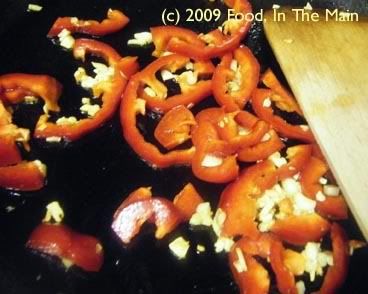 4. Then add the spinach leaves,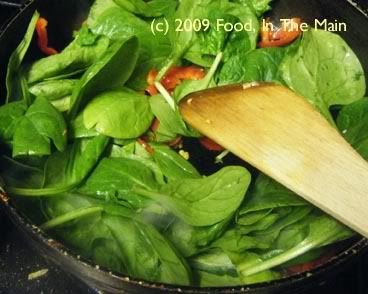 and stir till the leaves wilt and the pepper just begins to soften.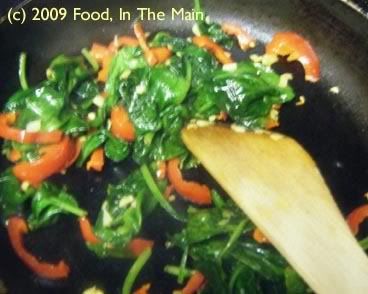 5. Add the cream cheese to the pureed tomato.




6. Whisk them well to form a sauce.




7. Add the cream-cheese tomato sauce to the pan with the vegetables and stir it in. Add salt and freshly ground black pepper to taste.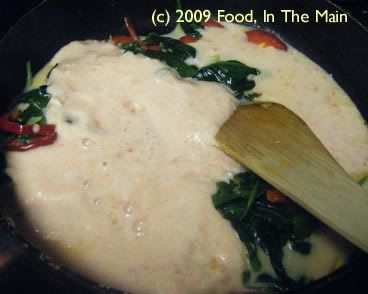 8. Stir in the chopped basil.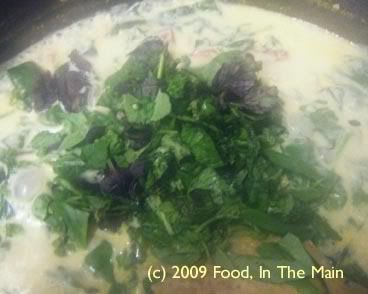 9. Drain the cooked pasta and add the pasta to the pan.




10. Gently mix it with the sauce and heat thoroughly but do not let it boil.




11. Serve in warm bowls with the crumbled bacon/facon on top as garnish and some fresh basil leaves.