I don't often get the chance to make kothamalli thokku (or thogayal – I tend to use the terms interchangeably in this case) because... does anybody want to take a guess why? No, it's not because it's not available in the local supermarkets. Coriander IS available quite easily. It's just that it does not come particularly cheap – about £1.79 for a small bunch. I usually prefer to wait till I get a chance to go to the Pakistani/Indian shops in Birmingham, where I can get coriander at ridiculous prices... like two very large bunches for about £1.

True, they are not conveniently pre-washed, pre-tidied and pre-packed in plastic boxes like in the supermarkets – these humongous bunches come with soil still attached to the stems/roots, necessitating some amount of prep work at home before you can use them... but that inconvenience is the (non-monetary) price that you pay for the low (monetary) price.

I could grow my own coriander, I suppose, and I have done – but that's in small quantities for everyday use. Let's have no more about that. I'm not a farmer. Nor even a proper gardener, really.

Anyway, kothamalli thokku is for those of us that love coriander and don't find the herb "soapy" or "disgusting". It doesn't require any cooking and since it's basically mainly ground-up coriander leaves and stems, it tastes strongly of – yep, you guessed it, coriander! It tastes even stronger if you don't have much tolerance for chillies and reduce the dried-red-chilli quotient in the recipe.

(And as an aside, let me add that although I do like flat-leaf parsley, the term "soapy" would apply far more accurately to it than to coriander. Just saying.)

I like kothamalli thokku best as a side for curd rice, although it's also pretty good with dosas, chapaties, etc (especially mixed in with a small quantity of Greek yogurt). Yum!

Recipe for:
Kothamalli thokku




Ingredients:

2-3 bunches coriander (to make about 5 cups chopped)
10-15 dried red chillies (depending on heat and as per taste)
2-3 tbsp urad dal
2 tsp oil
1/2 level tsp asafoetida powder
1/2 small lemon-size tamarind (or 1 htsp tamarind paste)
Salt to taste

Method:

1. Wash the coriander, removing only the woody stems. Spread out to dry on a towel overnight, or dry thoroughly with paper towels.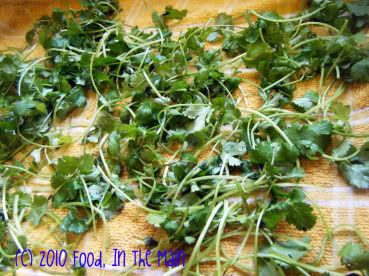 2. Chop the coriander leaves and stems roughly, to assist with grinding it without using water. (From experience, leaving them whole usually ends with the stems winding themselves around the blade of the mixie - I use Sumeet - and bringing things to a grinding halt. So to speak.)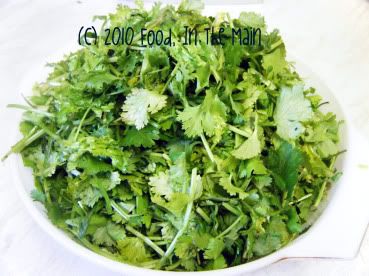 3. Roast the red chillies in 1/2 tsp oil on med-low heat till they turn a darker colour and are aromatic. Remove to a plate and let cool.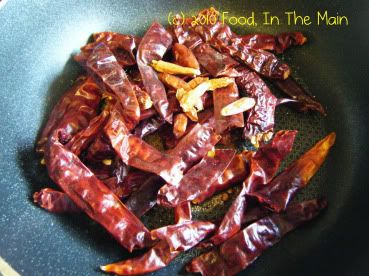 4. Heat the remaining oil and add the asafoetida powder and the urad dal. Fry the dal till it turns golden brown.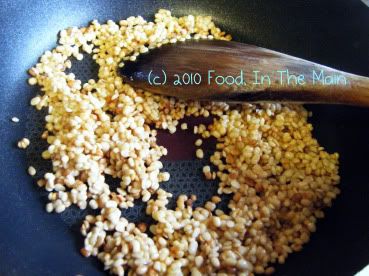 Reserve 1/2 tbsp and add the remaining dal to the chillies and let cool.




5. Grind the red chillies, tamarind and dal first coarsely, then add a handful of the chopped coriander.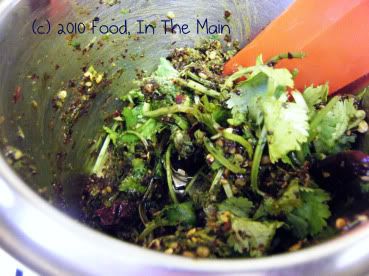 6. Grind to a smoothish paste




then add another handful of coriander and grind again. Continue as before, adding the remaining coriander bit by bit until it is all ground smoothly. Try to refrain from using any water to grind the coriander, as it will help the thokku last longer.

7. When all the coriander has been used up, add the reserved dal and give it one last whirl to break up the dal a bit - but don't whizz it smooth, the pieces give a pleasing bite to the thokku.




Add salt to taste, then mix well.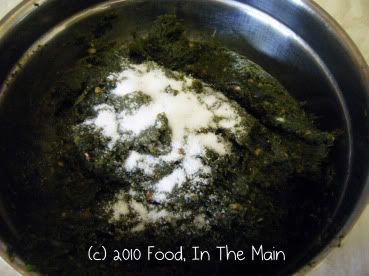 8. Store the thokku in the fridge and use a clean dry spoon every time. It makes sense to make small balls of the thokku and store them in a tightly lidded container. To use, take out one thokku ball at a time and store in a separate container, so as to keep the rest from getting inadvertently contaminated.