I have baked a good number of cakes in the years since I started this blog, and a good few of them are based around fruits, fresh or dried. Apples, oranges and bananas feature a lot among those, simply because I usually have those fruits around the house. Bananas figure a lot because they tend to go overripe before we can eat them (they have to be slightly underripe for Pete, and perfectly ripe for me – which doesn't leave a big window of opportunity for the poor bananas!) Some overripe bananas can be sliced into cereal but beyond that, they get turned into cakes. Oranges I use a lot of because I love their flavour in cakes. As for apples, again, those with blemishes caused by mishandling or old age find their way into baked goods.

The apples I used in this cake fell into the latter category – they were beginning to shrivel with age, and needed to be used. Conveniently enough, I came across an eggless apple cake recipe that incorporated flaxseed and was so completely decadent (all that butter...!) that I felt I just HAD to make it. Boy, it sure didn't tell a lie, that recipe... the texture of the cake was excellent, and the taste – oh my!


The blogger from whom I got this recipe
said in her blog that the cake was just as nice cold, but I have to say that it was okay cold, but when served hot with vanilla ice-cream, the cake was absolutely spectacular! I don't use the word "spectacular" often, but this cake totally deserves the accolade. Especially as we ate it over 4-5 days, and it lost nothing in the way of taste when it was reheated in the microwave oven.

Let me say that this is not a cake to be made everyday, or every week, or once a month, or even once in two months... but when you DO make it, be sure to enjoy it down to the last crumb and don't skimp on the quality of the ice-cream either.

PS. The cake would probably look better with sliced apples arranged prettily, but for some reason I had decided to chop up the apples, so that was that.

Recipe for:
Browned butter apple cake




Ingredients:

For the brown butter:

2 tbsp unsalted butter
1/3 cup light brown sugar
1/2 tsp cinnamon
4 medium apples, peeled and chopped into 1-cm cubes




1. Heat the butter in a medium pan over medium heat until melted and bubbly,




then add the brown sugar




and stir till the sugar caramelises and turns golden brown. Be careful not to burn it.




Stir in the cinnamon and pour the mixure into an 8" pan that's been sprayed with Pam. Spread the apples evenly over the caramelised sugar.




For the cake:

1-1/4 cups AP flour
1/4 tsp nutmeg powder
1/2 tsp baking soda
1/4 tsp sea salt
1/3 cup unsalted butter or margarine
2 tsp vanilla extract
3/4 cup sugar
2 tbsp flaxseed powder
2 tbsp cornstarch/cornflour
1/4 cup milk
1/3 cup yogurt

Method:

1. Sift together the salt, flour, nutmeg and baking soda into a medium bowl.

2. Cream the butter and sugar with the vanilla extract till fluffy and light.




3. Beat in the cornstarch/cornflour and the milk, mixing well.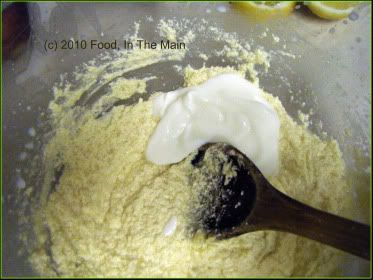 4. Add the flour mixture and yogurt a third at a time and beat till smooth.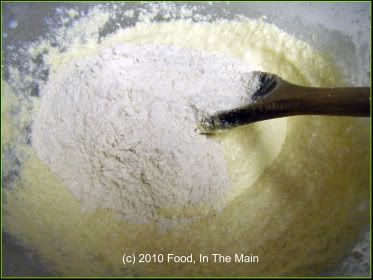 5. Add the flaxseed powder and beat again. If the batter is very thick, beat in a bit more milk, tbsp by tbsp, until the batter is thick but of dropping consistency.

6. Spoon the batter evenly over the apples in the pan.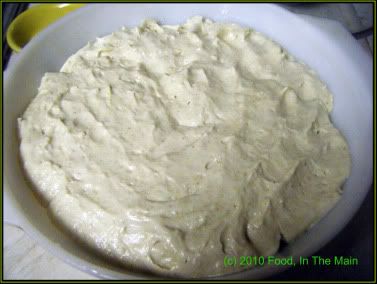 7. Bake the cake for 40-50 minutes at 180C or till a cake tester comes out dry.




8. While the cake is still hot, run a thin knife around the edges and place a plate over the cake, then carefully turn it upside down.




Serve the cake warm with best quality vanilla ice cream. The cake stays good for 3-4 days in a cool environment.