I have a slightly odd love-dislike (not hate, never that) affair with aviyal, that classic Kerala dish of vegetables in coconut gravy. There are specific requirements for both the love and the dislike to happen. I love aviyal when:

a. It is made with thinly cut vegetables (and does not involve aubergines)

b. It uses tamarind for that hint of sourness rather than buttermilk or curds

c. It is eaten fresh and hot

I dislike aviyal when:

a. The vegetables are cut in a fashion that brings to mind large railway sleepers – and about as thick as well!

b. It contains buttermilk or curds (this one pretty obvious, huh?)

c. It's cold and/or old (as in more than a day old). Reheated aviyal does nothing for me – especially if it was made with buttermilk or curds.

I do realise that probably hundreds of thousands of people do make aviyal with buttermilk (or curds). Small aside: Should I mention both buttermilk and curds every single time, or will just one or the other do? Pls leave your opinion in the comments section, even if it's too late to matter for this post. :) But there will be other posts, after all, and what if this situation occurs again and I am left without a majority opinion to heed? What then, huh? What then?

So, anyway... since my mother has always used tamarind and prefers the taste, I do too. I've always considered aviyal a complicated dish, carefully nurturing my ignorance by never even considering it worthwhile to see how it was made. This year, though, when my mother said she'd made aviyal for the Tamil New Year, I felt a slight craving for it. Too bad she lives a few thousand miles away in Seattle... so naturally I was forced to make it myself.

The thing that sealed the deal for me was that I actually had young, fresh, tender green bananas in the house plus some fresh bottlegourd. I had bought them practically wholesale from a quick trip to Birmingham with Pete. He was picking up some speakers that he'd bought, and I tagged along - because I like tagging along in general, and also because of the always-hopeful thought in the back of my mind that I might be able to pick up some Indian vegetables. Well, actually, that thought is always at the forefront of my mind. (Do I HAVE to be 100% honest? Fine, it was the ONLY thought in my mind.)

As I was saying, aviyal was on the cards and I wanted to make it exactly like my mother does. I rang her for the recipe and got instructions that more or less said "cut and cook vegetables, grind coconut with green chillies, add tamarind, mix well, season with coconut oil and curry leaves".

Was that it, I asked her, a trifle confused. Was she holding back on me? Where were the complicated instructions? That was the entire recipe? That was what I'd considered difficult all this while? How embarrassing!

So I made the aviyal – and believe me, cutting the vegetables was the most complicated part. The aviyal tasted just as it did in the memorybank of tastes that is stored somewhere in my head (or in my tongue?)... and since Pete didn't want any part of it, there was enough for my meal the next day too. Yeah, I reheated it. AND liked it. Yes, I know what I said earlier. My excuse is that I've not had aviyal at all for many years, so I'm allowed to be contradictory of my own self in my own post. So there you have it.

Recipe for:
Aviyal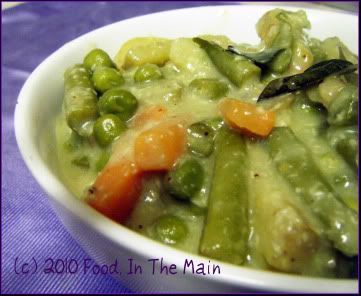 Ingredients:

3 cups mixed vegetables, sliced into 1/2-cm thick matchsticks (a combination of carrots, potatoes, green plantains, green beans, bottlegourd/squash/courgettes, peas)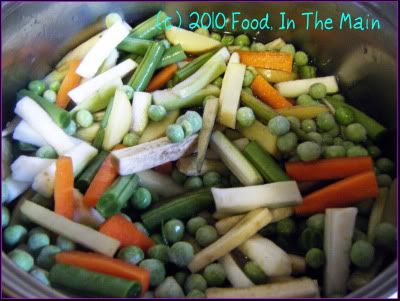 3 tbsp freshly grated coconut
4-5 green chillies (or to taste)
1/2 tsp cumin seeds
2 tbsp coconut oil
1/2 tsp tamarind paste
8-10 fresh curry leaves
salt to taste

Method:

1. Cook all the vegetables till done, but not mushy.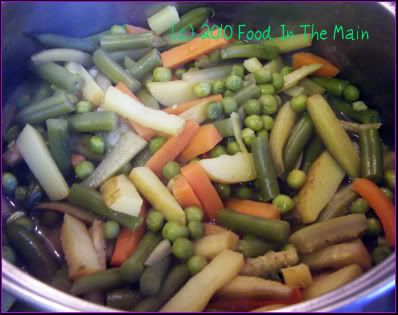 You can do this in a pressure cooker (much quicker than anyhow else) or on the hob, or in the microwave.

2. Grind together the coconut, cumin seeds and green chillies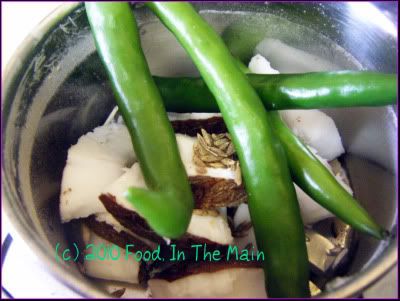 to a smooth paste using warm water.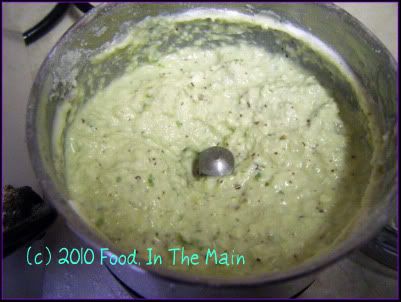 3. Add the coconut paste to the vegetables along with salt to taste, and mix well. Mix tamarind paste with 2-3 tbsp water and add that as well (increase to 1/2 cup water if there isn't enough to make a gravy).




4. Sprinkle the curry leaves over, then pour in the coconut oil and mix again.




Heat the aviyal thoroughly (careful not to burn it) and serve hot with steamed rice.