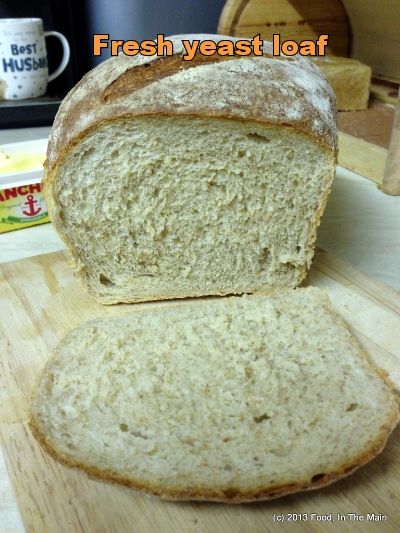 This is yet another Dan Lepard recipe, kind of - that is, I took his basic never-fail white loaf recipe, substituted quick-rise with fresh yeast, changed the flour content to 2:1 white to wholewheat, substituted 1 cup water with 50ml Greek yogurt thinned with 50ml water and, as a final touch, added 1 tbsp vinegar because I'd read somewhere that it helped keep the loaf soft for longer.
Perhaps I should have made one substitution at a time per loaf, rather than all the substitutions in one loaf - because I can't say for sure if it was the yogurt or the vinegar or the combination that actually made the loaf come out so well! What I CAN say for certain is that this was a lovely, lovely loaf - rose well, baked well, sliced well, toasted well...
I might be blowing my own trumpet here a wee bit, but... it might just be that I've got my bread baking mojo back!
Recipe for:
Fresh yeast white-wholewheat loaf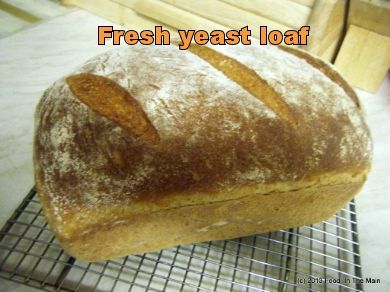 Ingredients:

2-1/2 cups strong white white flour + 1 cup strong wholewheat flour
30gm fresh yeast OR 1 tsp dry instant/quick-rise yeast
1 tsp sugar
1-1/2 tsp salt
200 ml warm (NOT hot) water
50 ml Greek yogurt + 50 ml water
1 tbsp vinegar (I used apple cider vinegar)
a little oil for kneading

Method:

1. Check that the yeast is alive by crumbling it into the warm water along with 1 tsp sugar, and whisking it. Leave it for 15 minutes. If it's starting to bubble, it's alive and can be used successfully. (If you're using instant yeast, skip this step and go straight to step 2, adding the instant yeast to the flour.)

2. Put the flours in a bowl and whisk in the salt. Make a well in the middle and pour in the yeast starter along with the yogurt and vinegar. Mix to form a rough dough. Cover and let it be for minutes.

3. Now oil your worktop or kneading board lightly, and scrape the dough onto it. Knead lightly for 10 seconds, then let it rest for 10 minutes. Do the kneading/resting procedure twice more, for a total of three times, oiling the board and/or your hands as required.

4. After the fourth 10-second knead, put the dough back in the bowl, cover it, and let it rise for 45 minutes to an hour, or until it has doubled.

5. Lightly flour the kneading board. Punch down the dough and return it to the kneading board, rolling it gently or patting it into a rough oblong. Now roll it up tightly along the long side, and place it seam-side down on a floured tray. You can also place it in a lightly greased 7" x 5" loaf tin. Either way, flour the top of the loaf, cover it with a clean tea towel and leave it to rise for another hour or so. When the dough looks like it has more or less doubled, or when it is about 2 inches above the rim of the tin, make a 1cm deep cut down the middle with a sharp knife, or three diagonal slashes - whichever way you prefer it.

6. Preheat the oven to 200C/425F. Just before putting the bread in to bake, place a tray of boiling water on the oven floor. The steam will help the crust become a rich colour. Bake the bread for about 35-40 minutes. The bread is done when the top turns golden brown and the bottom sounds hollow when it is tapped. Let cool before slicing.