I've been on a baking binge over the last 2 weeks - only on the weekends, though, because weekdays are just not long enough for baking bread if you're not demonically organised, which I am not.

Ever since I discovered Dan Lepard's recipes in The Guardian, I've gone through some 300-odd recipes in his column published over the past so many years, and scouted out all the bread recipes that seemed interesting and easy. And printed them. And now I'm trying to bake them all, one by one.

The saffron bloomer got made twice. Then this one, which is really good. There's also a wheat & rye cider loaf, and a loaf made with fresh yeast... but I'm getting ahead of myself. Those recipes will follow in due course.

For this loaf, it was serendipitous that I had half a carton of sour cream in the fridge. It may have been just a teensy bit past its use-by date, but I didn't say that and you didn't read it. Besides, we're both alive, so there was no harm done.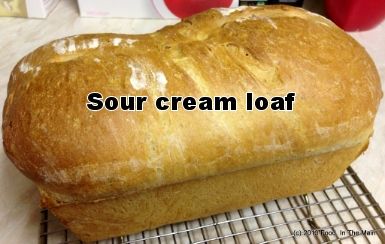 I've never been so pleased with bread I've baked - this loaf could have come from a proper bakery, I kid you not. I SO like Dan Lepard, because he says there's no need to knead like a maniac to get good bread, and believe me, that man speaks true. I'm all for an easier life, and he does make it easier. I may have said that before, but it remains true nevertheless.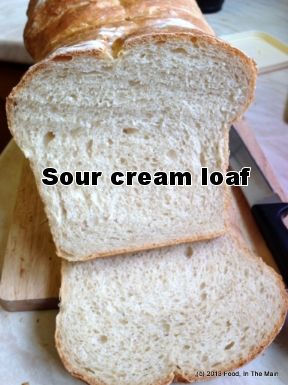 Recipe for:
Sour cream loaf
Ingredients:
125g (4 oz or 1/2 cup) cold sour cream
1.5 tsp salt
2 tsp caster sugar
1 sachet (7g) fast action yeast
550g (1 lb 4 oz) strong white bread flour, plus more for shaping
Oil, for kneading

Method:

1. In a large bowl, mix the sour cream with 150ml cold water and 100ml boiling water.

2. Add the sugar and yeast and whisk it together, then mix in the flour and salt until it forms a rough ball. It will be quite sticky. Cover the bowl and leave the dough to sit for 10 minutes.

3. Lightly oil your working area (worktop or kneading board) and gently knead the dough on it for 10 seconds. Put the dough back in the bowl and let it rest covered for 10 minutes.

4. Repeat the 10-second-kneading/10-minute-resting procedure twice more, oiling the worktop again if required to stop the dough from sticking too much. After that, leave the dough covered in its bowl for an hour or so, until it has doubled in size.

5. Butter the base and sides of a large, deep, 8" (19cm) loaf tin. Line the base with non-stick baking paper.

6. Lightly flour the kneading board now and place the punched-down dough on it. Pat or roll it out into 1 2-cm thick rectangle that's the length of the loaf tin, then roll the dough up towards you as well as you can. Place it seam-side down in the loaf tin, flour the top lightly, cover with a towel and let it rise for 60-90 minutes until it is doubled again.

7. Bake at 200C (180C/350C for fan-assisted or convection ovens) for about 45 minutes till it is golden brown on top and sounds hollow when you tap the loaf on the bottom (you gotta remove it from the baking tin for this, so definitely use oven gloves!).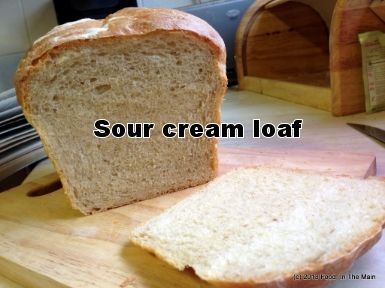 Let cool before slicing.