I made a version of this soup last month when I was with my family in Seattle, to go with the
herby cheese pull-apart bread
that was our first baking challenge set by Aparna Balasubramaniam. The soup is not exactly as I made it the first time, because mixed vegetable soup can be whatever you make of it.
If you're a wannabe Masterchef contestant or judge, or have more money than sense, you can use expensively exotic ingredients - mushrooms that have been grown in soil imported from a remote corner of the Brazilian rain forest and watered with dew gathered in moonlight on a full moon night in June; the rarest blue-spotted heirloom potatoes from Venezuela that have been hand picked by an endangered tribe (gotta support them, don't y'know); cream from milk where the cattle were exclusively hand fed on the finest grass prepared by Cordon Bleu chefs while classical music was played by the London Philharmonic live in their air-conditioned, state-of-the-art barn (the cows' barn, I mean, not the London Philharmonic's. The London Philharmonic wouldn't be allowed to live in the same building as these super-exclusive posh cows!)... you get the idea.
OR, you could just use whatever vegetables you have in your refrigerator that need using up, and standard chestnut or white mushrooms (or whatever you can get), to make this soup. It's a guide more than a recipe, anyway.
That said, though, I bought the mushrooms specifically to make this soup. But because I have more sense than I have money, I bought them from the "reduced for quick sale" section. Yay me!
Recipe for
:
Vegetable-mushroom soup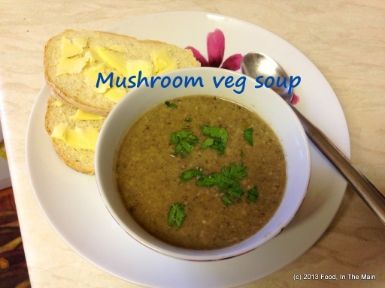 Ingredients:

4 small onions, sliced thinly
2 baby leeks (green and white parts), sliced thinly
4 cups mixed mushrooms (I used portobello/cremini, shiitake and oyster), sliced
1 medium potato, chopped (skin on)
1 medium carrot, chopped
1 litre (4-5 cups) vegetable stock/broth
1 tsp dried thyme or Italian herb mix
1 bay leaf
4 sprigs fresh thyme
1 tbsp olive oil + 1 tbsp butter
2 tbsp sour cream/Greek yogurt or full fat milk (optional)
Salt and pepper to taste
2 tbsp parsley for garnish

Method:

1. Heat the oil and butter in a large pan, add the onions and leeks and cook over medium heat till they begin to soften (about 5 minutes), stirring frequently.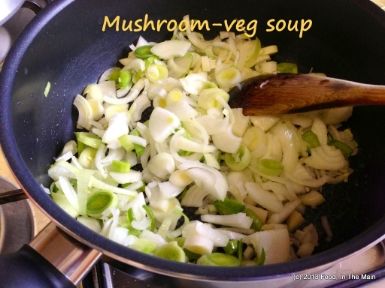 2. Add the mushrooms and cook for 2-3 minutes or till they start to reduce.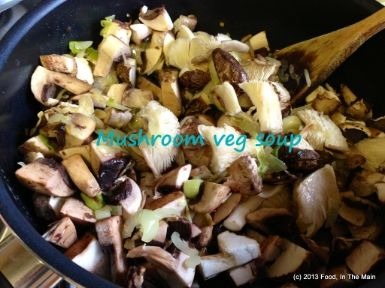 3. Add the potatoes and carrots along with the dried herbs and bay leaf. Stir for a couple of minutes.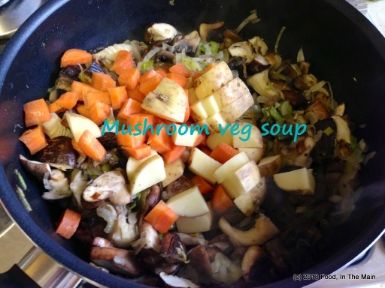 4. Then add the stock and the fresh thyme sprigs.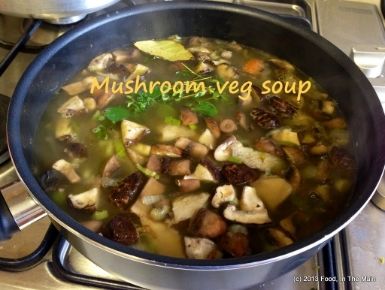 Bring this to a boil, cover the pan and let the stock simmer for 10-15 minutes or till the carrots and potatoes are soft and cooked.

5. Fish out the fresh thyme sprigs and bay leaf, then turn off the heat. Let the soup cool, then blend it to a smooth consistency.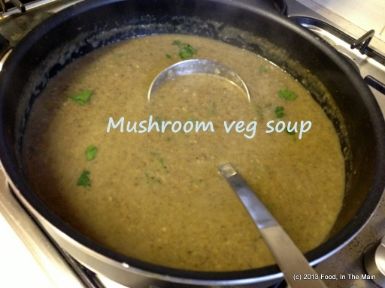 If you would like a bit more texture to the soup, blend only about 3/4 of the soup smooth, then add it to the remaining unblended soup in the pan.
Add the milk or sour cream/yogurt, if using, and stir it in.
Add salt and pepper to taste. Reheat on low heat till thoroughly warmed, but do not let it boil. Serve with parsley sprinkled on top, and croutons if you like, and crunchy buttered toast on the side.