Yup. You read it right. Pea-pod soup, not just pea soup. I got some really fresh green peas-in-the-pod at an Indian supermarket in Wolverhampton the other day - by the way, I will probably never need to go to Birmingham again, hurray! Wolverhampton is much closer and has everything I could possibly want in the "Indian" area. I just havent found a proper jilebi seller yet, but I'm sure I will.

How I do distract myself! Back to the beautiful fresh green pea pods. I bought a bagful, came home and shelled them all peacefully, while watching Malcolm in the Middle. Every single pod yielded fat round shiny peas - rather like green pearls.




Not one of the pods was brown, and there wasnt even a hint of fat green worms (which gross me out beyond belief when I meet with them). Shelling peas in India was half-fun, half-horror - I'd have to open every pod with the greatest care to make sure that it wasnt occupied by anything wriggly.




Anyway, I got about three small cupsful of peas. I could have thrown away the pods, but they looked so green and fresh, I decided to try for the second time a recipe for soup that I'd seen in one of Tarla Dalal's books, long long ago. I'd tried it then in an early culinary experiment... an experiment that went so disastrously wrong and was so traumatic to my inexperienced psyche (inexperienced in the ways of kitchen disasters, that is) that I shoved the memory into the back of my mind and didnt think of it again.

Until now. Now, I'm much more inured to culinary disasters. My psyche does not so much as blink an eyelash when things go wrong. It is an experienced, hardened psyche that has seen much. A psyche that would not flinch at anything that happened in the kitchen, no matter how cruel to innocent ingredients. Cucumbers shoved to the back of the fridge and forgotten for so long that they'd nearly gone liquid? No problem. Green beans that had lurked around till they went grey and shrivelled? No problem. Leftover dal in a container, growing greeny-greyish whiskers? Maybe a twinge of guilt, but no big trauma. Nothing like forgetfulness and unwitting carelessness to toughen up a wimpy psyche!

Um. Where was I? Oh yeah, I'd decided to give the pea-pod recipe another go. I didnt have any trouble remembering the basic instructions - they were branded into my brain all those years ago.

Anybody interested in what happened then? Well ok, no need to twist my arm! Basically, the instructions were to saute the pods with some chopped onions and herbs and pressure-cook with milk, then run the whole thing in the blender and finally strain the liquid to make the soup.

All went reasonably well till the blending part. I did not know that the Sumeet mixie disliked blending hot ingredients. How was I to know, since the kitchen was not normally one of my haunts? So I poured the pressure-cooked pea pods into the container, placed the lid on and started the mixer. Guess what happened? Yup. The lid flew off and the entire contents went THBPTTTTTTTHHHBTHTHTH - all over the kitchen! I spent the next hour cleaning the Sumeet, the worktop, the walls, the odd vessels that had been involved in the aftermath of the explosion. I even had to clean part of the ceiling!

Did I give up? Not me. I went right back with the remaining pea-pod-milk mixture, poured that into the mixie, placed the lid on, started the mixer... and... yup. The lid rose even though I was holding it down this time, and the contents went THBPTTTTTTTHHHBTHTHTH... AGAIN, squirting all OVER the damn kitchen. Apparently the soup-to-be hadnt cooled quite enough for the temperamental Sumeet.

After I'd cleaned everything in the kitchen for the second time, I walked out of there without looking back. It was a few years before I made my way back in.

However, this time everything went perfectly. Never say I dont learn from mistakes! The soup turned out light, pale green and fresh-tasting, with a gentle hint of fresh mint. Very good hot, and even better chilled. A summer recipe, if ever there was one, and perfect for the ARF/5-a-day event hosted by
Cate


Note: The pea pods HAVE to be very very fresh, with no hint of dryness or discolouration.

Recipe for:
Minty fresh pea-pod soup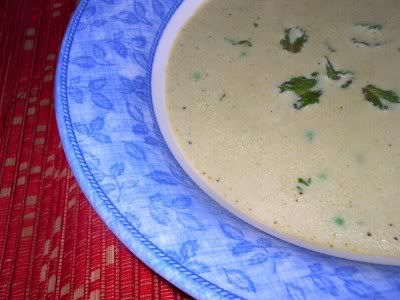 Ingredients:

3 cups fresh green pea-pods + 2 tbsp fresh peas
2 cups milk + 1 cup water
1 medium onion, sliced thin
1/4 cup fresh peas
1/2 tsp dried rosemary
1/2 tsp dried thyme
2-3 sprigs of fresh mint
Salt to taste
Freshly ground black pepper to taste
1 tbsp + 1/2 tsp butter

Method:

1. Heat 1 tbsp butter in a pan till it melts. Add the dried herbs, the sliced onion and 2 tbsp peas, cooking on medium-low flame until the onion turns soft and golden brown.




2. Add the pea pods and saute for 2 minutes.




3. Transfer the pea-pods to a vessel and add two cups milk and one cup water.




4. Pressure cook the pea-pods for three whistles.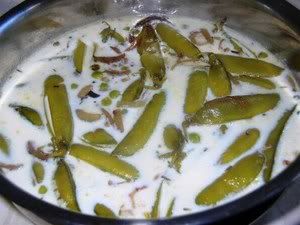 5. Let the contents cool, then blend in a mixer. Strain the liquid into a bowl through a strainer, pressing with a spoon to get all the liquid. Discard the shredded pea pods.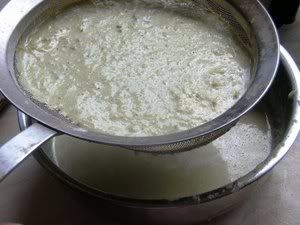 6. Heat the remaining 1/2 tsp butter and saute the 1/4 cup fresh peas for a minute. Add 1/2 tsp shredded mint, then pour in the strained liquid.

7. Add salt and pepper to taste, and bring the soup to a gentle simmer (about 5 minutes). Serve hot, garnished with a tender sprig of mint, as an appetizer.

Note: The soup tastes just as good cold - it actually improves in flavour the next day, with a more gently intense minty taste. Leave the soup in the refrigerator overnight and served chilled, accompanied by hot buttered toast.