If I remember right, this recipe was printed off Saroj's Cookbook online... quite a while back. It's a one-pot meal with rice and dal and whatever vegetables you want to add to the pot. The more, the merrier.

For me, as always, it turned out convenient because I cleared out the odds and ends of vegetables that were languishing in my fridge. In fact, I ended up with way more vegetables than dal OR rice - which is always good, isnt it? And of course, it was easy as easy can be because I used my trusty Prestige pressure cooker.

I have to say that this rice tasted quite a lot like bisibela baath - delicious eaten hot with some plain cold Greek yogurt on top. Weird? Perhaps. Satisfying? Without a doubt! Oh by the way, this dish is quite soupy, which is how I prefer it. If you like your rice and veggies, drier, reduce the amount of water to 2 or even 1-1/2 cups.

PS. If the thought of yogurt with this doesnt quite appeal, feel free to eat it with potato crisps, poppadum or vadam.




With all the vegetables I used in making this dish (onions, baby turnips, carrots, asparagus, peas, green beans, spinach, methi), I thought it was the perfect submission for
Cate's ARF/5-a-Day #29
- so here it is!

Recipe for:
Chootidal rice (vegetable-rice medley)


Ingredients:

1/3 cup rice + 1/3 cup toovar dal (preferably) both washed and soaked for at least 15 minutes in water
1 onion, sliced thin
3 cups mixed vegetables, cut into small pieces
1 cup methi and/or spinach
1 tbsp ginger-garlic paste
4 green chillies, sliced into thin rings
1 tsp cumin seeds
2 tsp mustard seeds
1/2 tsp turmeric powder
1/2 tsp red chilli powder
1 tbsp sambar powder
Juice of one large lemon
Salt to taste
1/2 tsp asafoetida powder
2 tbsp oil
3 cups water
10 curry leaves (optional)
2 tbsp coriander leaves, chopped coarsely

Method:

1. Heat the oil in a pan and add the mustard and cumin seeds. Let them splutter, covered.

2. Add the curry leaves, ginger-garlic paste and chopped green chillies. Stir for 30 seconds.

3. Add the sliced onions and stir-fry till soft and pale brown.

4. Add the rest of whatever vegetables you are using (bar the spinach) and stir well, then let them cook for 5 minutes on medium-heat.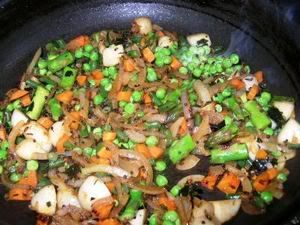 5. Put in the drained dal-rice and stir for 2 minutes more. Then add the spinach/methi if using.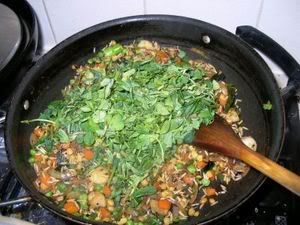 6. Add the turmeric, chilli and sambar powders and mix well again.

7. Now pour in the water, lemon juice and salt to taste and stir well.

8. Pressure-cook for one whistle, then lower the heat and let it simmer for 5 minutes. Turn up the heat again, let the pressure come back up to one whistle, then turn the heat off. Only open the cooker after the pressure has reduced naturally.

9. Stir the mixture, sprinkle with chopped coriander and serve hot with cold, thick Greek yogurt on the side, lemon or mango pickle and poppadums.