The first I ever heard of celery was when I was giggling my way through Ogden Nash's brilliantly funny, cleverly worded and quite captivating collection of poetry (Candy is Dandy, but Liquor is Quicker). Four lines was all it was, and the poem (like a lot of his other poems) unhesitatingly took up residence in my head. Here it is, in its brief but perfectly descriptive glory:

"Celery, raw
Develops the jaw.
But celery, stewed,
Is more quietly chewed."

Brilliant, or what? (For those who would like to know more about Nash's poetry,
click here
.)

When I came across the actual vegetable (can't remember exactly when, perhaps it was in Singapore), I discovered that much as I liked the poem, celery wasnt quite to my taste - raw OR stewed. Crunchy, yes. Practically zero calories, yes. Perfect for dieters, yes. But tasty? No. Not to my tastebuds, not really. Its very strong flavour overpowers everything else in the vicinity, if you ask me. If you use it in soup, all you taste is celery (which is okay if it's celery soup you're making, but not otherwise). Even celery SEED (which is in Pete's all-time favourite 21-herb seasoning from Trader Joe's) is strong enough to muscle in on the other 20 herbs in the mix.

So I pretty much gave up on it. Until a couple of days back, when my mother informed me that she had made celery thokku from a recipe that she came across in
Hema's blog, Vegetarian Concoctions
. (I'd sent amma a link to the yelai vadam recipe I'd seen there, and she went on to browse other recipes.)

Celery thokku? Wow. Talk about innovation, not to mention imagination. Mine would definitely have boggled if anybody had asked me to make something Indian with this vegetable. I did cross-question amma about the edibility of such a thokku, and she gave it the thumbs-up. I was still a bit hesitant to believe her, though. I don't mean to imply that my mother was telling porkies, but the problem is she's an indiscriminate lover of all vegetables, including those I really dislike! So I tend to take her recommendations with a slight pinch of salt.

As it happened, Pete and I went to the Shrewsbury market on Saturday, and there were large bunches of celery marked down to 50p for 5 stalks. This seemed too good to pass up, so I bought a bunch, totally intending to make celery thokku.

Man, those stalks needed some washing to get rid of the bits of remaining soil (they were pre-washed, but still). Then I stringed the ribs (strung them? de-stringed them? de-strung them? whatever) - I'm not sure you need to do that with celery, but I did it anyway. (When I snapped one in half, little bristly bits stuck out from the broken ends. So I grabbed the bits and pulled them, one at a time. And that is how you de-string celery. Thought I'd record it for posterity, just in case.)

I had quite a pile of stringy bits when I was finished, and it seemed like a good idea not to have them in the thokku.

For the recipe, I pretty much followed Hema's instructions, except that I added a couple of cloves of garlic (the last bits of a bulb languishing in my cupboard) - garlic's always good, right? Right.

So here's my verdict: Wow, the celery thokku was surprisingly good! Only gently tasting of celery, great mixed with rice, and perfect as a dip. I spread some on the scones that I made, and it tasted great! I must say that my thokku stayed stubbornly green, unlike Hema's which took on a nice dark colour. Mine was also runny compared to hers... perhaps I should have let it cook down even more. In any case, it was dee-lish! The world (me included) owes a debt of gratitude to Hema and her mother-in-law for this really innovative recipe. :)

So - thank you, ladies! :)

Recipe for:
Celery thokku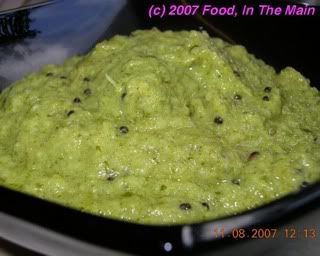 Ingredients: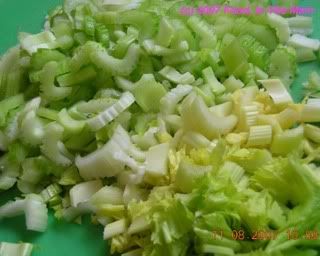 5 stalks celery, stringed and chopped
5-7 green chillies (or to taste), chopped
1/4 tsp asafoetida (hing) powder
1 tsp fenugreek seeds
1/2 cup chopped coriander leaves
1" piece ginger, chopped
2 cloves garlic, sliced
1 tsp mustard
1/2 tsp turmeric powder
Salt to taste
1/4 cup gingelly oil (preferably)

Method:

1. Heat 2 tbsp oil in a wide pan. Add the chopped celery and saute it with the coriander leaves for 7 minutes.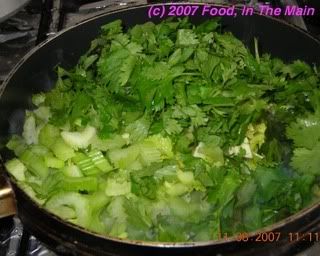 Take off the heat and let it cool.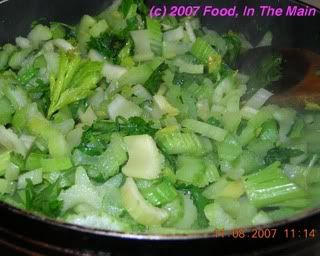 2. Add another tbsp oil in the pan and add the methi (fenugreek) seeds, chopped chillies, ginger and garlic. Cook this for 2-3 minutes, stirring.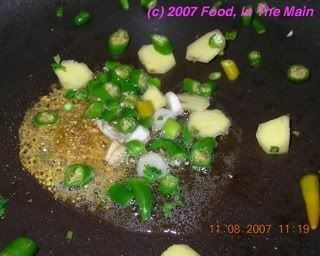 3. Grind the cooled celery along with the ginger and garlic mixture, making a smooth paste.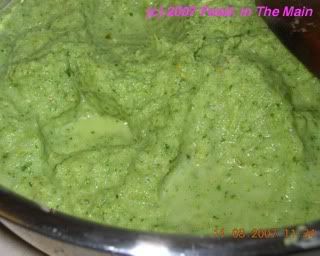 4. Pour the rest of the oil in the pan now, and add the mustard seeds. Once they splutter, add the celery paste.




5. Add salt to taste, turmeric powder and asafoetida powder and mix well. Cook the thokku on a low simmer till the oil leaves the sides of the pan and the mixture cooks down to a thick consistency.

6. Mix the thokku with plain cooked rice, spread it over toast, roll it up in chapaties, use it as a dip.