Phew, made it to
Anita's poori party
in the nick of time! All week I've been waiting for a chance to make poori-bhaji and take photos, but something or the other ended up taking precedence every single evening - the purchase of a new Range Rover being the most momentous event.

Momentous, and instantaneous. Pete's very quick off the mark when he's determined about something - so he researched Range Rovers on the Net for a day, shortlisted a few, we drove down to Coventry the next day, test-drove it, checked it and the day after that drove back down there to collect it. The new Range Rover is a beauty of a car, with enough toys in it to satisfy even the most demented petrolhead. But even this supercar doesnt lend itself to the making of poori-bhaji on the road!

So the first chance I got to actually set foot in the kitchen was today - and here's my addition to the party, Anita! I'm the tardy guest who comes in last... but I made it. And I plan to be the last to leave. Ab party poori ho gayi! ;)

Recipe for:
Aloo bhaji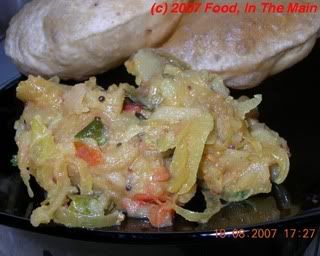 2 large potatoes, boiled and peeled
1 large onion, sliced thin
1 spring onion, sliced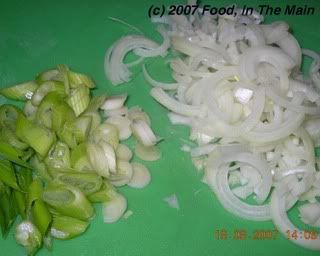 1/2 tomato, chopped
3-4 green chillies, chopped (or to taste)
1 tsp gram flour/besan
1 tsp chana dal
1 tsp urad dal
3-4 fresh curry leaves
1 tsp mustard seeds
2 tsp oil
1/2 tsp garam masala
1/4 tsp turmeric powder
pinch asafoetida powder
Salt to taste
1 cup water
Chopped coriander leaves for garnish

Method:

1. Smash the boiled potatoes by hand, to get that rustic look. The pieces dont have to be evenly sized.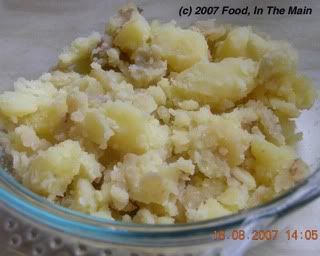 2. In a pan, heat the oil. Add the mustard seeds, green chillies, turmeric powder, asafoetida powder, chana and urad dals and curry leaves. Cover and let the mustard seeds splutter and the dals turn golden.

3. Add the onions and tomatoes and the garam masala.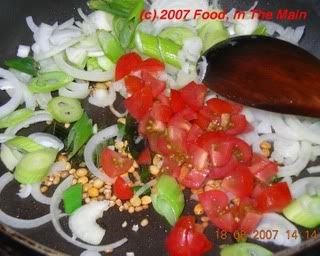 Fry till the onions turn transparent and the tomatoes are mushy.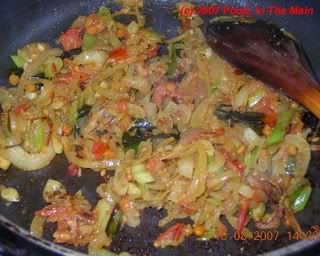 Then add the smashed potatoes and salt. Mix well.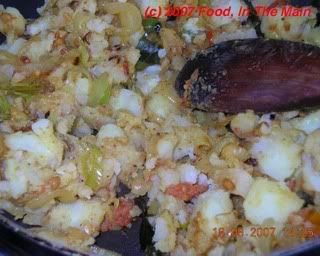 4. Dissolve the gram flour/besan in 3-4 tbsp water, then add that along with one cup water to the potatoes.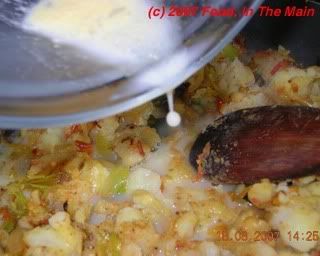 Stir well and let the mixture come to a gentle simmer. (Add a little more water if you like your bhaji runny - the gram flour tends to act as a thickener.)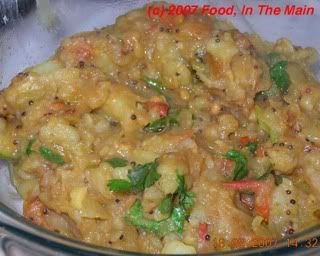 5. Garnish with fresh chopped coriander leaves and serve hot with pooris.