If anybody out there is wondering if plantain chips are better baked from raw or baked from parboiled, I have the answer: It doesn't matter much either way. And if that same person (or persons) - or a different person (or persons) – is also wondering if they taste good when overbaked, the answer is a resounding NO.

Overbaking these chips is a bad, bad idea because then they turn into something resembling wood chips in looks, texture and taste. They're very, very hard on the teeth (for obvious reasons), but what you might not know is that they're also murder on the eardrums - because the noise that results in your head when you crunch them is off the decibel scale altogether. You can't hear anything else for a while, so you get some quiet time to reflect on whether you've just shattered a plantain chip or your favourite chewing tooth, and come to the realisation (for the nth time) that it's a bad idea to leave the kitchen and settle down with a book while the oven is on and an even worse idea to forget about what's in the oven…

(Modus operandi in case of absent-minded overbaking:

1. Suddenly remember chips in oven.
2. Rush to oven and open the door.
3. Rear back from the rush of smoke and heat, bang the oven door shut.
4. Switch off the oven.
5. Search frantically for a magazine or a newspaper to wave at howling smoke detector in the foyer and hopefully stop the noise before some neighbour calls the firemen.
6. Open the doors and windows to get rid of the smoke.
7. Rush back to smoke detector and wave at it some more, cursing its sensitivity. 8. Cautiously return to oven to check on the condition of plantain chips within.
9. Repeat Step 7, but with more cursing.
10. Throw away burnt offering and restart baking procedure with second batch of parboiled plantains.)
Optional – Put away temptingly readable book for the duration. If not, see procedure as above.

Notwithstanding the above, if you do it right, you do get crunchy - but not deafening - plantain chips. Never as tasty as the fried kind, but definitely on the right side of palatable.

PS. I deep-fried a small handful of the parboiled plantains… and oh boy oh boy, were they goooooood! (My friend A, visiting at the time, might be able to endorse that. She missed the original burning ceremony, luckily for her.)

Recipe for:
Oven-baked plantain chips - 2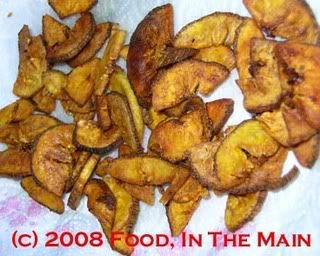 Ingredients:

1 large plantain, lightly peeled, sliced 1/4 cm thick
2 tbsp oil (or oil spray)
Salt to taste
Spices to taste

Method:

1. Parboil the plantain slices by putting them in boiling water for 5-6 minutes.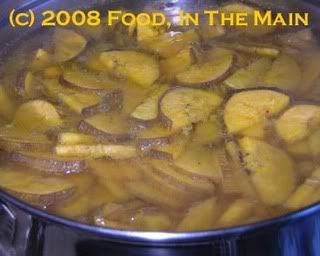 2. Drain water, pat slices reasonably dry with paper towels.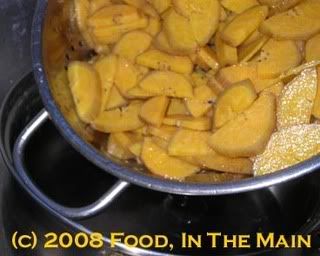 3. Line a baking tray with foil, spray foil with Pam or other cooking spray.

4. Toss the plantain slices with salt, spices and oil in a bowl, then spread on the prepared tray.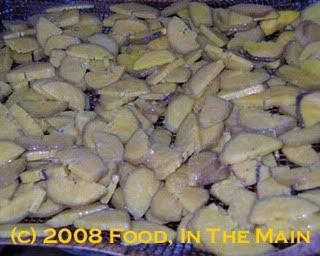 5. Bake at 180C (350F), turning the chps over after 12 minutes,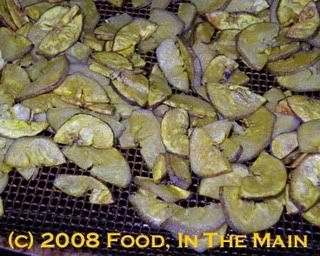 to crisp them evenly. Remove when done, cool and store in an airtight box.