I may have said this before, but I don't think there exists a bean that I would not like. I'd never tasted black beans before, so when I saw a small bag of black beans in my local supermarket, I couldn't resist buying it. I fully intended to make "black beans and rice", a dish I'd come across enough times that the two main ingredients – black beans and rice (duh) – had paired almost inseparably in my mind, like other famous duos. Torville and Dean. Fred and Ginger. Savitri and Satyavan. Tom and Jerry. Peaches and cream. Black beans and rice. (You must have got the idea by now - but feel free to add other famous duos to the list if you think they pair up better.)

Anyway, by the time I'd soaked the beans overnight and cooked them in the pressure cooker, inexplicably I didn't feel like making the classic Caribbean-style black beans and rice. Pete was away and there was only me for dinner, and I felt very much in the mood for comfort food. And that to me is Indian food. Actually, getting more precise, South Indian food. But because that phrase "black beans and rice" was still jingling about in my head, refusing to be split apart, I decided to make a lateral move and South Indianise the black-beans-and-rice, keeping the pairing but changing it to my taste. Hey, Torville and Dean giving a Bharatanatyam performance on ice are still Torville and Dean, right?

Actually, I'd rather nobody answered that question. Just make the black-beans-and-rice South-Indian-style and we'll say no more about any of it, okay?

Recipe for:
Black beans and rice, South Indian style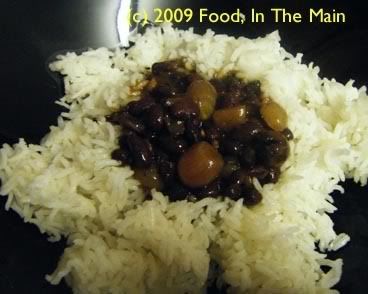 Ingredients

1 cup black beans, soaked overnight
1 tsp tamarind paste
1/2 cup tiny pearl onions (or use regular onions chopped fine)
2 green chillies, slit vertically halfway (optional)
1 tsp sambar powder
1/2 tsp Kitchen King masala powder (or use garam masala)
1/2 tsp fenugreek seeds
1 tsp coriander powder
2 tsp oil
1 tsp mustard seeds
½ tsp turmeric powder
¼ tsp asafetida powder
1 tbsp rice flour
Salt to taste
Water as required

Method:

1. Pressure-cook the soaked black beans with 1.5 cups water till soft. Reserve along with the cooking liquid.

2. In a pan, heat the oil and add the fenugreek seeds, mustard seeds, asafetida powder, coriander powder and turmeric.

3. Cover the pan and let the seeds pop (about 30 seconds), then add the slit green chillies and the onions.

4. Mix well and let the onions cook for 3 minutes, then add the cooked black beans, the sambar powder and the Kitchen King/garam masala powder.

5. Dissolve the tamarind paste and rice flour in 1.5 cups water and add this to the pan. Let the mixture come to a boil, then turn down the heat and let it simmer for 15 minutes.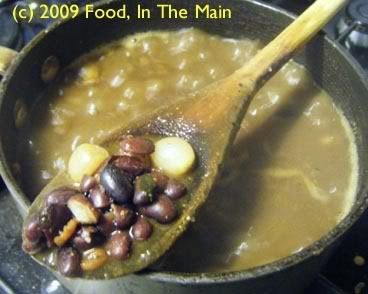 6. Add salt to taste. The gravy should not be runny, but should be fairly thick. If it's runny, let it boil for a few minutes longer; if too thick, thin with a little water. Serve hot over cooked white rice.