I think the previous post exhausted any reserves I might have had of creative writing (my euphemism for "blagging"), so all I have to say about this recipe is that it's a variation of tomato chutney - or of coconut chutney, or onion chutney... I leave it to you, dear readers, to decide. I personally don't bother overmuch about the nomenclature of anything edible, so long as it tastes good.

Recipe for:
Tomato shallot coconut chutney





Ingredients:

3-4 shallots
1 tomato
3-4 green chillies (or as per taste)
3-4 tbsp fresh coconut, grated
3-4 tbsp fresh coriander leaves
1-1/2 tsp oil
1/2 tsp mustard seeds
1 tsp urad dal
a few curry leaves
pinch of asafoetida

Salt to taste

1. Chop the shallots, tomato and green chillies into small pieces.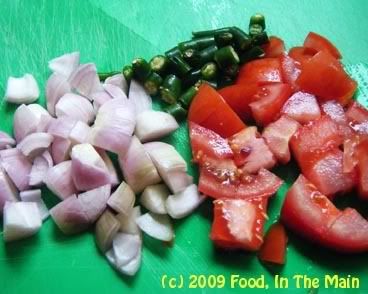 2. Heat the 1 tsp oil in a small pan and add the chopped tomatoes, shallots and chillies.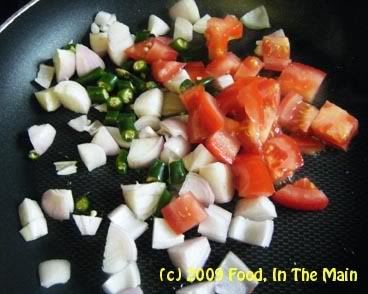 3. Fry on medium high heat till the onions become soft and the tomatoes mushy.




4. Let the cooked vegetables cool, then grind to a smooth paste along with the coconut and coriander leaves, using 3-4 tbsp of water. Remove to a serving bowl and mix in salt to taste.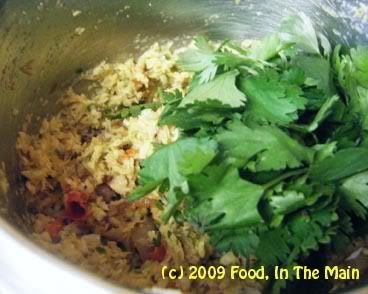 5. Heat the remaining 1/2 tsp oil, add the mustard seeds, asafoetida powder, curry leaves and urad dal, cover and let the seeds pop and the dal turn golden. Pour this tempering over the chutney, stir it in and serve as an accompaniment with dosas, idlis, rotis, etc.