1. Dont drown the grated sweet potatoes in milk. Find out the correct ratio from someone who KNOWS!

2. Dont overcook the sweet potato to an unpleasantly soft mush.

That said, I didnt immediately throw away the halwa I made. It seemed like such a wicked waste of ingredients and effort! The halwa didnt look as bad when it had cooled down, but it still wasnt anywhere near nice. The taste also mellowed a little - but it was still much too sweet. I did throw it away uneaten, eventually, but I still feel guilty about it...

Anyhow, due to popular demand (heh), here are two photos of my ill fated sweet potato halwa: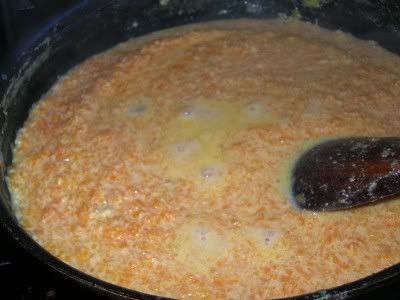 At this point, the sweet potatoes were cooked just about right, I guess... but there was sooooooo much milk that I had to let it go on reducing down - and by the time that process ended, there was only mush left.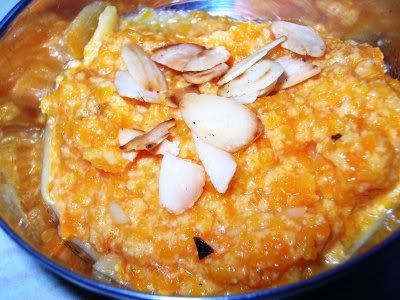 It looks okay, sort of... but appearances are deceptive. I confess I picked off the toasted slivered almonds and ate 'em before I threw away the halwa!