Phulkas are probably the healthiest version of Indian bread, as they are not cooked in ghee or oil or butter, but directly on an open flame. Yes, some people do add ghee or butter AFTER the phulka is cooked while it's still hot - but that's up to personal choice. They are absolutely scrummy when served immediately.

The traditional way is for the cook to make phulkas one by one and serve each immediately after removing from the flame. It's not the most convenient way to do it for the cook, obviously - but if you're lucky enough to be a recepient of this effort, especially when in North India, grab the chance with both hands!

The best ever, and I mean this, phulkas I've had were in a tiny village in Rajasthan, where I'd gone to attend a friend's wedding. After a long, tiring journey, we reached the marriage hall in the evening, famished and ready to eat anything in sight.

What we were offered was the simplest of food - hot phulkas with alu sabji (potato curry) and tarka dal. We sat in a row on the terrace of the marriage hall in the cool of the evening, with stars shining in a cloudless sky - and were fed piping hot phulkas, fresh and smeared in ghee. There were three cooks on duty and they worked perfectly as a team. One of them rolled out the phulkas lightning quick, the second one cooked them over a fire and the third dolloped home-made ghee on the cooked phulkas and placed them on our plates. It was like watching an assembly line production - as fast as we ate them, a fresh phulka landed on our plate and the side-dishes were replenished.

The Rajasthani cooks were overjoyed to be feeding us guests, and we basked in the pleasure of being fed with so much affection and - not the least - expertise. It was sheer heaven, and it was with the greatest of regret that we finally sat back replete, unable to eat a morsel more.

As I said, those were the best phulkas I've ever had. But, gorgeous though that simple meal was, it was only the humblest of starts to three days of unbridled and unabashed feasting and fun - and best of all, it was entirely vegetarian from start to finish. It's one of the most unforgettable experiences I've had, and Rajasthani wedding food is some of the most delicious food in the world. It's also mighty rich... but I guess that's the case with most wedding feasts.

But back to my own phulka-making efforts... I'm not the best at it, not by a long shot. The rolled-out dough is first cooked quickly and partially on the tava and then finished over an open flame. If it puffs up evenly into a near sphere, you can consider it a perfect phulka. I manage to get about one in four to puff up nicely, and it's always a triumphant feeling to see that happen!




There's nothing wrong if the phulkas dont puff up, in the sense that they'll taste just the same. But a perfectly puffed phulka is proof that everything has come together just right - the dough texture, rolling it out, cooking it quickly on the tava and finally on the open flame. It's a great feeling!

Recipe for:
Phulkas
Ingredients:

3 cups wholewheat flour
1/2 cup milk
1/2 tsp salt
4 tbsp oil
Enough water to make a stiff smooth dough
1 extra cup flour for dusting

Method:

1. Mix the flour and salt in a large bowl and make a well in the middle.

2. Add the milk and oil in the well, stirring it into the flour with a large fork in clockwise movements from the centre.

3. Add water little by little, stirring until the flour is just mixed.

4. Remove the fork and mix by hand now, kneading to form a stiff, smooth dough, adding water as required.

5. Cover and let the dough rest for 15 minutes.

6. Pinch off a piece of dough about the size of a golf ball and roll it into a ball.

7. Flatten it in the dusting flour, turn it over and coat the other side with the flour.

8. Roll it into a circle (as much as possible) with a rolling pin, exerting a steady but light pressure so that the dough does not stick. Dust with more flour if required.

9. Heat a tava or flat pan on medium flame. Place the phulka on it and leave it on for 30 seconds, until white spots begin to appear. Turn it over and do the same with the other side.




10. Take the phulka off the tava and place it over a naked flame. You can do it by hand (carefully, because the phulka might tear and release the hot steam) or use a
pair of tongs.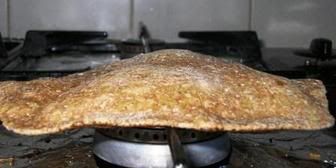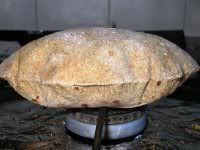 11. Let the phulka puff up and get some dark spots. Then turn it over and cook that side.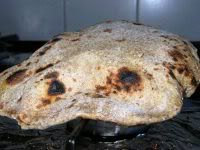 12. Serve hot, spread with a little butter or ghee. If not serving immediately, stack the phulkas on a soft clean cloth as you make them. Reheat in the oven or in the microwave before serving with dal and any vegetable curry.