Item 1: 1/4 of a chow-chow (bangalore kathirikkai)

+

Item 2: about 1/2 a coconut



=



Item 3 = Chow-chow chutney or thogayal

This is probably the only sort of equation I can understand, having been maths-impaired since birth. It's the stuff of my nightmares, mathematics, and it has NO place on my blog or indeed in my life.

So I'll talk about chow-chow thogayal instead.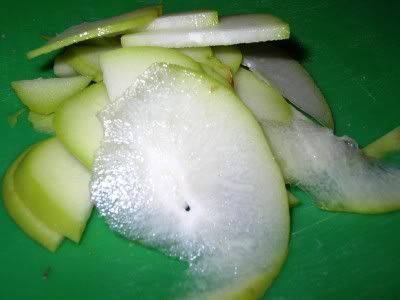 My mother usually makes thogayal with the addition of a vegetable - cabbage, white pumpkin, chow-chow, etc. When I was younger, I used to think that thogayal made by adding vegetables was inferior to that made with coconut alone - as if the purity of the coconut had been compromised (I guess as a kid I was pompous in thought if not speech!).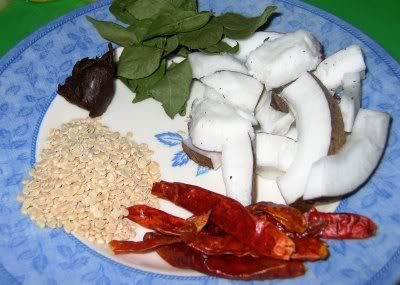 Ingredients for thogayal (clockwise, starting top right): Coconut, dried red chillies, urad dal, tamarind piece and curry leaves

I dont feel that way any more, which is why this recipe is being aired. Also, adding a bit of vegetable is a great idea if you're a bit short of coconut - and it doesnt compromise on taste one whit. Of course, since the vegetable is only partly cooked, the thogayal only stays good for a couple of days.

Putting coconut chutneys in the fridge definitely DOES compromise the taste, because they acquire a sort of staleness that's unattractive on the tongue. It's not that the chutneys go bad, but they lose some vital essence... I like to imagine that it's their soul...

Enough of the belaboured whimsy, and on with the recipe!

Recipe for:
Chow-chow thogayal (chutney)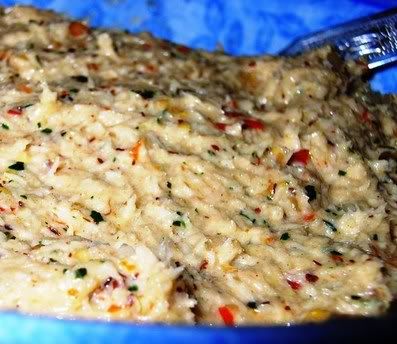 Ingredients:

1/2 cup chow-chow, sliced
1/2 cup coconut, grated or slivered
5-6 dried red chillies (or to taste)
1 tsp tamarind paste or 1/4-lime sized piece of tamarind
10 curry leaves
1/2 tsp asafoetida powder
2 tsp urad dal
2 tsp oil
Salt to taste
Warm water as required (approx 1/4 cup)

Method:

1. Heat 1 tsp oil in a small pan and stir-fry the sliced chow-chow for 2-3 minutes, till the slices start to soften. Remove from the pan and set aside.

2. Heat the second tsp of oil in the same pan and fry the red chillies, urad dal and curry leaves till the dal turns golden. Remove the chillies and set aside.




3. Grind the fried chillies, coconut, tamarind, asafoetida powder and chow-chow together, using only as much water as required to make thick but finely ground mixture.

4. When all the ingredients are ground up properly, add the rest of the tempering (the curry leaves and urad dal) along with salt to taste and grind for another 20 seconds, so that the dal and curry leaves are shredded but not completely amalgamated.

5. Serve as a side dish with idli, dosa, chapaties, etc, use it as a filling for sandwiches, or eat it mixed with ghee and steamed rice with any dry vegetable dish.