I'm pretty sure I don't have much to say in this post, so of course I'm going to try and say it in as many words as possible. It's obligatory to do so, the First Law of Writing (except that it's always been an unwritten law, ironically) which I am now vocalising via the written word. The self-styled "expert" analysts who contribute to newspapers, especially in the political and economic areas, are the most obvious propagators of this law. The less you have to say, the more verbose you get. You might have noticed that your favourite writer pretty much always leaves you wanting more. On the other hand, the boring ones just as predictably can lay an entire rainforest's worth of trees to waste with just one article.

Now I'm beginning to feel like
A A Gill, the food and restaurant critic of The Times
. He's supposed to review different restaurants but usually writes for more than half the article (every single time, too) about something completely irrelevant and as far off the topic of food and restaurants as... let's say, as far off as Big Brother is from an intelligent programme. As one of his readers put it: "I think I finally have the hang of an AA Gill "restaurant review". Talk about something that has nothing whatsoever to do with restaurants (hernia operations, personal loves and loathes, politicians, etc.) and then, at the end, write the name, address and a brief, caustic opinion.
Louise, London, UK"

So, now that we have the "nothing much to say" out of the way, let me say a few brief words about this biscuit/cookie: It's eggless, it's nice, it was made by my cousin Hema during her visit to Shrewsbury, and she took it home with her so that her lucky parents could have a taste of her first baking efforts.

That's all I really had to say in the first place.

Recipe for:
Cranberry orange cookies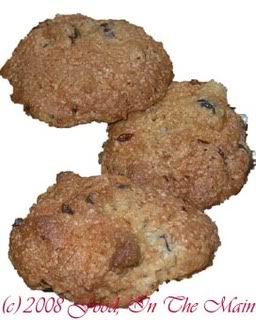 Ingredients: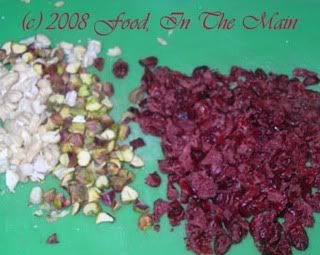 1 cup granulated sugar
1/4 cup butter, softened
1/8 cup milk
3 tbsp fresh orange juice
1 tbsp yogurt
1-1/2 cups plain/all purpose flour
1/2 tsp baking powder
1/8 tsp salt
1/8 tsp baking soda
1/2 cup chopped dried cranberries
1/4 cup chopped nuts (we used pistachios and cashewnuts)

Method:

1. Preheat the oven to 190°C/375°F.

2. Cream together the sugar and butter in a large bowl.

3. Stir in milk, orange juice and yogurt.

4. Stir in flour, baking powder, salt and baking soda.




Add cranberries and nuts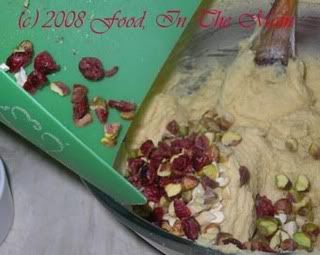 and stir lightly into the dough.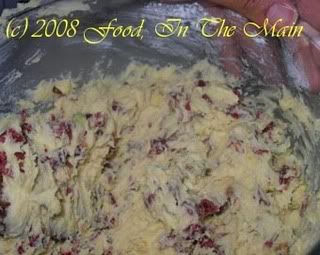 4. Form dough into balls (approximate will do) with slightly wetted fingers and drop onto cookie sheet.

5. Bake 10 to 15 minutes or until light brown around the edges.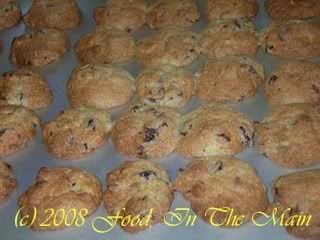 Immediately remove from cookie sheet and cool.