Up until now, kale had been a green that I bypassed almost automatically at the supermarket, although I always stopped to debate over whether to try it or not. Despite the bags advertising their contents as "tender curly leaf kale", my decision was always "not". Mainly because the sliced leaves looked so very tough, but also partly because, rightly or wrongly, I associated kale with Russian cooking from all the Russian folk tales and fairy tales that I'd read. It sure didnt seem like the most attractive vegetable... maybe more like poor man's fare.

Anyway, on the last shopping trip that I did with my mother and Hema, I threw in a bag of sliced kale, hoping to make something - anything - with it at some point. Days passed, my mother and cousin left, a week went by thereafter and still the kale sat in the little refrigerator in the shed (as opposed to the big one in the kitchen), almost but not quite forgotten. It didnt even have the grace to wilt or get soggy, like regular spinach does. It just stayed there, looking resilient and green and pretty much like it would be happy to sit there for as long as it wished.

So, last week I went trawling for kale recipes - I didnt want any Indian-style recipes this time, so it took a while to find something that seemed like it would taste interesting. Finally I came across a
chorizo-chickpea-kale stew on Tamarind & Thyme
, and since I had veggie sausages at hand, I decided to go with that. The recipe was pretty simple, really, and I was pleased to have smoked paprika at hand, as specified. What I didnt have was dry sherry, so I thought to use red wine - which also, unfortunately, I didnt have. So in the end, I used port (fortified wine). It seemed to work pretty well. I also reduced the amount of smoked paprika in the recipe, because I've discovered from experience that it can be VERY overpowering if not used sparingly. Again, I dont know if it's a quality of the particular kind of smoked paprika I have, or whether all smoked paprika tastes like that... but I was happy to go with just two pinches of it, rather than 1/2 tsp. That would have been wayyy too much.

After trying the stew, Pete thought that the kale was rather too strong a green for this recipe, although overall it was savoury and tasty. I liked it too, but I have to agree with him on this - despite my best efforts, the kale was still rather tough to the bite. Perhaps next time I'll use spinach, which we both love, and see how it works out.

I served the kale with another first - red quinoa, which I've never tried before. I found the seeds quite cute and I liked the white "ring" that appeared around their middle. Red quinoa has a funny taste by itself, but I'm sure it will lend itself to being combined with various things. As a matter of fact, I used leftover quinoa to make another dish - but that's for another post!

Maybe kale is best suited for Indian recipes incorporating dal and other vegetables. Time (an some more experimentation) will tell.

Recipe for:
Veggie sausage, chickpea and kale stew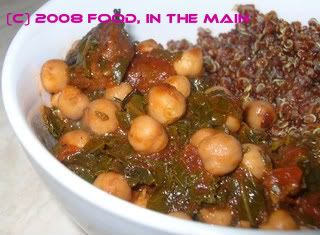 Ingredients:

1/2 cup vegetarian sausage, sliced 1 cm thick
1 medium onion, chopped
1 clove garlic, thinly sliced
2 tbsp olive oil
1 cup cooked chickpeas (canned is easiest)
2 cups kale, sliced
1/8 cup dry sherry (I used port)
1/2 cup chopped tomatoes (I used a small tin of crushed plum tomatoes)
½ tsp smoked paprika (I used 2 pinches)
½ cup water
Salt and freshly ground black pepper to taste


Method:

1. Heat a sauté pan over medium heat and pour in the olive oil.

2. Add the chopped onion and sauté till it begins to soften.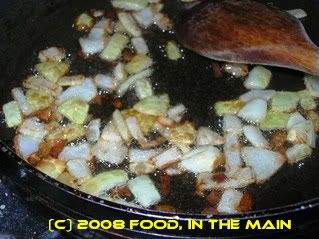 3. Add the sausage and continue frying until the sausage starts to crisp and the onions are golden.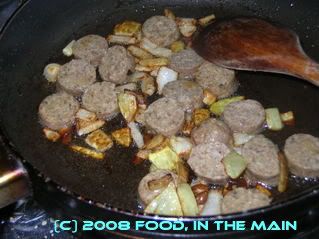 4. Add the garlic and let it sizzle for a minute (don't let it burn).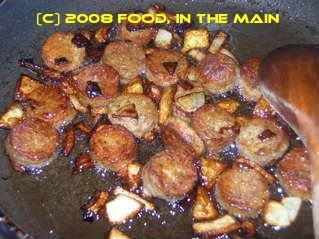 5. Add the dry sherry/port and let it bubble and then reduce.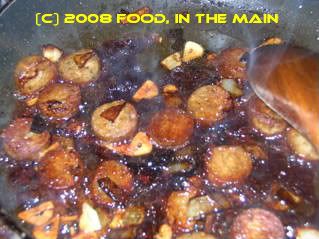 6. When the port has bubbled away almost completely, add the drained and rinsed chickpeas,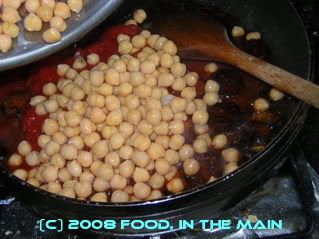 the chopped tomatoes and the paprika.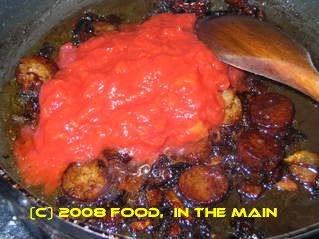 7. Mix it about for a couple of minutes, then add ½ cup water and let it simmer gently for 4-5 minutes.

8. Now toss in the kale, add ¼ cup water if the sauce looks too thick, cover the pan and let the kale steam.




9. Check every five minutes, giving the whole thing a stir, to see if the kale is done. If it's not done to your liking, add a little more water, cover the pan and let it cook some more.




10. Add salt and pepper to taste, mix well,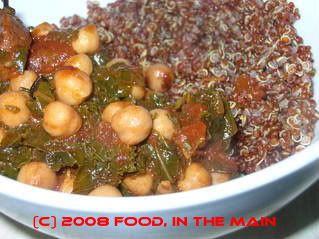 and serve hot with good bread, over rice or with quinoa (like I did).

Note: How to cook quinoa - Rinse the quinoa well under running water in a strainer with a fine mesh. If you try to rinse quinoa seeds in a regular pan, you will lose a lot of the little guys down the sink when you try to pour away the water. Trust me on this, this is the VoE (Voice of Experience) talking - quinoa seeds are VERY light, and float off quicker than you would imagine. The instructions on the quinoa packet dont tell you this - all it says is "rinse the quinoa 3-4 times". Hmph. (On my more paranoid days I tend to think that it's a ploy by the company to provide as little information as possible. That way, people using quinoa for the first time will have to buy another packet of the stuff sooner than they planned, after helplessly watching the washed seeds disappear down the plughole. Hey, this could even be true!)

1. Rinse 3/4 cup quinoa and drain.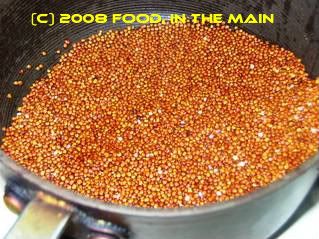 Roast it without oil in a pan until a few grains begin to pop.

2. Add 1-1/2 cups of water, bring to a boil, cover and simmer for about 15 minutes, or until the water is absorbed. The quinoa seeds will have a white "ring" around them when done.




Remove from heat and let stand for 10 minutes. Fluff with a fork and let cool.