Over the next few days - or weeks, depending on the levels of sloth and indifference - I'll be posting a few recipes of cookies and cakes that Hema (my cousin) and I baked. Well, mostly Hema, with me hovering around "instructing". Yes, that's what I like to call it. The first of these was
eggless peanut butter cookies
.

So here is a recipe for eggless cashew vanilla cookies. There arent any takers for cookies in my house, unless you count Hobnobs (chocolate-covered digestives) of which Pete is inordinately fond. I'm not likely to be making those, so I stand by my statement that there arent any takers for cookies in my house.

It's only because Hema was there that I made cookies at all. These were nice, but I think they would have been better with the cashews being lightly toasted first rather than used raw as I did. And also, be very sure to remove the cookies from the baking tray after 2 minutes - they will get increasingly more difficult to remove if they cool on the tray itself. You have been warned.

Recipe for:
Cashew vanilla cookies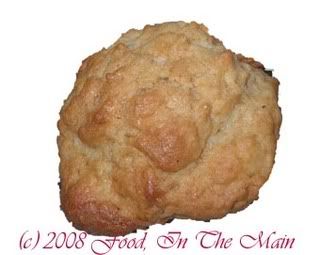 Ingredients:

1 cup plain/all purpose flour
1/2 tsp baking powder
1/4 tsp baking soda
1/8 tsp salt
1/4 cup soft butter
1/2 cup brown sugar
1 tsp vanilla extract
1/3 cup yogurt (original recipe said to use cream)
4 tbsp chopped cashews (lightly toasted if you like)

Method:

1. Preheat the oven to 180°C/350°F.

2. Sift together the flour, salt, baking powder and soda.

3. Cream the butter, sugar and vanilla. Beat until smooth.

4. Add flour mixture and yogurt, stir in till well incorporated.




5. Mix in cashews.

6. Drop by tablespoons (or use lightly wetted fingers to shape into balls) on ungreased (yes, ungreased) cookie sheet 1-1/2 inches apart.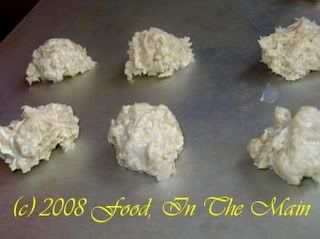 Bake for 10-12 minutes or until the tops are golden brown.




7. Cool 2 minutes in the oven, then immediately remove to racks. Cool and store in an airtight container.