When I saw this post on
Taste Goblet
, I knew I had to try it. Usually the posts here about fabulous cakes, way beyond my basic baking abilities. Thank goodness I dont need to have any special talent to drool at the gorgeous photos and read the write-ups and marvel at Chitra's patience and baking genius, and did I mention her beautiful photos? This recipe, though, was definitely one I could do, so I did. Thanks, Chitra!

Recipe for:
Spinach masala chapaties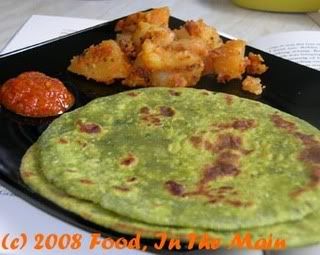 Ingredients:

2 cups spinach, chopped
½ cup coriander
1" piece ginger, sliced thin
2 garlic cloves
2 small red onions, chopped
3-4 green chillies, sliced (or to taste)
1 cup warm milk
2-3 cups atta
Salt as required
1 tsp turmeric powder
1 tbsp ghee

Method:

1. Blitz the spinach, coriander, ginger, garlic, onions, chillies in a food processor




without adding water, until finely chopped but not mushy.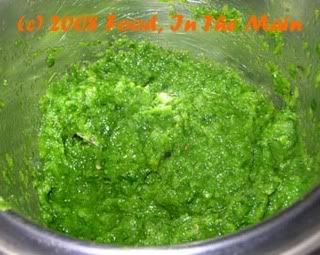 2. Put the atta in a large bowl and rub the ghee into it. Then add the chopped spinach mixture and add turmeric powder.

3. Add salt to taste, then make a soft but not overly sticky dough using as much milk as required. Knead the dough really well on a lighly floured surface, as for bread, for 5-7 minutes.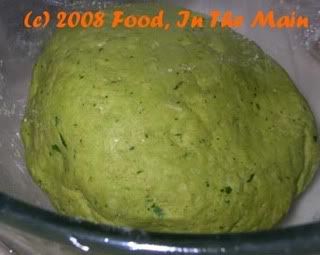 4. Leave the dough covered in the bowl for an hour.

5. After an hour, make chappaties as normal.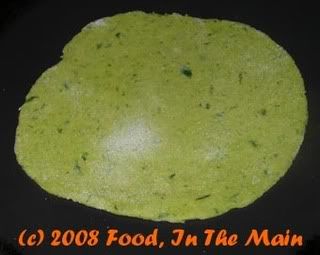 You can either make these as phulkas, smearing a little ghee after they're cooked.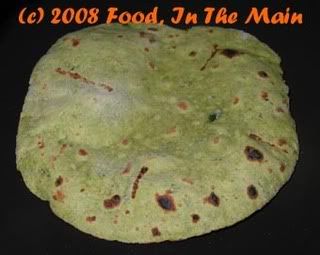 6. Or use ghee/oil/Pam (whichever you feel like) to cook the chappaties on the tawa itself.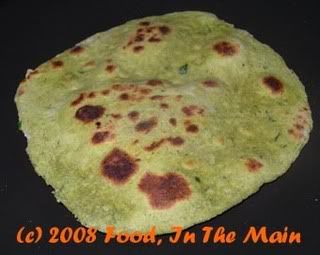 7. Serve warm with any curry.