I guess it's possible at any age to discover something you dislike at first taste – and just as possible to discover that you absolutely love something the existence of which you didn't know till that first bite. And so it proved with a bhindi (okra) dish that a friend recommended at a Bengali restaurant called "Bay Leaf" that we went to when I was in Chennai earlier this year. (The restaurant, for those who are not in the know, is on a little street adjacent to Gangothree, the wurrrrld-phamous chaat place that's been around since nearly forever on Cathedral Road - or since I've known it. But isnt that the same thing?)

I thought that everything that I tried at Bay Leaf was absolutely delicious, but the bhindi-in-mustard-sauce (shorshe bhindi, on the menu)was nothing short of a lip-smacking revelation. And yet, for many reasons, one being the fact that good, cheap okra is not easy to come by in Shrewsbury, and another being the blue funk that I was sunk in for weeks after my return, missing the three Fs (family, friends, food), it didn't cross my mind to replicate the dish at home. Actually I didn't even remember the existence of this beautiful Bengali dish... a bit strange, considering that the food I'd had was among the things I missed so much!

Then I came across the recipe on
Sunita's World
and instantly it took me back to how incredibly much I'd enjoyed shorshe bhindi at Bay Leaf. Luckily, I had the opportunity to indulge this memory because I'd just had a delivery of provisions and fresh (ish) vegetables in the post from an online store. Okra was one of the vegetables I'd ordered.

The problem with buying vegetables sight unseen is, of course, that you cannot trust to the quality or freshness. Most times, though, the vegetables turned out in pretty good shape, and the okra didn't seem bad this time. Until my mother pointed out a fat green worm that was humping its way out of the paper bag. Uuuuuuuuugggggggghhh! The recipe might have ended right there in the dustbin, worm, bhindi, bag and all... and this post would probably not have seen the light of publication this side of 2009.

But luckily, my mother being less squeamish than me and far less tolerant of waste, she volunteered to sort the occupied/pre-nibbled vegetables from those that were edible. And thus did she save the day, the bhindi, the recipe and our vegetarian sensibilities all in one fell swoop.

Good thing, too, because oh boy, the okra-in-mustard-sauce was very nearly as yummy as I remembered it from the Bay Leaf. Well, close enough that I was pleased with it, and even Pete, who isn't a fan of mustard as a condiment, enjoyed the taste.

Another version of this recipe can be found at
BongMom's Cookbook


Recipe for:
Bhindi (okra) in mustard sauce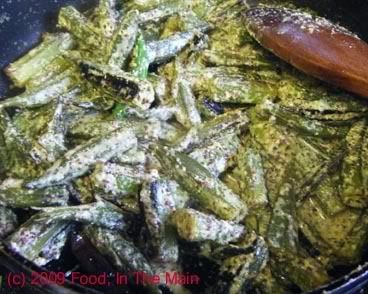 1/2 kg tender okra, washed, dried, topped and cut into 3" long pieces
2 tbsp mustard seeds (brown or black)
1" piece ginger root
2 dried red chillies
3-4 green chillies (or to taste), slit halfway from the tail end
1 bay leaf
2 tsp oil
1/2 tsp panch phoran or garam masala powder
1/2 tsp turmeric powder
Salt to taste
About 1 cup water, to be used as required

Method:

1. Soak the mustard seeds in water for 15 minutes.




2. Grind it to a smooth paste with the ginger, adding a few tbsp water to help it along. I didn't make mine really smooth, it stayed a bit grainy.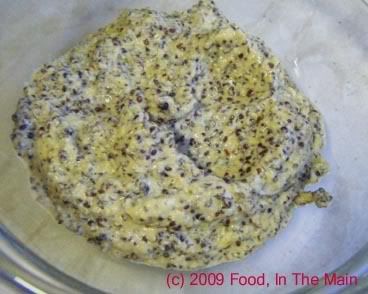 Mix the paste with 1/4 cup water. Add 1/4 tsp turmeric powder and reserve.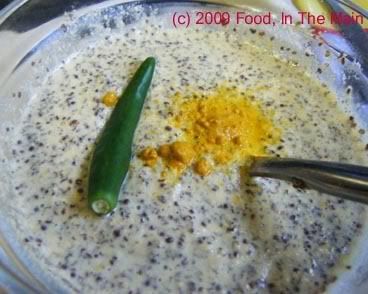 3. In a pan, heat the oil and add the bay leaf, red chillies and garam masala powder/panch phoran.




If the bay leaf is green, it will splutter in the hot oil, so watch out.

4. Add 1/4 tsp turmeric powder along with the okra and stir it well. Cover the pan and let the okra cook for 8-10 minutes on medium heat, stirring it every couple of minutes.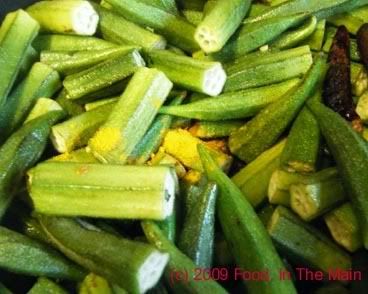 5. When the okra is three-fourths cooked (it will feel soft when pressed with a spoon), add the mustard paste, the slit green chillies and the remaining turmeric powder along with salt to taste.

6. Stir the paste into the okra carefully, making sure they're coated thoroughly. Let the okra cook till done. If the paste looks dry, sprinkle a couple of tbsp water on the vegetable and mix it in.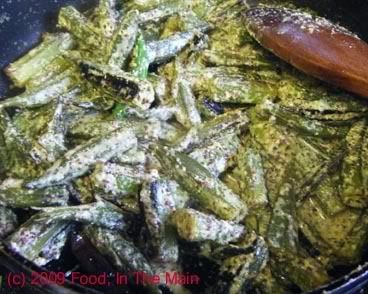 7. Serve hot with rotis or rice as a side dish.