Yep, just as I thought... oven-roasted tomatoes, apart from making lip-smacking tomato thokku, are amazing in other dishes too. The concentration of flavour is what does the trick, I guess. I've made alu-matar with roasted tomato paste as the base, and a simple dal as well – and both were distinctly tastier than usual.

I used green lentils for the dal this time, as they don't require soaking beforehand, much like whole green gram dal. We had rotis and some leftover potato curry from the morning, and a bit of rice, and my mother suggested that a simple dal would round off our meal. And so it did... but the roasted tomato paste turned it from simple to simply delicious.

I pressure-cooked the green lentils with a chopped tomato and two slit green chillies, to save on time (and fuel). While the dal was cooking, I sliced and stir-fried some onions and the tomato paste, and by the time the cooker had released the pressure and could be opened, the masala was ready for the dal. I can't recommend too highly the flavour of roasted tomatoes. Roasting seems to make the tomato tangier, and I was glad that I didn't give in to the impulse to add a bit of tamarind paste, because that would definitely have been overkill.

The best part is that you could easily roast a good load of tomatoes, make a puree of them when cooled, freeze the paste in ice trays, and add a cube or two to whatever you are making if you want a flavour explosion.

Recipe for:
Green lentil dal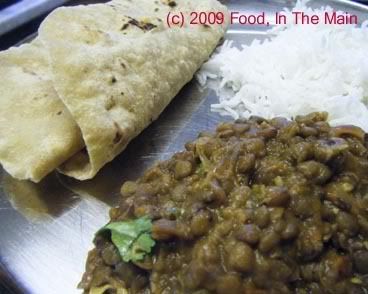 Ingredients:

1 cup green lentils




1/4 cup oven-roasted tomatoes, pureed
1 medium tomato, chopped




2 small red or white onions, sliced thin
1 tbsp ginger, grated
3 fresh green chillies
1 tsp oil
1/2 tsp cinnamon powder
Water as required
Salt to taste

For tempering:
1 tsp ghee
2 garlic cloves, sliced very thin
1 tsp cumin seeds

For garnish:
2 tbsp fresh coriander leaves, chopped

Method:

1. Wash and rinse the dal, then pressure-cook along with 2 cups water, the chopped tomato and two green chillies (slit), for three whistles.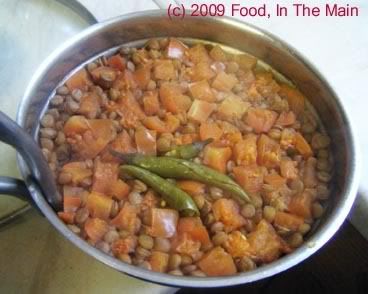 Let the pressure come down by itself. Stir the dal gently and remove the whole green chillies, if you wish.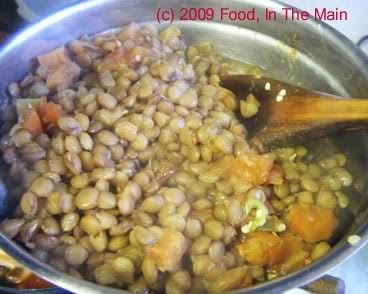 2. Heat the oil, add the cinnamon powder.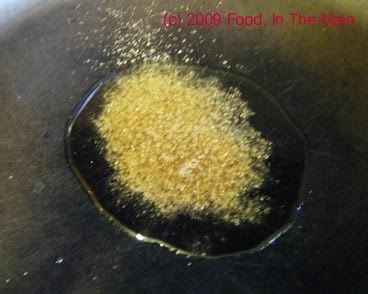 After 10 seconds, add the grated ginger and fry for 30 seconds,




then add one green chilli, sliced thinly.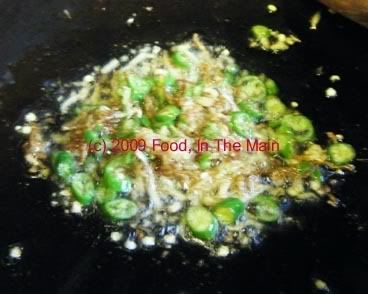 3. Fry for 30 seconds, then add the sliced onions.




Fry for 2-3 minutes on high heat, till the onions begin to turn soft.




4. Add the pureed roasted tomato along with 2-3 tbsp water and stir well, cooking on a medium-high flame for 3-4 minutes.




5. Now add the pressure-cooked dal (discard the green chillies if you like) and mix well.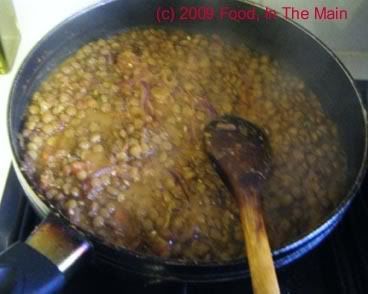 Add 1/2 cup water if the dal is too thick.

6. Add salt to taste and simmer the dal for 5 minutes.

7. For the temperig, heat the tsp of ghee in a small pan, toss in the cumin seeds and let them change colour, about 10 seconds.




8. Then add the sliced garlic and fry till it just starts turning a light brown around the edges.




9. Pour this tempering on the dal.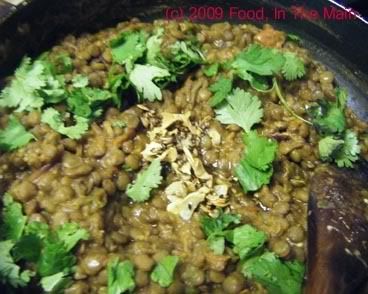 Garnish with coriander leaves and serve hot with rotis or rice.