Not the snappiest of titles for a post - or a recipe - but on the plus side, there's no room for misunderstanding as to what it is, I guess. Perhaps I should have called it "Eggless triple chocolate butterfree buttermilk vanilla scented cupcakes" and done away with the ingredient list altogether...

Never mind, I'll save that ingredients-as-title idea for another post. Never let a good idea go waste. Recycle, recycle, recycle, isn't that the mantra?

The reason I made these cupcakes was because I stopped Pete from buying cupcakes from the supermarket with the promise that I'd make some at home. (Honestly, the list on the back of the package had E-ngredients rather than ingredients! I'm all for Pete having a long, long life - no-one could pray for that more - but I'd rather he retained his human qualities through all of it rather than become an artificial life form through ingesting manufactured chemicals.)

Anyway, since my mother's a chocolate fiend but not one that devours any chocolate derivations with egg in it, I made the cupcakes eggless. The recipe is more or less from
Nic at Baking Bites
, with a few changes.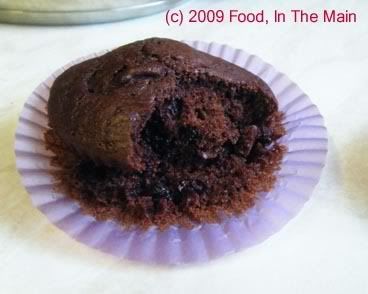 Here's a cupcake before the ganache went on. I took a bite out of it just to see what it was like - and because I'm not terribly fond of icing or frosting. Glad to say that the cupcake was just as delicious in its double-chocolate version as with the final chocolate addition.

Recipe for:
Eggless triple choc buttermilk cupcakes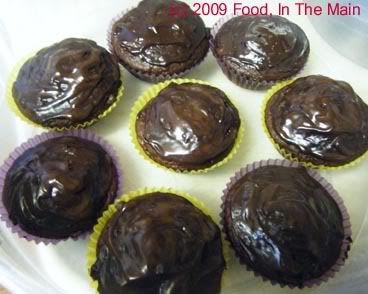 Ingredients:

1-3/4 cups self-rising flour
¼ cup cocoa powder
¾ cup sugar
1 tsp baking soda
½ tsp salt
1-1/4 cup buttermilk, room temp
¼ cup oil
1 tsp cider vinegar
1 tsp vanilla extract
¼ cup semi-sweet mini chocolate morsels

For the ganache:
4 ounces (110 gms) dark chocolate, cut into small pieces
1/3 cup heavy whipping cream
1 tbsp unsalted butter
Bring the cream to a boil in a heavy-bottom saucepan. Take it off the heat and add the butter and chocolate, stirring till it's all melted and thickened and shiny. Place in the fridge for the ganache to get to a spreading consistency, if preferred.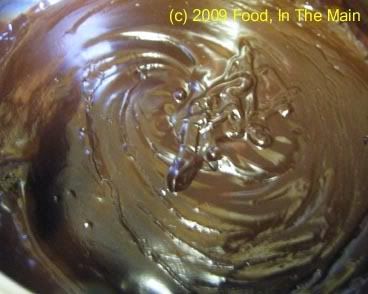 Method for cupcakes:
1. Preheat oven to 180C. Line two 12-cup cupcake pans with paper cups.
2. In a large bowl, whisk together flour, sugar, baking soda and salt.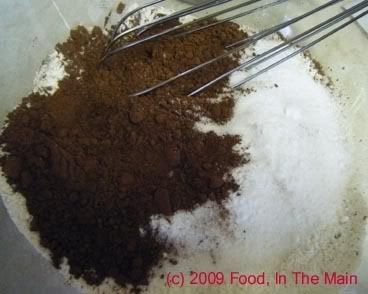 3. Pour in the buttermilk, oil, vinegar, vanilla and stir till just combined.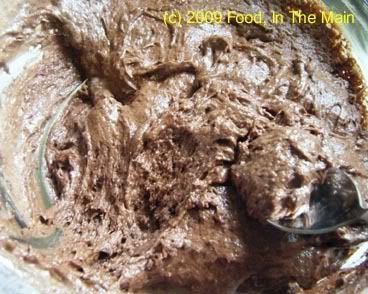 The batter will be quite thick.

4. Put 1 tsp batter in a cup, add about 10 mini morsels,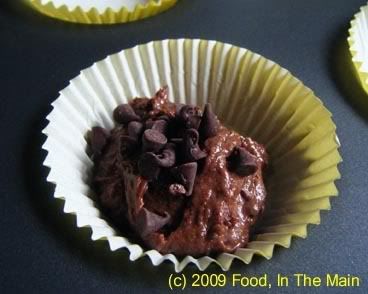 then cover with another tsp batter. It's ok if the morsels don't stay in the centre. Finish up the rest of the batter the same way.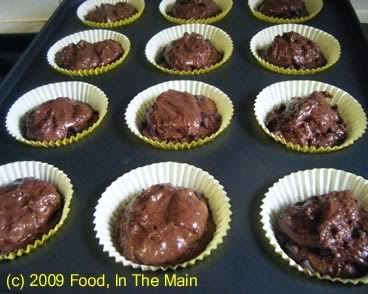 5. Bake for 15 minutes or till done when tested with a thin skewer.




6. Cool, then dip the tops into ganache (or spread the ganache with a small spatula)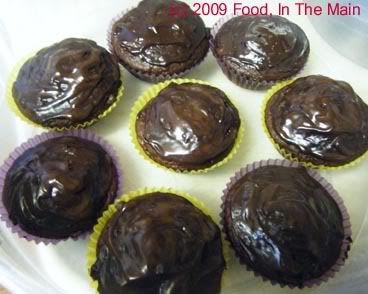 and set the cupcakes aside in a cool place till the ganache hardens.