The moment I read Kay's post on
slow-roasted tomato thokku
on her blog One Bite At A Time, I knew I would have to try it. Usually the knowing is far quicker than the making, but not this time, not when it involved tomato thokku, one of my favourite kinds of pickle. I already have a couple or three
recipes
for
tomato
thokku
(plus one
guest tomato thokku post
)
but, as with easy-foolproof-and-perfect chocolate cake recipes, I'm always open to trying more variations.

I did a couple of things (or rather, didn't) differently from Kay's recipe, mainly because I thought I'd remembered the instructions from one reading (I didn't print it off - something I normally do - because well, the thing was to slow-roast the tomatoes in the oven. After all, how many ways could there be to nearly screw that up?

um... Answer: one.

Pioneered by yours truly

.) Basically, I chopped the tomatoes into smallish pieces rather than quarters, and then forgot to toss them with oil before roasting.
I don't think it made a huge difference to the taste, though the nearly-burning-it-dry factor came pretty close. Actually I added a couple of raw tomatoes to the roasted stuff while blitzing in the food processor because I didn't want to add water just to be able to run the processor. (The fact that I had to add about 1/4 cup water to the pureed paste later, while sautéing, is neither here nor there. For some reason, despite the addition of fresh tomatoes, the puree still stayed very, very thick. If I'd had tomato juice handy, I'd have used that to thin it instead of the water. But I didn't, so I didn't.)

The thokku didn't take much time to lose what little moisture I had added to the paste to make a bit more sauté-friendly. In fact, it's the thickest tomato thokku I've made, and it was delightful! Roasting tomatoes in the oven is definitely the lazy cook's miraculous answer to standing and stirring endlessly while waiting for fresh pureed tomato to lose the moisture and achieve the reduction that makes thokku what it is.
I used about three cups chopped tomatoes, and it made (more or less) about one cup cooked.

I'll probably roast a larger quantity of tomatoes the next time I make this – and oh yes, there most definitely will be a next time. Not just for thokku either… I'm thinking that roasted tomato paste would really crank up the taste factor in other Indian dishes that require tomatoes as a base. Not to mention, pasta sauce as well. But those are ideas for other posts. For now, here's the recipe for this one.

Recipe for:
Oven-roasted tomato thokku




Ingredients:

4 cups chopped tomatoes (cut each tomato into thirds, then each slice horizontally and vertically to make 9 pieces)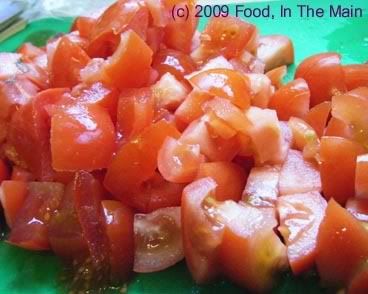 1-1/2 tsp red chilli powder OR 1 tsp red chilli powder + 1/2 tsp sambar powder
1/4 tsp toasted fenugreek seed powder
1 tsp mustard seeds
1/2 tsp turmeric powder
1/8 tsp asafoetida powder
4-5 curry leaves, torn
2 tbsp oil
Salt to taste
1/4 cup water or tomato juice (if required)

Method:

1. Place the chopped tomatoes in an oven-safe glass, ceramic or stone dish and roast for 1/2 hour at 180C,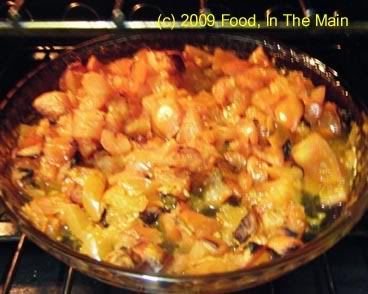 then for up to 2 hours more at 160C. Stir once or twice in between for the tomatoes to roast evenly. There should, ideally, still be some juice left to keep the tomatoes moist for grinding.




Cool, then grind to a smooth(ish) paste using tomato juice, water or a couple of small fresh tomatoes if required. Reserve.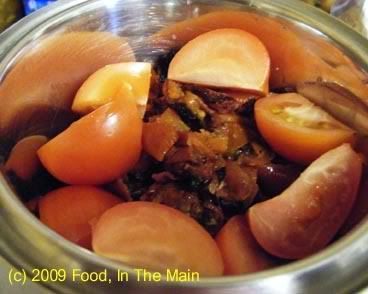 2. Heat the oil in a saute pan and add, in order, the asafoetida powder, the turmeric powder, mustard seeds and curry leaves. Stir, cover, and let the mustard seeds pop. Then add the red chilli and/or sambar powder and finally the fenugreek powder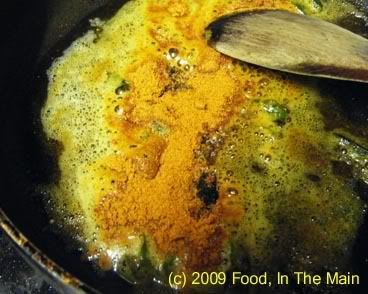 and saute for 15 seconds or so, till the powders are all amalgamated in the oil.

3. Add the ground roasted tomato paste and salt to taste, and stir it in. Add tomato juice or water as required to thin the paste, if necessary.

4. Turn the heat to medium low and let the thokku cook, stirring once or twice, till the moisture is mostly gone (about 5-7 minutes).




5. Cool and store the thokku in a clean glass jar in the fridge.