Another day, another food event, another day of participation in another food event - yep, this here is my entry for "Think Spice - Think Seeds" hosted by Sunita of
Sunita's World
.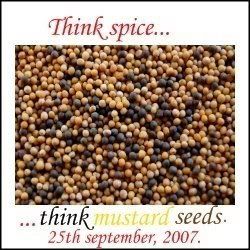 Not that it's anything extraordinarily out of the ordinary, because it isnt. I cant even be sure that I didnt read about a similar recipe somewhere else, sometime else... as far as I'm concerned, it was just a whim-of-the-moment to dry-roast and pound up some spices (which included mustard seeds) to make this tomato chutney. But what I CAN say is that it tastes different from the couple of recipes I posted on this blog in previous months. Different, but very nice. It's different to me in another way too, in that I usually cook the tomatoes down to a mush, and this time I didnt.

On a not entirely disconnected note, I bought a bottle of mustard oil a few months back, which I've been meaning to use... but I'm now looking for recipes which utilise it! If anyone has links or recipes, could they please point me in the right direction? I'd be MOST grateful...

Recipe for:
Mustardy tomato chutney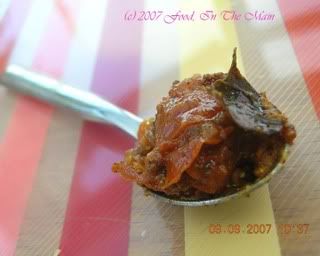 Ingredients:

1 tbsp mustard seeds
1/2 tsp cumin seeds
1 tsp coriander seeds
1/4 tsp fenugreek seeds
2 cups ripe tomatoes, chopped (not too fine)
2 tsp red chilli powder (or to taste)
a few curry leaves
pinch of asafoetida
3 tbsp oil
1/2 tsp mustard seeds
Salt to taste
1/4 cup water (use as required)

Method:

1. Toast the 2 tsp mustard seeds, cumin seeds, coriander seeds and fenugreek seeds over medium heat in a small pan, till they're aromatic and change colour. Keep shaking the pan so that the seeds dont burn.

2. Cool and pound to a powder with a mortar and pestle. Reserve.

3. Heat the oil in a pan. Add the asafoetida powder, curry leaves and 1/2 tsp mustard seeds, cover and let them pop.

4. Add the tomatoes and cook them over high heat until they start getting soft (2-3 minutes). Now add the spice powder and chilli powder stir it in.

5. Fry for another 3 minutes on high heat, stirring frequently. Pour about half of the water into the pan, stir, cover and reduce the heat to medium high.

6. Let the tomatoes cook for 5 minutes covered. The water should be nearly gone. Add salt to taste, stir again. If you like, you can add the remaining water at this point and cook the chutney for another 5 minutes, if you feel the tomatoes are not done enough.

7. Serve hot or cold with chapaties, dosas or rice.