A few days ago, when I went through this recipe in my inbox, my first thought was that the dish when finished would look about as unappetising as a train wreck. But I went ahead and tried it anyway, because it was a TNT (Tried 'N' Tested) recipe... which meant that the person who sent it to the food group must have tried it and liked it. The second reason was that I wasnt in the mood to make anything elaborate and this one-pot dish was just a god-send.

I'm glad I did try it, because it tasted wonderful - the top layers of cheese and ripe red tomatoes was like pizza... but then the rice layer came into its own, luscious with vegetables and loaded with flavours! The one change I would make the next time I make this, is to substitute flavoured cream cheese (garlic-chive, most probably) for the cottage cheese as originally specified in the recipe. It tasted fine, but I have to say the cottage cheese didnt look very nice because of its lumpy character. I ended up with little bumpy white flecks all over and I have to say that it was not what anybody would call "eye candy".

But the savoury bake tasted fantastic - and when you can get your carbs, veggies and proteins all from one easy dish, I for one wont be complaining! Along with its simplicity, the versatility of this dish is also something I like - you can add pretty much any vegetables you like as long as you make it two cupfuls. If you need to feed more than 3 people, just scale up the recipe as you feel fit, add an extra egg or two, and so on. The possibilities are many!

Recipe for:
Savoury rice bake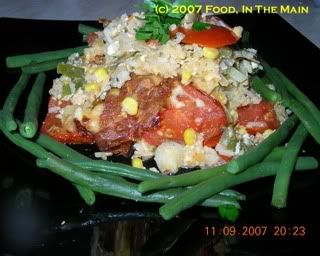 Ingredients: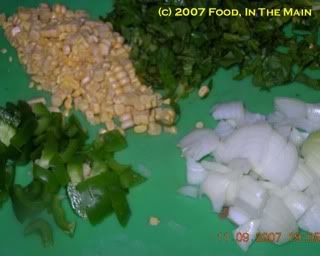 2 cups cooked or leftover rice
1 egg, beaten
2 cups mixed chopped vegetables (I used onions, bell peppers, spinach and fresh corn)
2-3 ripe red tomatoes, sliced 1/2cm thick
3/4 cup cottage cheese (or use cream cheese if preferred)
1/3 cup + 2 tbsp low-fat cheddar cheese, grated
3 tbsp sharp parmesan cheese
1 tsp smoked paprika powder
1 tsp black peppercorns, powdered
2 green chillies, minced (optional)
2 tbp fresh herbs to taste, minced (oregano, basil, parsley, etc)
Salt to taste

Method:

1. Heat the oven to 180C.

2. In a lightly greased casserole dish, put in the rice, vegetables, cottage/cream cheese, 2 tbsp cheddar, 2 tbsp parmesan, the smoked paprika, black pepper, green chillies (if using), the fresh herbs and salt to taste, and mix well.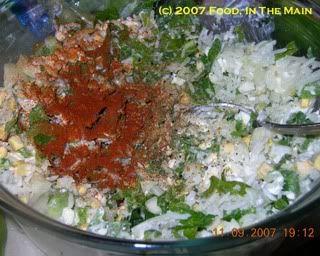 3. Check seasoning and adjust to taste, then pour in the beaten egg and mix again.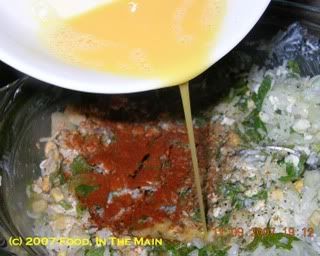 4. Smooth the top of the rice mix.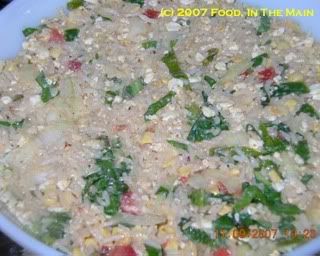 5. Now layer the sliced tomatoes in overlapping circles to cover the top of the casserole.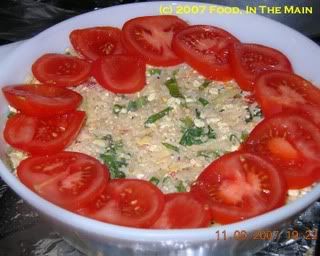 6. Sprinkle over the 1/3 cup cheddar cheese and the remaining 1 tbsp parmesan cheese.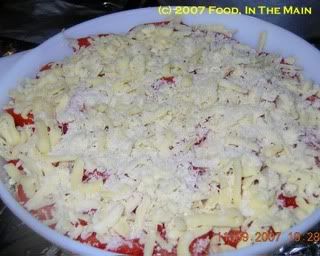 7. Bake at 180C for about 45 minutes or till the cheese is bubbling and golden.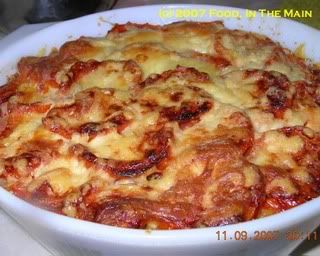 Allow the casserole to rest for 5 minutes, then serve hot along with steamed vegetables.