It isnt often that I take part in the cooking events that occur so regularly in the food blog world. But sometimes - just sometimes - thought and deed come together in a happy coincidence with a new event to which I can contribute... and this time it's the JFI: Banana event announced by
Mandira of Ahaar
. And as everybody knows, the event originated from
Indira of Mahanandi
and has been taken up faithfully every month by various food bloggers.

I didnt know the banana would be the topic for September's JFI.. but it turned out very lucky - both because I love bananas and because I have a lovely banana bread recipe that I fortunately tried out just yesterday.

I might just be the first person to send an entry to Mandira for this JFI - I hope so anyway! Of course this means I have to wait pretty much an entire month before I can see the round-up... but I guess that is the drawback to being an early bird!

Recipe for:
Nutty curranty banana bread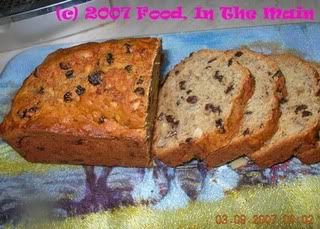 Ingredients:

1/4 cup margarine/butter
1/2 c. sugar
1-1/2 cups flour (I used 3/4 cup ap flour and 3/4 whole wheat))
1/3 tsp. salt
1 egg (optional - can be replaced with another mashed banana)
1-1/2 tsp baking powder
1/4 tsp baking soda
1/4 cup chopped nuts (I used brazil nuts and pecan nuts)
1/2 cup currants
1/4 cup milk (if required)
2 large ripe bananas, mashed with a fork
2 tsp vanilla extract

1. Cream together the butter/margarine and sugar.




2. Add the egg and beat well (if using). Otherwise add mashed bananas, currants and chopped nuts and mix.


3. Sift together the flour, salt, baking powder and baking soda.

4. Pour the banana mix into the flour and mix lightly. If batter seems too thick or there isnt enough liquid, add 1/4 cup milk little by little to get a pourable (but still thick) consistency.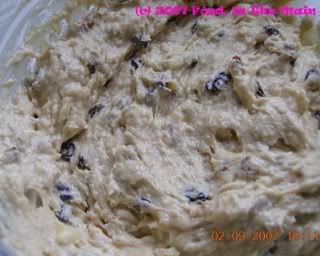 5. Pour into 8x4x3 inch loaf pan sprayed with Pam.

6. Bake at 350 degrees for 45 minutes or till the bread tests done (it should have pulled away from the sides a little).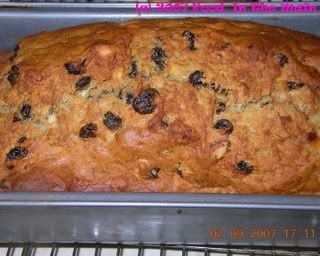 7. Cool on wire rack 10 to 15 minutes before removing from pan.

8. Complete cooling and store overnight, wrapped in clingwrap, before cutting.