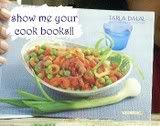 organised by Nags, of "For The Cook In Me"
I have the worst trouble resisting cookbooks.

Well, actually I cant resist any books, but my greed for books in general is usually satisfied by a trip to the library every 2 weeks or so, to get 15 books at a time. And sometimes I supplement those with more books bought from doing a round of the second hand book stalls at the Shrewsbury market, various charity shops and the bargain bookstall as well. There's no saying what kind of books you might get at the latter places, and that's part of the joy in browsing through the shelves. A couple of months back, I picked up a sterling set of one of David Attenborough's TV series on Nature, for about £5 for the lot (10 books, 50p each). They were in pristine condition, with beautiful glossy colour photos of animals and birds and insects with the accompanying text. That was one of my happiest purchases from Oxfam! And yes, there are more books in my house than there is space for them, strictly speaking. They're everywhere.

However, although the library is good for general fiction, arts and crafts, etc, I dont much like borrowing cookbooks. Because eventually I have to return them. Cookbooks are long-time purchases for me, not a temporary loan. Whenever I go to Borders or W H Smith or any other bookshop, I spend ages in the cookery aisle, flipping through all sorts of tomes on all sorts of cuisines. I love thumbing through beautifully illustrated books on things I know I would NEVER be able to do - like fancy cake decoration. If I had the money (and the space), I would probably buy them all even if I never ever used them.

But inevitably I am drawn to the books on Indian cooking. I like to read through books on Indian cuisine written by non-Indians, for the same reason that I love travelogues on India - it's a chance to see familiar things (whether places or foods) through the eyes of someone to whom it's all new. It's a way of getting a different viewpoint on something that's as probably as familiar to us as our own face. Sometimes these books are good for a laugh, too - as I did when I read a recipe by Keith Floyd where he specified one heaping tablespoon of turmeric powder to be used. Yikes!

I am very choosy in the cookbooks I buy new. The photos have to be glossy, the print has to be pleasing, the layout easy on the eye, the write-ups have to be interesting and sensible (even fun if possible), even the font has to be one I like (I dislike Times Roman and wont buy anything in that font!). Basically, everything has to be just so. These criteria usually dont apply to cookbooks I buy second-hand, of course. Or for books that are difficult to get.

Which brings me to my first favourite cookbook
- Vasantha Moorthy's
The Complete Vegetable Cookbook.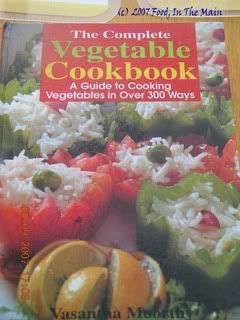 This book has lovely recipes, everyday recipes that you make at home - not really party fare. It's one of my most used because it has recipes for most "Indian" vegetables, made the way my mother or aunts might make them.

My second one is Indian Vegetarian Recipes. There isnt really an author for this, it's a compilation of hotel recipes, apparently.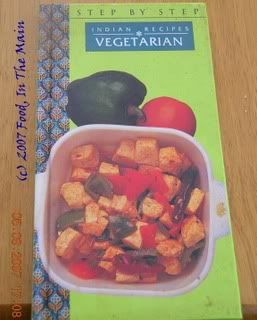 It's one of my earliest purchases (from Landmark in Chennai when they had only the Nungambakkam Road outlet - not the extended version either! I know because I wrote down the date and place. Jan 23, 1999!) and I've tried most of the recipes in it. They're slightly jazzed up but still homely. I like that.

The next two cookbooks are just as much a favourite with me as those mentioned above... but for a totally different reason. I've not tried out a SINGLE recipe from them. Maybe I will, at some point... but at the moment they're good for reading and re-reading and admiring the photographs and marvelling at the intricacy of the steps involved.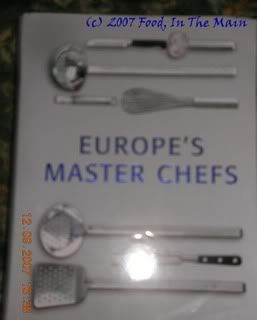 This one, Europe's Master Chefs, was a Christmas present from Pete last year. All I can say is, he must think I'm a Cordon Bleu chef. (Hmmm... a thought just struck me - perhaps it was a hint to improve my cooking skills.) The exoticness of the recipes, the ingredients used, the delicate and precise cooking methods - they are all compelling. Especially because they're so different from Indian cooking. But apart from that, another major reason for not having ever tried a recipe is because they're so overwhelmingly non-vegetarian. There are some dessert recipes too, of course - but oh man, they're complicated! You can tell just from looking at this:




If I ever sorted, labelled and filed my cookbooks, this book in particular would come under the heading of "Look, Dont Cook". :)

The last cookbook I'm going to mention here is Jump Up and Kiss Me - a rather strange name for any cookbook.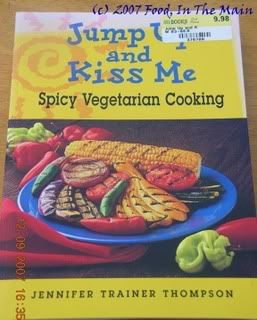 The recipes arent all that exotic, I suppose, and they ARE doable... but somehow I havent got around to trying out any of the recipes. But the write-ups are so engaging that I keep reading the recipes! One of these days I really should actually make something from it. One of these days...

I could write lots more, but I think I'm already well over the limit (numerically speaking) for this cookbook event. Nags had asked for just one, and I've already written about four! So here endeth this post. Hope you enjoyed reading this as much as I've had fun writing it (Nags, this one's for you).