Are broad beans also known as fava beans? I wasnt (and am not) sure, but I'd passed the big bean pods by in the vegetable aisle quite a few times, wanting to try some but never really buying any.

I asked Pete what one did with broad beans - I was really looking for answers to questions like "what does one do with the pod? is it edible?" and "How do you cook it?" etc - but his reply was less than useful, although his instantaneous response made me laugh. (His prompt reply: "One throws them away", from which I gathered that he didnt exactly count broad beans among his favouritest things in the world.)

But it didnt stop me wondering about those great misshapen-looking green pods and what their contents might look like and what they would taste like fresh. I'm not always the most adventurous of cooks - I need to get over the inertia of staying with the things I know and like - and a lot of times I end up just looking at unfamiliar vegetables and then moving on.

Finally I bought some broad beans when I went shopping a few days back... only to find, on getting home, that Pete had bought a ruck of them as well! So then I had way more fresh broad beans than I really wanted, especially as there was just me to eat them. I used some in the
sesame vegetable rice
, which was okay (although Pete picked out the beans painstakingly). But I still had a heck of a lot more beans to use up before they turned brown and horrible looking (oh yes, that was a fact I discovered - fresh broad beans go brown on the outside fairly quickly).

So I decided to try a sundal-type stir-fry... but because I had some carrots and potatoes left over from the previous recipe, I threw those in at the end. They didnt make much difference to the overall taste and it was a nice feeling to know that I didnt waste anything. I had the beans as a side dish with plain curd rice - very nice!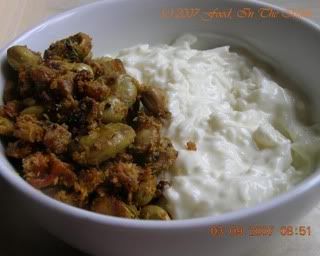 On the whole, broad beans are quite nice, but the taste - especially if the beans are not "Indianised" in some way - is one that needs to be acquired. No wonder Pete doesnt like them, if the only way he's had them is plain boiled!

Recipe for:
Broad beans bhaji/sundal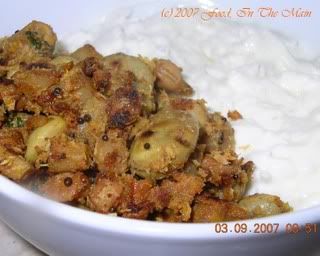 Ingredients:

1-1/2 cups shelled fresh broad beans
1 tsp mustard seeds
1 tsp urad dal
a few curry leaves, torn roughly
2 tbsp grated coconut
pinch of asafoetida
1/2 tsp cumin seeds
2 tsp red chilli powder (or to taste)
2 tsp oil

Method:

1. Heat the oil in a pan and add the mustard seeds, urad dal, cumin seeds and curry leaves. Cover and let the seeds splutter.

2. Add the asafoetida powder, the red chilli powder and then the beans. Stir to coat the beans with the tempered oil, then lower the heat to simmer. Cover and let the beans cook for 5 minutes.

3. When the beans are nearly done, add the grated coconut and salt to taste. Stir to mix evenly, then turn up the heat and let the beans fry a little, stirring frequently.




4. Serve hot as a side dish or as a snack. (The beans dont taste so good when cold, at least to my palate.)