I'm sure everybody's got their version of bruschetta, so here's mine too, just for the record. I love bruschetta, as long as the tomatoes are raw - partly cooked tomatoes do NOTHING for me. I like 'em raw or else mushed into a base for some other recipe. Fried tomatoes, English style, yeugh. Oven-roasted tomatoes that are all oozy and squashy and burst, yeugh. It's something about the texture, perhaps, combined with the warm taste, that fails completely to rock my world. Give me a raw tomato any day!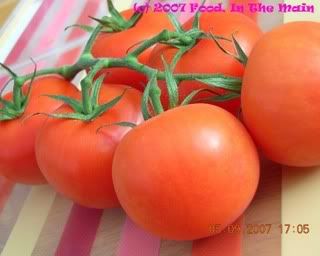 I have the same problem with warm chocolate syrup - pour that over sundaes and I can barely get the icecream down. Room-temperature chocolate syrup is bearable. Chocolate syrup mixed with icy cold milk (I'm thinking Hersheys here) to make chocolate milk - YUM. But warm chocolate syrup over lovely cold icecream - why oh WHY spoil my icecream like that?

The last time I had this awful combination was in Bangalore, years ago. (Sanjay, if you're reading this, stop now!) My friend took me to this icecream shop (cant remember the name, I'm afraid - I'm not very familiar with Bangalore) which he said made the most wonderful - and expensive - sundae, called "Death by Chocolate". I could probably have eaten it all (given enough time) had the proprietor not happily poured a glut of hot chocolate sauce all over my mountain of icecream before bringing it to me, thereby totally ruining it.

I ate as much of the sundae as I could, (wo)manfully, because my friend was sitting there looking thoroughly satisfied about having treated me to my favourite icecream, and proud to have introduced me to a local specialty, and I just didnt have the heart to disappoint him then. I managed to down about half the sundae while he watched with a pleased, proprietorial air... and then I just had to give up, pleading a chocolate overdose. I lied (sorry again, Sanj). But that hot sauce melting the lovely icecream into a lukewarm slush just didnt float my boat.

And that, people, is how one segues from tomatoes to chocolate in one smoothly inconsequential move. Learn from this!

Oh, and the bruschetta? It was lovely.

Recipe for:
Bruschetta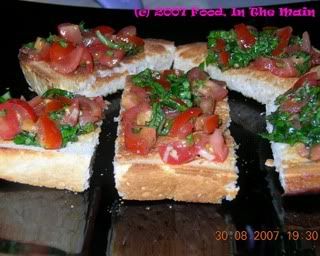 Ingredients:

2-3 fresh fleshy variety tomatoes on the vine (organic if possible)
1/2 garlic clove, minced as fine as possible
A bunch of basil leaves
Pepper and salt to taste
Best-quality extra virgin olive oil (the grassier and peppery-er it tastes, the better)
2 clove of garlic, sliced in half lengthwise
1 small French loaf or baguette, sliced on the diagonal into 1/2" thick slices

Method:

1. Chop the tomatoes and put into a bowl.

2. Chop the basil leaves and add to the bowl along with the minced garlic.

3. Pour over 2 or 3 glugs of olive oil, enough to thoroughly coat the tomatoes and herbs. Add salt and freshly ground pepper to taste and mix thoroughly. Reserve.

4. Toast the bread (or grill) till crisp.

5. Rub the cut side of a garlic clove lightly over the toast.

6. Heap 1-2 tbsp of the tomatoes on each toasted slice. Serve immediately (preferably without slobbering).