Finally a chance to post this recipe, which I'd printed off from Khanakhazana a few yonks ago (one yonk = unspecified amount of time somewhat less than a decade. Since it's not been officially defined, I thought I would step in. No need to thank me. Really.) and only managed to make last week. I love the flavour of sesame and the fact that it pairs perfectly with anything - sweet and savoury. Me being me, I go for savoury almost every time, although I've been known to down a few "ellu urundai" on occasion. (Note to self: Get recipe from amma.)

Apart from years of inertia, one of the other reasons it took so long to make this recipe was a long weekend spent in Scotland with a friend. (You can
read about it here - but be warned it's long!
). And once we got back last Monday, it seemed like Pete and I were eating out every evening thereafter, until yesterday! To think that I was kinda proud (and pleased) that we werent the "eating out kind"...

Not that I'm complaining too much, because we discovered a pretty authentic Cantonese restaurant that wasnt horribly expensive AND had great food. And an "Indian" (read Bangladeshi) one that had a unique working arrangement... basically, the time you enter the restaurant (called "Shuvecha") is the price you pay per person for a 3-course meal. So if you get there for 6pm, you pay £6 per person. If you go there at 10.30pm, you pay £10.30 per person. They do have an a la carte menu too - but the main courses listed start at £7.50 or thereabouts... so the time-wise payment is wayyyy cheaper. I wonder how the restaurant manages to make a profit.

We enjoyed our meal there because the food wasnt bad and the service was brilliant. There was this young waiter who looked about 14 years old who was really enthusiastic and friendly. When Pete praised the tandoori chicken salad he'd had as a starter, this young fella rushed off to the chef and got some cooked tandoori chicken in a box, along with the recipe, so that Pete could make himself a salad like that at home. What's more, we werent charged for this. You couldnt ask for better service, and the young man earned himself a large tip.

Oh bother, I've gone off the track (not quite off the rails though!) as usual. So before I wander any further, let me say that the sesame-flavoured savoury rice that I made was mouth-watering in aroma and flavour.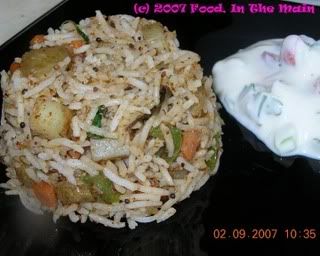 Since it was a one-pot meal, all it needed was a simple raita (I made a baby cherry tomato-cucumber raita) as an accompaniment. Yum. It was probably especially nice because I was craving home-made food after all that eating out, fun though it was!

Recipe for:
Sesame vegetable rice


Ingredients:

For the sesame powder:
3 tbsp sesame seeds
6-7 dried red chillies (or to taste)
2 tbsp coriander seeds
1/2 tsp oil

For the vegetable rice: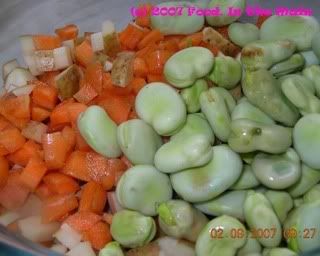 4 cups cold cooked basmati rice
1-1/2 cups mixed chopped vegetables (I used potatoes, carrots, fresh broad beans and bell pepper)
Salt to taste

For tempering:
1 tsp mustard seeds
1 tbsp chana dal
1 tbsp oil
a few curry leaves torn roughly
pinch of asafoetida

Method:

1. Roast the sesame seeds till they begin to turn pale brown.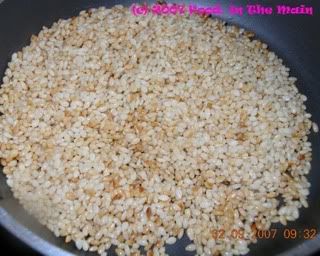 Set aside to cool completely, then grind to a powder. Be careful not to over-grind or let the motor get hot, or the sesane seeds will exude oil and become lumpy rather than powdery.

2. Heat 1/2 tsp oil and roast the red chillies and coriander seeds on low heat until they turn a darker shade and give off a nice aroma.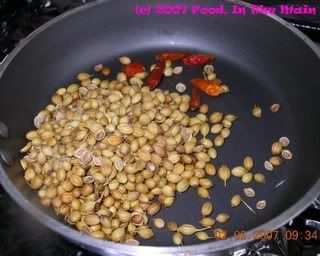 Set aside to cool, then grind to a powder. Mix with the powdered sesame seeds.




3. Cook the chopped vegetables (dont add bell pepper now, if using) in the microwave until done but not mushy.

4. In a large pan, heat 1 tbsp oil and add the tempering ingredients. Cover and let the mustard seeds pop.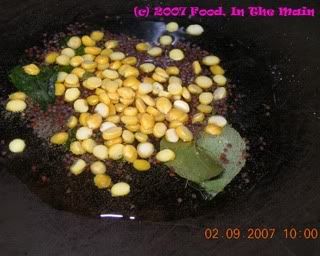 Add the chopped bell pepper now, if using.




5. Let the bell peppers cook for 4 minutes, then add the cooked vegetables, mix well and fry, stirring once or twice, for another 3-4 minutes.




6. Add the sesame seed powder, along with salt to taste, and mix well.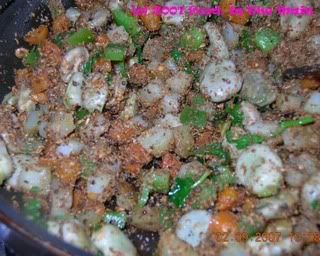 7. After a couple of minutes, add the cooked rice and carefully mix it with the vegetables, without breaking the grains.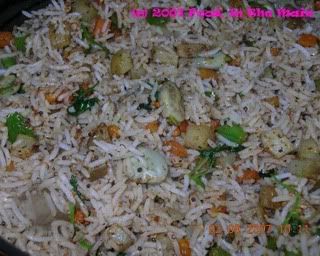 Once the rice is heated through, sprinkle with chopped coriander and serve hot with a nice cool raita and vadam/appalam/crisps.