I'm thrilled! Thrilled, thrilled, thrilled! I've grown my very first tomato plant - and my very first tomato plant has ripened its (my) very first tomato, with more waiting in the wings to take their share of the limelight!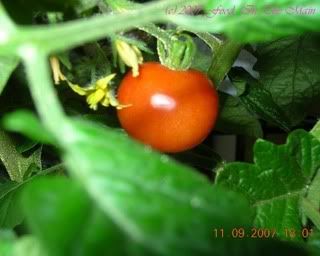 Hiding rather shyly in the foliage



But for now... here are some photos of the Little Red Tomato That Could... and the Little Green Tomatoes That Also Can! I'm so pleased that I havent managed to kill the plant - neither with kindness nor through neglect. Even my 6 beautful rose bushes are thriving, and my bay trees and mint and basil and oregano and parsley as well... maybe, just maybe, my black fingers are turning a wee bit green...

But for now, here are the photos!

Photos of: My little tomatoes
My Little Beauty - close-up

More little ones on the way
And some more...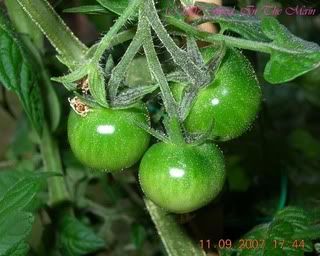 And some more still...!