This recipe is from Sunil Vijaykar's "Fresh Indian" cookery book. There are over 80 recipes, mixing both South and North Indian, but they're slightly more non-vegetarian oriented than not. This chapati seemed an interesting prospect from the breads section, but I have to admit that the picture of the finished dish in the book was a LOT more appetising looking than mine turned out. Maybe the chapatis in the book were cooked with a lot more oil than I did.
That's my objective, unbiased, balanced explanation for it, anyway!
Recipe for:
Gram-flour chapaties with red onion and nigella seeds




Ingredients:

1-1/2 cups wholewheat chapati flour
1-1/2 cups gram flour
1 medium red onion, minced fine
2 green chillies, de-seeded if liked, minced fine
1 tsp nigella (kalonji) seeds
1 tsp cumin seeds
3 tbsp chopped coriander leaves
Salt to taste
Warm water for dough as required

Method:

1. Take equal measures of gram flour and whole wheat flour (I used 1-1/2 cups of each) in a big bowl.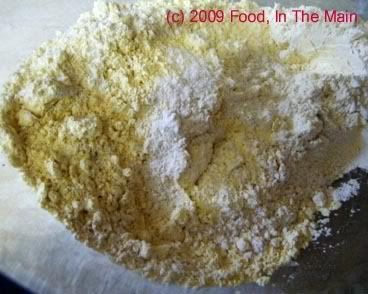 2. Add the minced red onion, minced green chilli, 1 tsp nigella (kalonji) seeds, 1 tsp cumin seeds, chopped coriander leaves and salt to taste.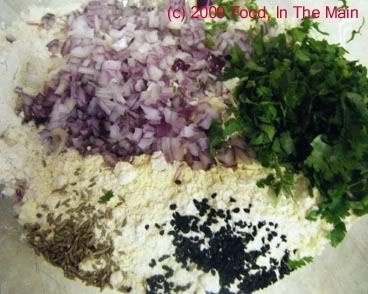 3. Use enough warm water to make a soft dough. It shouldnt be sticky.




4. Knead for 5 minutes and let the dough rest for 10 minutes.

5. Pinch off a small lemon sized piece of dough and, using extra flour for dusting, roll it into a thin chapati.




6. Place on a heated tawa and cook for 30 seconds, then flip the chapati over and brush on some oil or melted ghee (I used a mixture of both).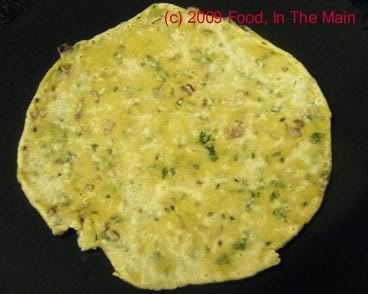 7. Turn the chapati over again and brush some oil on this side as well.

8. Use a flat spatula to press down gently on the oiled chapati so that it becomes evenly golden,




then do the same to the other side.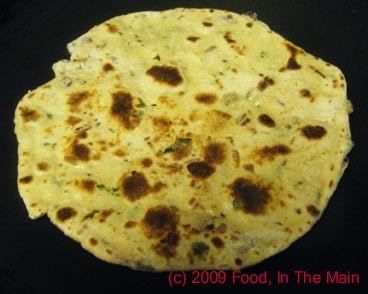 9. Keep the cooked chapaties warm in a clean tea towel while you make the rest of the chapaties.

These chapaties are best eaten warm and fresh. They get somewhat hard when cold. To re-heat, place the cloth-enfolded chapaties on a microwave safe plate and heat on high for 1 minute.