This is a guest post of sorts, on behalf of one of my best friends -
KiwiLax
, she prefers to be known as - who lives in New Zealand. She doesnt have a food blog and believe you me, that is a definite loss to the world of food blogs. Gee (as I prefer to call her) has always been a wonderful cook, right from college days and, as I understand it, she has only become WAY better over the years. She's always been as much of a foodie as I - but somehow managed to keep the pounds off even while saying all the time that she "hogged like a pig".

Since Gee doesnt have the time to maintain a food blog (did I say that the blog world doesnt know what it's missing?), I suggested to her that perhaps she could email me her recipes for me to try out and then post on my blog. She thought it was a very good idea - but I guess the best ideas take the longest time to germinate (!), because it's been a while since I put forward my suggestion! I'm not grumbling, (not much, not really), but only because I know her time is taken up well and truly in looking after her two chlidren, holding down a full time job and doing a host of extra-curricular (read cultural) work.

So when she emailed me a hasty recipe for her justly famous tomato thokku, I was very pleased. Here's hoping that it doesnt take as much time for the next recipe!

Since I dont post recipes on here that I havent tried and tested, I made the tomato thokku exactly as per Gee's instructions. I only wish I could post the aroma of the thokku here along with the recipe! But you have to make it and see for yourself.

KiwiLax says: "This is a kind of variation of the traditional tomato thokku. Goes great with idlis, dosa, sandwiches, pongal, rotis and what not and is beautiful when mixed with plain rice or as a side with thayir sadam (curd rice)."

This thokku can be stored in the refrigerator for a month. It wont last that long, I'm sure.

Recipe for:
Tomato thokku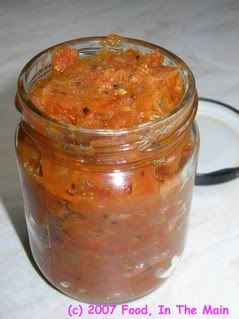 4 cups finely chopped fresh tomatoes (about 10 medium)
3 medium onions, chopped very fine
10-20 dried red chillies (or as per taste, depending on their heat)
6 tbsp gingelly oil (most preferred, but can use any regular cooking oil)
1 tsp methi (fenugreek) seeds
1 tsp mustard seeds
1 tsp urad dhal (ulutham paruppu)
1 tsp turmeric powder
1 tsp tamarind paste
1 tsp garlic, grated
salt to taste

Method:




1. Roast the dried red chillies and the fenugreek seeds in 1/2 tsp gingelly oil till the seeds turn dark and aromatic.




Set aside to cool, then grind to a fine powder.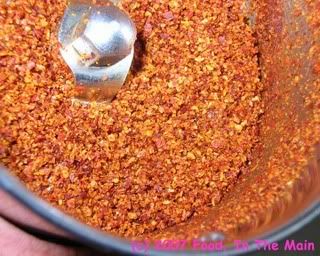 2. In a large, wide-bottom pan, heat the gingelly oil. Add the mustard seeds and urad dhal. Cover the pan and let the seeds pop (30 seconds).

3. Then add the onions and garlic. Stir well and fry for 3 minutes.




4. Now add the tamarind paste and turmeric powder and stir it in well.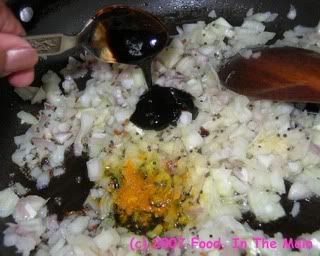 Let the onions fry on medium heat till they turn translucent and brown a little.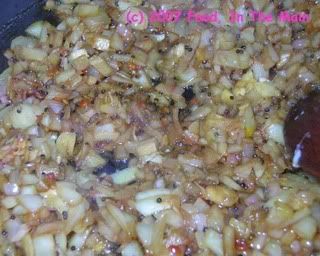 5. Add the chopped tomatoes now and cook, stirring occasionally, until the tomatoes start breaking down.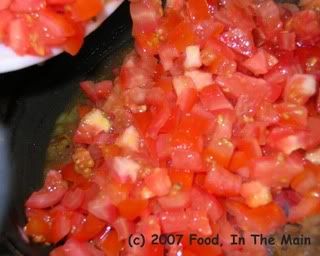 6. At this point stir in the chilli-methi powder prepared earlier, along with salt to taste. Add another 2 tbsp oil now if required.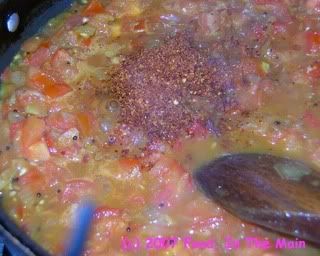 7. Let the tomatoes cook on medium high flame until they become a thick mass, with no moisture remaining. Oil should be separating around the edges.




8. Let the thokku cool completely, then transfer to clean glass jars and store in the refrigerator.