I never know what to do with raspberries.

I know people make raspberry coulis, raspberry sorbets, raspberry granita and all the other raspberry-based things... but they seem complicated...

So I never know what to do with raspberries.

I bought a lovely looking box of these berries the other day, from Tesco. The label said they were an extra sweet, perfectly ripe variety imported from Turkey, and to emphasise their extra sweetness and perfect ripeness, not to mention their importedness, the price on these was extra pumped up as well.

But I bought the raspberries anyway.

Took them home, ate one to check on its sweetness. Admittedly it was larger and sweeter than most of the raspberries I've eaten so far (usually English varieties), but still tart enough to make my tongue attempt to tie itself into a Gordian knot.

So I still didnt know what to do with the raspberries. I asked Pete if he would like them with icecream but he kindly declined and suggested that I "make something" with it.

Hm.

So I said to Pete (just as kindly), FUNNY HOW THAT POSSIBILITY HADNT CROSSED MY MIND!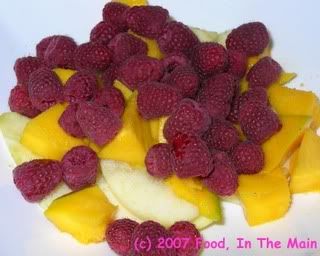 Then I stomped off gracefully - and possibly daintily, too - to seek inspiration from my baking books. The first page I opened at random had a recipe for apple crumble. EUREKA! A crumble! I went back to the fridge and took out the raspberries and half a mango that was awaiting consumption (and by that, I hasten to add, I mean it was waiting to be eaten,
not to waste away from tuberculosis
). Anyway, an apple got added along the way... and just like that, I knew what to do with the raspberries.

Recipe for:
Raspberry, apple and mango crumble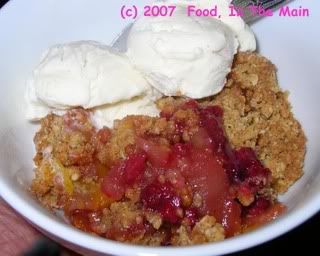 Ingredients:

1/3 cup + 1 tbsp all-purpose flour
1/4 cup dark brown sugar
1/4 tsp ground cinnamon
small pinch salt
1/4 cup oats
3-1/3 tbsp cold butter, cut into small pieces
1/2 ripe mango, peeled and cubed
1/2 cup raspberries
1 medium apple, peeled, cored and sliced
1/4 cup white sugar
2/3 tbsp resh lime juice

Method:

1. Preheat oven to 180C.

2. In a small bowl, combine 1/3 cup flour, brown sugar, cinnamon, salt, and oats.




Mix the butter in with fingers, until the oat mixture forms clumps. Cover and refrigerate till required.

3. Put the raspberries, apples and mango in a bowl. Add remaining 1 tbsp flour, granulated sugar, and lime juice; toss gently to combine.




4. Transfer fruit to a shallow 6" round or oval gratin dish.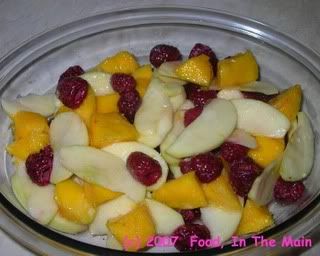 Distribute topping (oat mixture) evenly over the fruit.




5. Bake until topping is golden brown and juices bubble (about 40 minutes).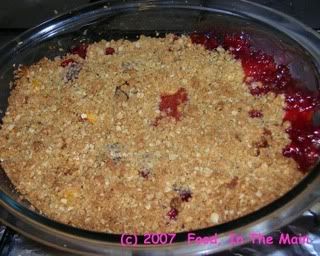 Remove from oven and let cool slightly.

6. Serve warm with ice cream.