The idea for this recipe came about for no reason other than I had a fat half of a large beef tomato sitting around after Pete had had his bacon sarnies for "tea" - dinner to us normal folk. Apparently he couldnt resist the call of the (wild) bacon in the fridge, so he succumbed. The siren song of the fresh crusty bread also contributed to his downfall.

Of course I didnt let him ignore the call of the tomato and the lettuce (because that way I can pretend that his tea wasnt all bad), thus elevating his basic bacon butty into the classic BLT (bacon-lettuce-tomato - if any vegetarians need this abbreviation clarifying).

But that is beside the point. The point is, since my "tea" was going to be just for me, I decided to go simple and make a mor kuzhambu. Since the tomato was sitting out on the counter, on impulse I added it to the coconut-green chilly-cumin that was in my little grinder, before grinding it all to a smooth paste.

The mor kuzhambu didnt taste radically different, much to my relief, but I guess the tomato made a gentle variation to the taste, also giving it a pretty colour (as I didnt use turmeric powder). And not the least, I think it might have stopped the yogurt from curdling too easily. I use Greek yogurt, which is lovely but doesnt take kindly to being heated. (Kinda like me. Heat curdles the yogurt on the outside, while I curdle on the inside - but the end result is the same... unfit for human consumption/company).

I dont make curd at home - and because of that, I dont have home made sour buttermilk, which is traditionally used to make mor kuzhambu. My compromise is to water down unsweetened low-fat Greek yogurt and add a tsp of tamarind paste to make up for the lack of sourness. Works for me.

Recipe for:
Tomato mor kuzhambu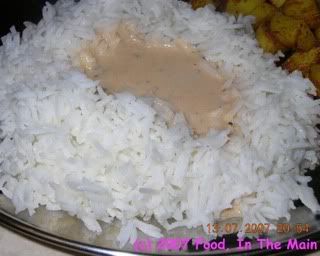 Ingredients:
1 cup Greek yogurt + 2 cups water (or just use 3 cups sour buttermilk)
2 tbsp grated coconut
1 large tomato, sliced
4-5 fresh green chillies (or to taste)
1 htsp rice flour
1/2 tsp cumin seeds
1 tsp tamarind paste (omit if using sour buttermilk)
Salt to taste
2 tsp oil
1 tsp black mustard seeds
a few fresh curry leaves
pinch of asafoetida (optional)

Method:

1. Whisk the yogurt and water till blended. It shouldnt be too runny or too thick. Reserve till required.

2. Grind the grated coconut, tomato, green chillies, cumin seeds and rice flour to a smooth paste.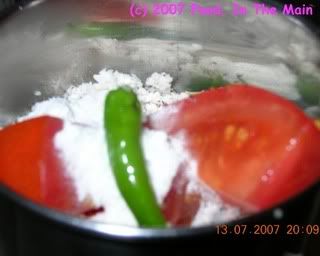 Mix with 1/4 cup water and reserve.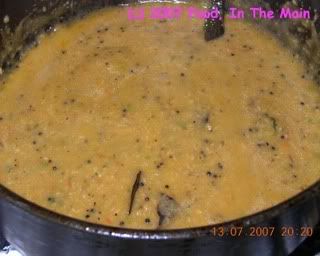 3. In a pan, heat the oil. Add the mustard seeds and curry leaves and cover for 30 seconds till the mustard has popped.

4. Turn down the heat and pour in the ground coconut mixture, stirring briskly. Add the asafoetida powder if using. Let this simmer for 2-3 minutes.

5. Now slowly pour in half a cup of the yogurt mixture, stirring all the while, so that it doesnt curdle. Add the remaining thinned yogurt, add salt to taste and stir well.

6. Let the kuzhambu heat through on low heat. Do not bring it to a boil.




Serve hot with plain rice and any kootu or dry vegetable curry.