Yesterday evening I was sorting out some of the hundreds of pages of dessert and baking recipes that I've printed out over the years - and yeah, only a fraction of them have been tried and posted. The others were printed out at various moments when I was feeling energetic and optimistic (not to mention, overenthusiastic) about trying complicated gateaux or gourmet dessert recipes...

But in the end, all I've ever done is read through them with just two thoughts running through my head over and over during the reading process.

The first thought: "Wow, that sounds so fantastic, too bad it's so complicated". And the next one: "Too bad I dont know anybody who would make it..." - and most important, this - "...and call me over to taste it!... followed by the first thought, followed yet again by the second thought (ofc with the all-important second part of the second thought)... and so on. You get the idea. I could probably go on like this all evening, so the expedient thing would be to agree that yes, you get the idea. :)

Anyway, I came across this recipe that had the intriguing title of "Amazon cake". Amazon cake? I thought. Why Amazon cake? So I quickly read through the recipe, which was ridiculously simple and, better yet, didnt require eggs. Ah-HA. The printout said that the recipe was from The New York Times, adapted from Cafe Beaujolais by Margaret Fox and John S Bear. That's all I know about it. (It never got around to explaining why Amazon, so I remain intrigued. And ignorant.)

So of course, since chocolate cake is the all-time favourite of my family, I made it. Easy as easy as can be and the cake was quite lovely. You wouldnt have known that it didnt contain eggs. I cut down on the sugar in the cake from 1 cup to slightly less than 3/4 cup, but that's because I was planning to frost it. If you dont want to frost it, use 1 heaping cup sugar for the cake.

The crumb was moist but not dense, and the end product disappeared like magic.
The Amazin' Amazon cake is here to stay!

Recipe for:
Amazin' Amazon eggless chocolate cake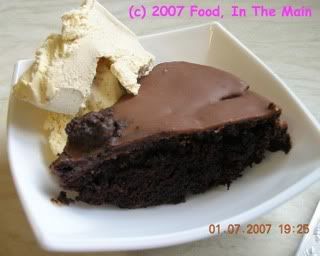 1-1/2 cups flour
1/3 cup unsweetened cocoa powder
1 tsp baking soda
3/4 cup sugar
1/2 tsp salt
5 tbsp oil (corn oil, canola, vegetable or sunflower oil)
1-1/2 tsp vanilla extract
1 tbsp cider vinegar
1 cup cold water

Method:

1. Heat the oven to 350F (180C). Grease a round 9" baking pan.

2. Whisk together the flour, cocoa, baking soda, sugar and salt in a medium bowl.




3. In a separate bowl, whisk together the oil, vanilla and vinegar with 1 cup cold water.




4. Then add the dry ingredients (flour mix) and whisk it all together, until the batter is lump free.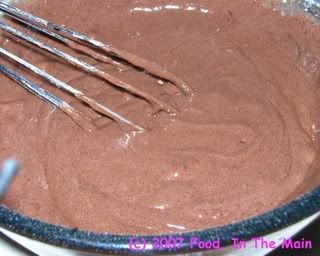 5. Pour into the prepared pan and bake for 40-45 minutes or till the cake tests done.




6. Cool before removing from the pan. Frost the cake when it is completely cool (any frosting is fine), or just sift icing sugar over the top before serving.