This is a classic South Indian recipe, one made probably in every home. And equally probably it will vary slightly from home to home, never really exactly the same anywhere.

I've done my version (or rather, my mom's version - actually, probably my grandmother's version and so on upwards!) earlier, except that in my family it's called
"poricha kuzhambu"
and it varies ever so slightly from Kiwi Gee's. For instance, I've never known it to have pureed tomatoes in it, or ginger, and it's one of the few items we make that doesnt have coriander leaves as garnish!

But, as I already said, each to his/her own. And, as Kiwi Gee says, it's "Esply good for rotis on 'onionless' days. Nowadays, it is a boon to me as I get my veggies and dhal into one simple dish that is quick to cook and nutritious to eat. And easy to camouflage the veggies in all that dhal, esply as far as feeding the hungry hordes (kids) goes".

So there you are - a way to get those dreaded veggies into your kids, if you have them (kids, I mean). If you dont, it's merely a good way to incorporate all the odds and ends of vegetables that you might have in the fridge. Either way, a good recipe to have on hand. ("This koottu can be made with different veggies – white pumpkin, carrots, frozen mixed veggies, cabbage, spinach, zucchini, etc. ")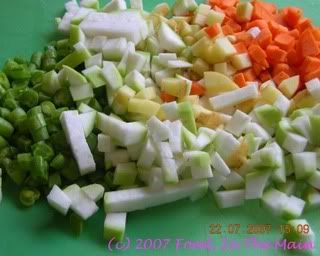 Kiwi Gee used "choko" (in the strange language of Down Under *wink* it refers to chayote squash/Bangalore kathirikkai!), but I didnt have any on hand as it's not a vegetable that's seen in the local supermarkets. Luckily I did have a half of doodhi (bottle gourd), so I used that in its place. Also added a chopped carrot, a potato, some green beans and, at the very end of cooking, frozen green peas. (What's life without green peas, eh?).

Recipe for:
Poricha kootu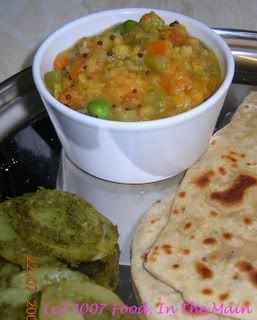 2 cups chopped mixed veggies (any combination of potatoes, carrots, green beans, chayote squash, eggplant - if you absolutely must - etc)
1/4 cup moong dal
Salt to taste
Turmeric powder (a pinch)
1 tsp oil

For the seasoning:
Coriander leaves
Curry leaves
1 tsp Mustard seeds
1 tsp channa dal
1 tsp urad dal
pinch asafoetida powder

For the paste:
2-4 green chillies
1 tsp cumin seeds
2 tbsp grated ococonut
5 pepper corns
Small piece of ginger
1 large tomato (or two medium ones)

Method:

1. Wash the moong dal, drain and add a cupful of water along with the vegetables and a pinch of turmeric powder.




2. Pressure cook the vegetables and the moong dal for 3 whistles or until the dal is well mushy. Set aside.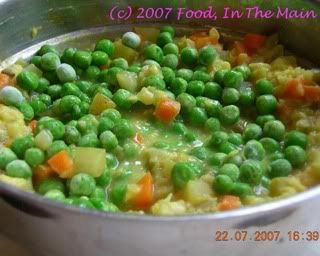 3. Chop tomatoes into small bits and grind to a fine paste along with ginger, green chillies, cumin seeds, coconut and pepper corns – grind raw.

4. In a kadhai, heat the oil, add the hing powder, mustard seeds, channa and urad dhal and curry leaves.




5. When mustard pops and dhals are reddish, add the paste.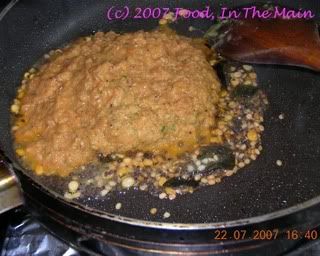 6. Fry for a minute, then add the pressure cooked vegetables and dhal along with the frozen peas if using.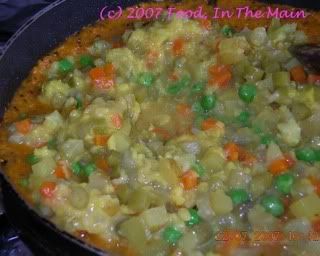 7. Keep stirring till it all comes to a boil (adding water if reqd to keep it at a pouring consistency), then add salt, mix and switch hob off.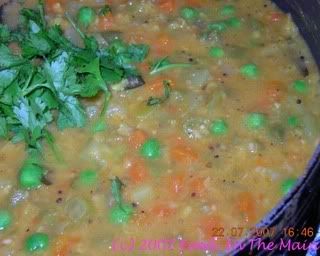 8. Sprinkle chopped coriander on top. Use as a side dish with rice or rotis.