It's always a pleasure when an eggless cake recipe turns out to be damn near perfect. Even better when it's an orange cake, because I think that the flavour of oranges in cakes and desserts (not to mention the fruit itself) is probably one of the loveliest in the world. I think so, anyway.

So that's why, whenever I come across a new orange cake recipe, I tend to want to try it out, even if I've already found one that works perfectly. There's no such thing as perfection, right? There's always the possibility of something even better around the corner. (That's a disastrous attitude for marriage and relationships, leading to much hokery-pokery, but definitely a positive trait when it comes to cookery!)

When it comes to icing this cake, take a tip from me and DONT BE IMPATIENT! Wait for the cake to cool completely. Make sure you dont add too much orange juice (or Grand Marnier, if you're using it) to the icing and make it runny. WAIT for the icing to set before you cut the cake - putting the cake in the refrigerator for 30 minutes is worth it.

If you look at the photos I've taken, you will most likely notice that I didnt follow a WORD of my own advice, although I should have known better. I was too impatient to wait for the cake to cool completely. I added too much orange juice and didnt bother to rectify it with more icing sugar. I most certainly didnt wait for the icing to set before I cut the cake - which is why you see the icing runnels on the cut side of the cake... not the best effect. Luckily, the cake tasted absolutely gorgeous - moist without being heavy and oh SO orangey!

Anyway. Those who cant do, teach. Those who cant teach, preach. So... do as I say, folks, not as I do! :)

Recipe for:
Eggless iced orange cake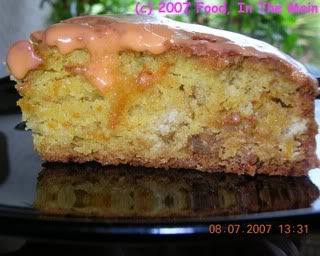 Ingredients:

1-1/2 cups all-purpose flour
3/4 cup granulated sugar
1 tsp baking soda
1/2 tsp baking powder
1 cup fresh squeezed orange juice (with pulp, no problem)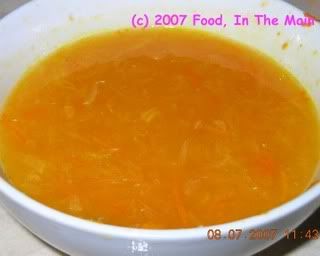 1/3 cup sunflower oil
2 tbsp grated orange peel/zest
1/2 cup golden sultanas

For the icing (mix together to make a thick pourable icing)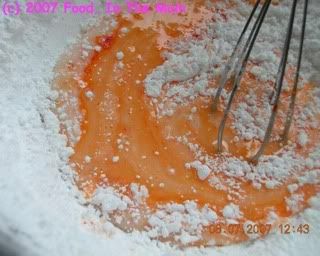 3 cups superfine (icing sugar)
2 tbsp (or as required) orange juice or Grand Marnier
1 drop deep orange food colouring (optional)
1/2 tsp orange zest

Method:

1. Grease an 8" round cake pan. Preheat oven to 180C.

2. In a medium bowl, stir together the flour, sugar, baking soda and baking powder until well mixed.

3. Add the oil and orange zest.




4. Then pour in the orange juice.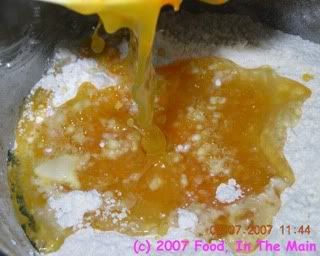 5. Stir just enough to combine the ingredients without beating - dont overstir - and immediately pour into the prepared baking pan.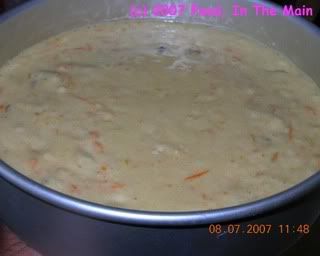 6. Bake for 40-45 minutes or till the cake tests done and is golden brown on top.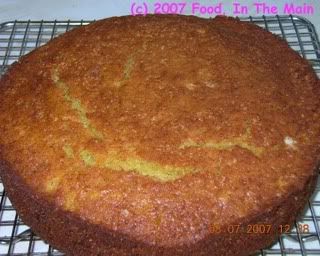 7. Cool completely before pouring the icing over the top of the cake. Let it drip down the side in runnels.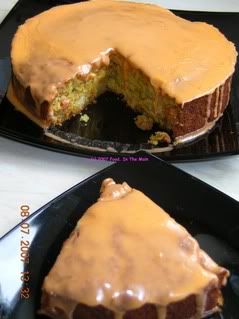 If the icing seems a bit soft, put the cake in the fridge for 30 minutes before cutting.