Naan naan paNninaen.*

There. A two-language pun. I know, it's dreadful... but honestly, it was better out than in – specifically because of its awfulness. Imagine the harm it could have done to my system had it not been externalised! If the pun is hurting all y'all who know Tamil, I can only say that it's just as painful for me.

Because – brace yourself for some very hi-funda philosophy - a bad pun is like using a two-edged razor. It may hurt the wielder as much as it hurts the wieldee(s), but it cannot be left unwielded.

Anyway... the good thing about the naans (that I made naan-ey†

*sorry*

) is that they were as yummy as the puns are gruesome. They disappeared as quickly as I could turn them out – and the coolest thing was that I didn't need a tandoori oven to make them. In fact, I didn't even use the regular oven. What I used was my cast-iron skillet. It's a small one (but mighty expensive for all that, when I bought it!) so the naans were small. Mini "me"s, I guess (because naan = me, bwahahahahahahahahha, and this time I'm not sorry!).

This was the first time I'd made naans, so I wasn't quite sure about how thick (or how thin) to roll them. I settled on about 1/2-cm thick, but they became somewhat thicker than that when they puffed up on cooking. Everybody (Pete, his two kids and amma) liked them as they were – soft in the centre but crispish and brown around the edges – but I think I would have liked them better thinner. But that's just me.

I plan to roll the dough thinner the next time I make naans, because I like them to be on the thinner and crisper side... but I'll also find out if thin naans will still be soft without being doughy.

I used two toppings – sesame seeds and kalonji seeds. Both were great.

Oh yeah, the cast-iron skillet method of making naans on the hob. Nearly forgot about detailing my gratifyingly successful experience with that!

Basically, it HAS to be a cast-iron skillet or tava. Non-stick items are useless for this, even the hard anodized triple-coated last-you-a-lifetime expensive kind. At least, I wouldn't attempt it with mine because I'm certain that the naans and the naan-stick – er, NON-stick (

NOT sorry, so there

) – coating would be ruined.

Anyway, what you do is brush one surface of the rolled-out naan generously with water (I used my soft pastry brush so as not to brush the topping right off), slap it wet-side down onto a well heated skillet, cook it with the skillet on the heat for 30-40 seconds, then turn the skillet upside down and hold it over the flame, letting the dry side cook over the direct heat. (Note: a hot-plate or non-gas hob would be spectacularly useless for this method of making naan.)

The naan is (usually) done when it falls off the skillet – (usually) right onto the flame, so keep a pair of tongs handy to grab the naan before it burns too much!

You get the hang of it easily, though – how long to keep the skillet on the flame, and when to turn it upside down so as to cook the naan evenly. And even if you don't get the hang of it, no harm done (as long as your hob is clean!). Really. I'm not talking naan-sense.

That's it, I'm done with the puns, and this post.

* Naan = "I" (or me), in Tamil - therefore the pun. Naan naan paNninaen translates to "I made naan" in Tamil

† Naan-ey = "I (did it) myself"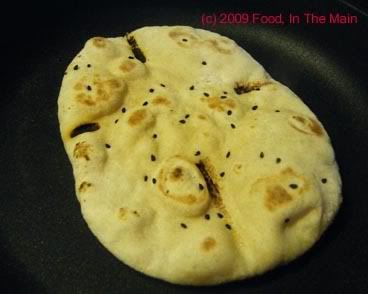 The first naan I ever made - see the four scorch marks from the hob? They happened while I was scrabbling around for a pair of tongs with which to grab the darn thing off the flame!
Recipe for:
Naan

Ingredients: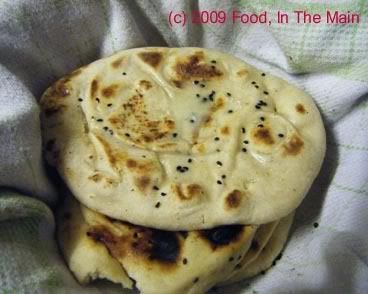 2-1/2 cups whole wheat flour
1/2 cup plain flour
1 tsp salt
1 sachet instant yeast
1/4 cup warm milk
1/2 cup yogurt
Warm water as required
Toppings: 2-3 tbsp sesame seeds, nigella seeds (or as you like - green chillies, garlic, chopped coriander, etc)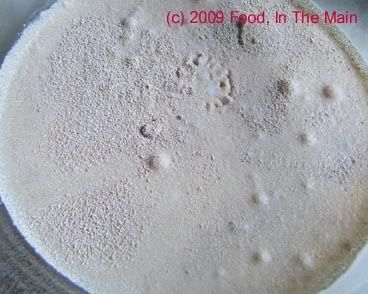 1. Dissolve the yeast in the warm milk and let rest covered for 15 minutes till it turns bubbly.




2. Whisk together the whole wheat and plain flours and salt in a deep bowl, and make a well in the centre. Add the yogurt and as much warm water as required (add little by little) to make a soft dough. Place the dough in an oiled bowl and let rise covered in a warm place for 2-3 hours.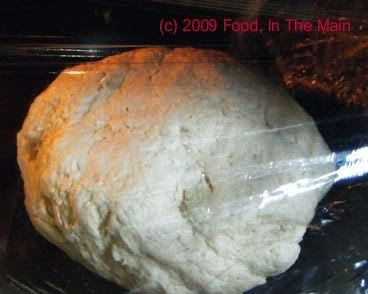 Punch the dough down after it has risen, and knead briefly.
3. Pinch off a lime-sized piece of dough and roll it into an oval about 1/2-cm thick. Sprinkle with your topping of choice, and press down gently with the belan (roller) so that the topping is embedded in the naan. This is to stop the seeds or herbs or whatever falling off.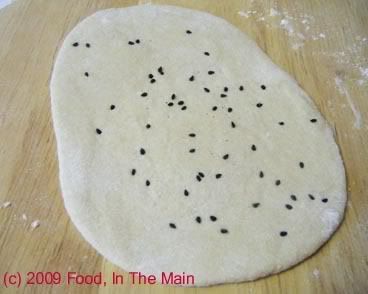 with kalonji (nigella seeds)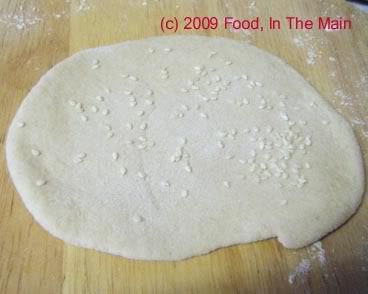 with sesame seeds
4. Brush the surface of the naan (the side with the topping) with water and slap it down quickly on the well-heated cast-iron pan. Leave it on the hob for 30-40 seconds, or till the naan puffs up in places.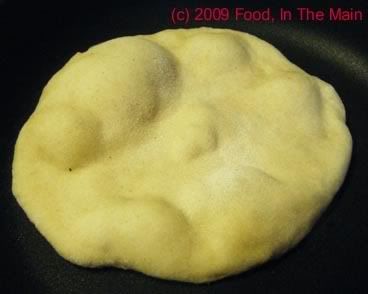 5. Now turn the skillet upside down over the flame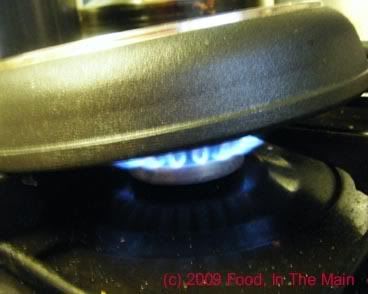 so that the dry surface of the naan cooks as well, acquiring brown spots.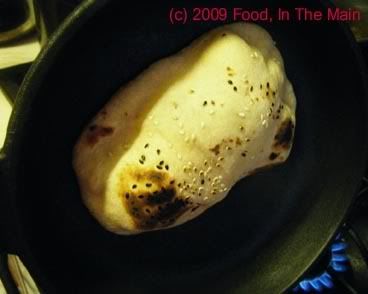 6. The naan is done when it falls off the skillet. Place in a clean tea cloth and keep warm while you make the rest of the naans. Brush with melted butter or ghee before serving with any gravy curry, if you like.