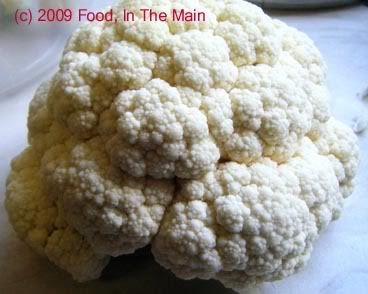 Cauliflowers were not my favourite vegetable when I was a younger person, and there were very few dishes made with it that I liked then. The rare occasions on which I had cauliflower anything were usually in restaurants... usually with the hapless vegetable deep-fried into submission and labeled as manchurian (or manjoori, or manjoorian, or manchuri, and even menjurien - depending on the restaurant, and with the variations limited solely by the creativity of the employee in charge of writing out the menu).

I don't remember my mother making anything with cauliflower that make me feel more kindly towards the vegetable – and let me hasten to add that it wasn't her fault, it was more than likely just me being pig-headed about changing my opinion.

But when amma made cauliflower usili with it the last time she was here, this smelly vegetable shone in an entirely new light. Yes I know, usili is hardly a new concept, but let's just say that I hadn't thought about cauliflower usili as a viable recipe… and really, the smell of cooking cauliflower put me off trying it for myself – it comes only next to the smell of cooking carrots for unpleasantness. This time when amma made it – with masoor dal, no less - I made sure to click photos so that the recipe could be recorded for posterity and potential cooks/homemakers/foodies. I may or may not make it myself – only time and desperation will tell – but I do vouch for its utter scrumminess.

Er - just wondering... who else has the problem of reverting to Enid Blytonish expressions of approval when it comes to food enthusiasm? Malory Towers or St Clare's, anyone?

Recipe for:
Cauliflower masoor-dal usili




Ingredients:

1 medium head of cauliflower, broken into florets
1 cup masoor dal
3-4 fresh green chillies (or to taste)
2 tsp urad dal
1 tsp mustard seeds
4-5 fresh curry leaves
1/4 tsp asafoetida powder
1 tsp oil
Salt to taste

1. Wash masoor dal in 2-3 changes of water, then soak in water for 2o minutes.




2. Grind to a coarse paste with green chillies and 1/2 tsp salt.




3. Steam the ground dal for 12 minutes in a steamer.




4. Wait 5 minutes, then remove the steamed dal cakes and break them up.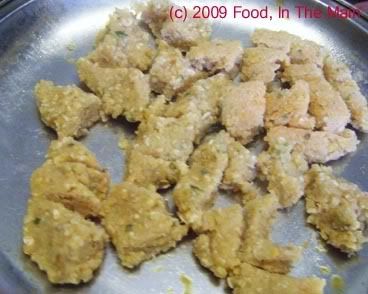 5. Use your fingers to crumble the dal to small pieces. There should be no large lumps left.




6. Steam the cauliflower florets till they're done but not mushy.




7. Mash the cooked florets gently with a spoon to break them up into small pieces - pea-sized or smaller if possible.




8. Heat the oil in a pan, add the mustard seeds, curry leaves, asafoetida powder, turmeric powder and urad dal. Cover the pan while the mustard seeds pop.




9. When the urad dal turns golden brown, add the crumbled cooked dal and mix well.




10. After a couple of minutes, add the cauliflower pieces and another 1/2 tsp salt (remember the dal is already salted, so don't add too much salt).




11. Mix the dal and vegetables lightly till it's all evenly distributed. When the usili is thoroughly heated, turn the heat off.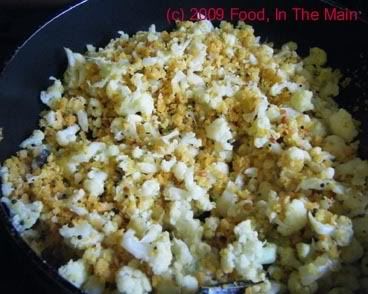 12. Serve hot as a side dish with plain cooked rice and any dal-less gravy (
mor kozhambu
,
vattha kuzhambu
,

etc) or
thogayal
.