Wow, it's already that time of the week again - time does fly! It's a good thing that I dont take part in each and every foodblog event that comes along, because posting in this blog would pretty much have to be my full-time career! Which would be rewarding enough in its own way - except its way would not be MY way, which is the path of having to earn a living.

Would that I had the writing talent and cooking genius of the famous Clotilde (of
Chocolate & Zucchini
fame)... how different my life would be...

However, being realistic about my abilities (cooking or writing) is one of my best talents, so I'll have to make do with muddling along in the culinary field as best as I can. Hence broccoli, carrot and potato masala.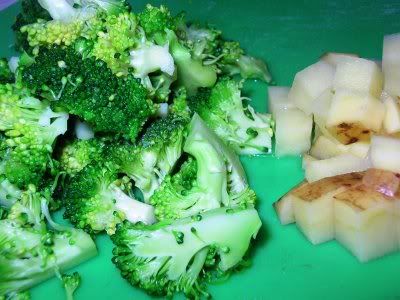 Not the most exciting of combinations, not the most delicate of preparations and definitely not the most complicated... but tasty. It did me and Pete well for a weekday dinner, healthy and vegetable-y, served over cous-cous. We could all do worse.

Recipe for:
Broccoli, carrot and potato masala


Ingredients:

One medium head broccoli, separated into small florets
2 small carrots, sliced into rounds
1 large potato, diced into small cubes
2 large cloves garlic, minced
1 tsp coriander powder
1 tsp cumin seeds
1 tsp sesame seeds
1 tsp garam masala (optional)
2 tbsp olive oil
3-4 green chillies (or to taste), minced
OR
1 tsp red chilli powder
Water as required
Salt to taste

Method:

1. Fill a large bowl with boiling water and blanch the broccoli florets in it for 3-4 minutes, covered. Then drain and refresh the florets with cold water. Set aside.

2. Heat 1 tbsp olive oil in a pan and saute the garlic, chillies and all the spices for 30 seconds, then add the diced potato.

3. Stir well and cook it on a medium flame until it's partly cooked.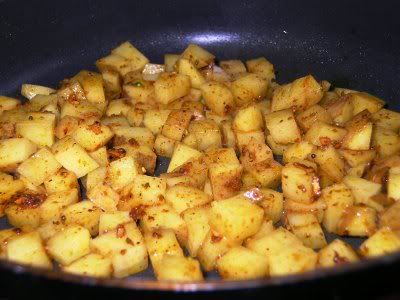 4. Add the carrots along with the remaining tbsp oil and one cupful of water, cover and simmer till the carrots and potatoes are nearly cooked.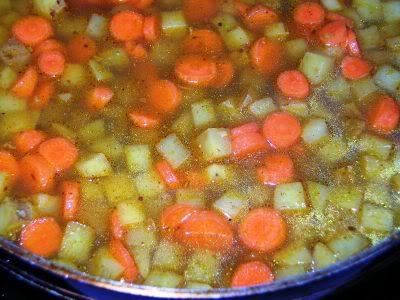 5. Last of all, add the broccoli with a half-cup of water and salt to taste. Mix it well with the potatoes and carrots. Let it cook for 3-4 minutes on high, stirring occasionally. When the broccoli is done to your liking (I dont like mine mushy so I dont overcook it), turn the heat off. The curry should be slightly soupy, not completely dry.

Serve hot as a side dish with chapatis, over pasta or with cous-cous.