I've been wanting to make American-style pancakes for a while now, because Pete's never had them. Do I hear gasps of horror? I admit I was quite surprised myself when I discovered that fact, but apparently he's only ever had crepes. Which are nice, but I like the chunky American-style ones too, and I wanted to make a convert of him.

Blueberries were the fruit of the day, as far as I was concerned - so blueberry pancakes were on the breakfast menu for the day.

I like a gentle flavour of orange (lemon, too) with the blueberries, so I added 3-4 tbsp of orange juice and a generous tsp of grated orange and lemon peel to the batter. It worked beautifully, especially with a drizzle of maple syrup over the top. And yes, I have a convert.

Recipe for:
Orange-scented blueberry pancakes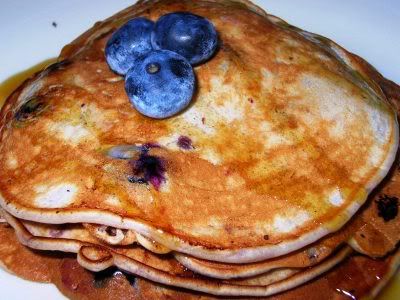 Ingredients:

1 cup flour
1/2 tsp grated nutmeg
1/2 tsp cinnamon powder
1 tsp baking powder
3-4 tbsp sugar (I used Splenda)
3 tbsp orange juice
1 htsp grated orange and/or lemon peel
1/2 cup milk
1/2 cup yogurt (I used mixed berry-flavour yogurt, but plain is fine too)
2 tbsp melted butter (or vegetable oil, which is what I used)
1 large egg
1 cup blueberries

Method:

1. Mix the flour, spices, baking powder and sugar together. Set aside.

2. In a medium bowl, mix the milk, orange juice, yogurt, butter/oil, grated peel and egg together, until the egg is well incorporated.

3. Add the flour mix to the wet mix, about 2 tbsp at a time, stirring with a large form all the time so that there are no lumps. The batter will be quite thick - it should drip only very slowly off a ladle.

4. Stir in the blueberries.

5. Heat a non-stick, shallow pan on medium heat. Pour a ladleful of the batter in and cook it on medium-low, till holes form on the surface.




6. Turn the pancake over and let the other side cook to a pale golden colour. Keep the cooked pancakes warm in the oven while making the rest.

7. Serve hot or warm with a generous drizzle of maple syrup.

Note: The batter has to be thick. If it is too thin, it will not coat the blueberries, which will burst open quietly when the pancake is cooking, leaking the juices and making a mess of the pancake (and the pan). This is the voice of experience talking.